Jharia rehab: 79 families to shift to new quarters at Belgarhia
Only those who have been living in underground fire affected areas before the cut-off date of 2004 are in list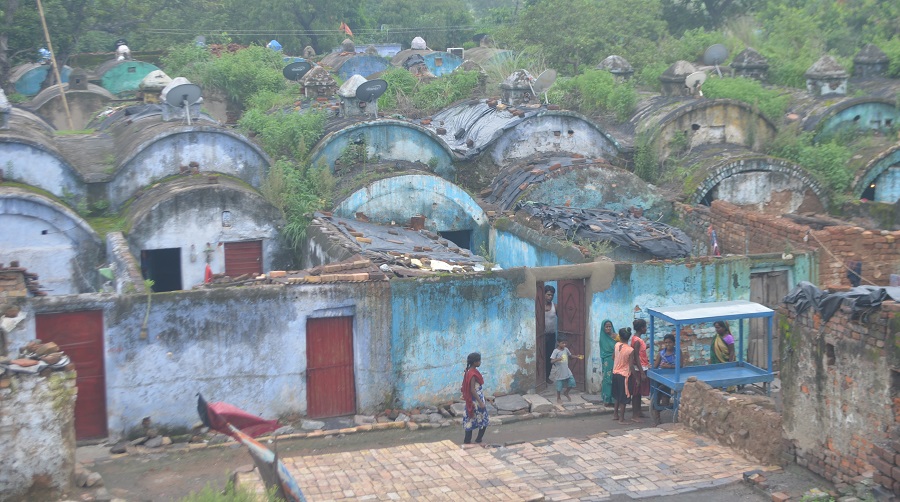 Kujuma basti, from where 79 families will be rehabilitated soon.
Shabbir Hussain
---
Dhanbad
|
Published 08.09.20, 05:39 PM
|
---
As many as 79 families from Kujama Colliery, one of the most dangerous underground fire affected sites in the Lodna area of BCCL, are to be rehabilitated in new quarters built for them at Belgarhia, officials said on Tuesday.
The list of 79 probable beneficiaries of the Jharia rehabilitation scheme was stuck at Kujama Colliery office as per the June 19 directives of the Dhanbad district administration.
Bharat Coking Coal (BCCL) administration and Jharia Rehabilitation Authority were asked to prioritise rehabilitation of  2007 families from six underground fire affected areas including, 703 families of Bastacola area, 636 of Lodna,  441 of Putki Balihari, 199 of East Jharia, 25 of Barora and four of Block II area.
Kumar Badhu Kachhap, executive magistrate who is in charge of Jharia Rehabilitation Authority (JRDA) that is implementing the Jharia master plan, said, "Phase-wise rehabilitation is being carried out as per the list from six different areas of BCCL after getting final clearance from respective general managers of different areas of BCCL".
Only such families, who have been living in the underground fire affected areas before the cut-off date of 2004 have been included in the list, he explained.
Rajendra Paswan, area secretary of Central Industrial Trade Union, said, "Rehabilitation will be a cumbersome affair as some of those, whose names have been included in list, are ready to shift while others are not willing to shift."
"Still others are demanding the allotment of quarters in groups as neighbours at Kujama have been allotted quarters away from each other at Belgarhia," said Paswan, who is also a resident of Kujama.
 Also, many of those allotted quarters wanted to get subsistence allowance as one-time payment, instead of the usual instalments.
"We, as trade union representatives, demand a comprehensive approach for rehabilitation as the present practice of providing houses at safer places to only those who can produce documents certifying their settlement in fire-affected  areas before 2004 will deprive many," said Paswan.
Only around 4,000 families, out of a total of 1.04 lakh families living in 595 underground fire affected areas, have been rehabilitated at Belgarhia since March 25 when the first batch of 1,100 families were shifted there.