Jamshedpur tribal art Pyatkar safe, meet GenNext artists
Start-up's unique hobby class for schools may help tribal art form thrive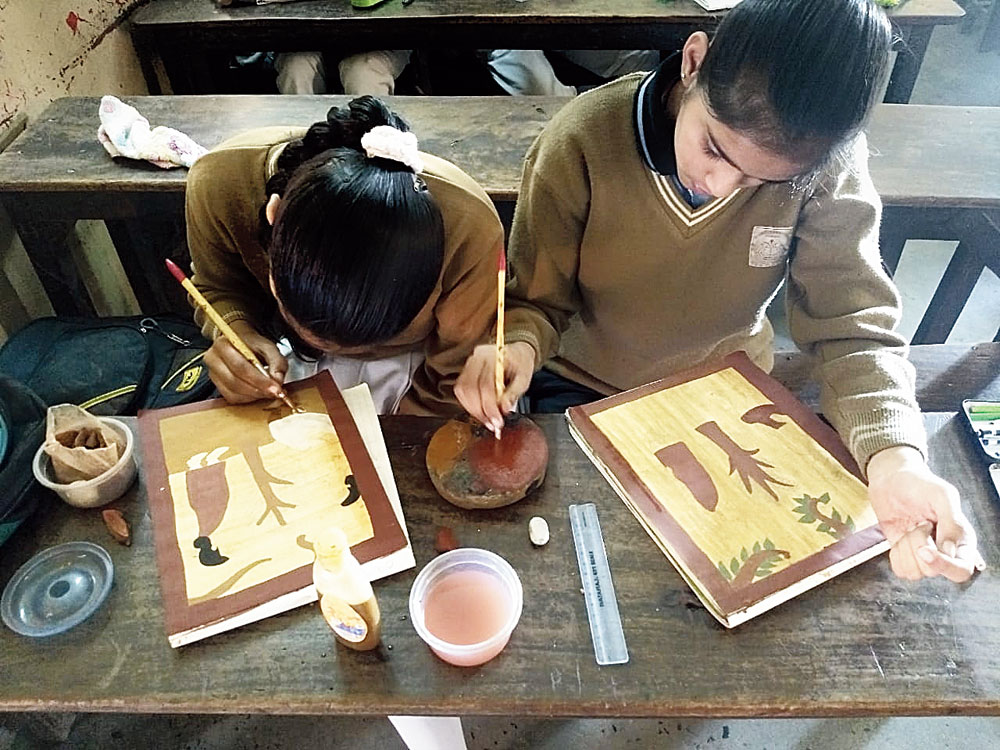 Different strokes: Students of St Xavier's English High School in Khash Mahal on the outskirts of Jamshedpur make Pyatkar paintings.
Telegraph picture
---
Jamshedpur
|
Published 23.01.19, 06:41 PM
|
---
The best way to keep any skill or culture alive is to pass it on to the next generation. That's is what Maati Ghar, a Jamshedpur-based start-up that works to preserve and promote tribal art and culture, is doing.
Virendra Kumar, young entrepreneur and driving force behind Maati Ghar, has put well-known pyatkar artist Bijay Chitrakar of Amadubi village in Dhalbhumgarh, East Singhbhum, in touch with St Xavier's English High School in Khash Mahal on steel city outskirts. Now, 30 students of the school are learning this tribal form of painting from Chitrakar.
Pyatkar paintings tell stories on canvas — vignettes from tribal life, epics and lore. What students find most interesting is that Chitrakar teaches them to love the colours of nature and extract them from leaves, turmeric, coal and coloured stones that he carries to school.
Kumar, an engineer-turned-entrepreneur, said he felt children ought to know how beautiful Jharkhand tribal art was.
"Be it pyatkar, sohrai or khovar, Jharkhand's tribal art is visually unique but with dwindling number of traditional artists, their future looks bleak unless the next generation learns about them," said Virendra, 25. "That's why I arranged artist Chitrakaarji to come to Jamshedpur every Saturday and teach pyatkar to about 30 students of St Xavier's English High School.
Virendra added the initiative started two years ago. "Then, urban children gaped when we spoke about tribal art forms. You should see their enthusiasm now."
Asked, Class X student of St Xavier's English High School Akriti Kumari, said her love for the form grew gradually but now she plans to be a pyatkar artist.
"I didn't know about this form till I started learning it casually. Even my mother wondered if this hobby would be a waste of time. But gradually I saw the beauty of it. The paintings that depict folklore and tribal life are made with natural dyes. Recently, my mother framed one of my pyatkar paintings and hung it in the living room. You can call it my biggest moment. In future, I plan to be a pyatkar artist and popularise this beautiful culture of our state," said the teen.
Saiqa Simran, a Class IX student, added she loved the stories in pyatkar paintings. "There are folklores and depiction of village life. I love them. The natural colours are the best part unlike oils or acrylics," she said.
Virendra added that each student pays Rs 100 a month, which is very reasonable. "Now more students are showing interest in learning tribal paintings as a weekly hobby class, perhaps Sohrai and Khovar too. This can be an alternative form of income for tribal artists too. We're happy with this unique collaboration and hope more schools come forward," he said.