Jamshedpur's swachh hopes ride on scientific landfill
No risk of groundwater contamination, methane emission or uncontrollable fires at 4-acre site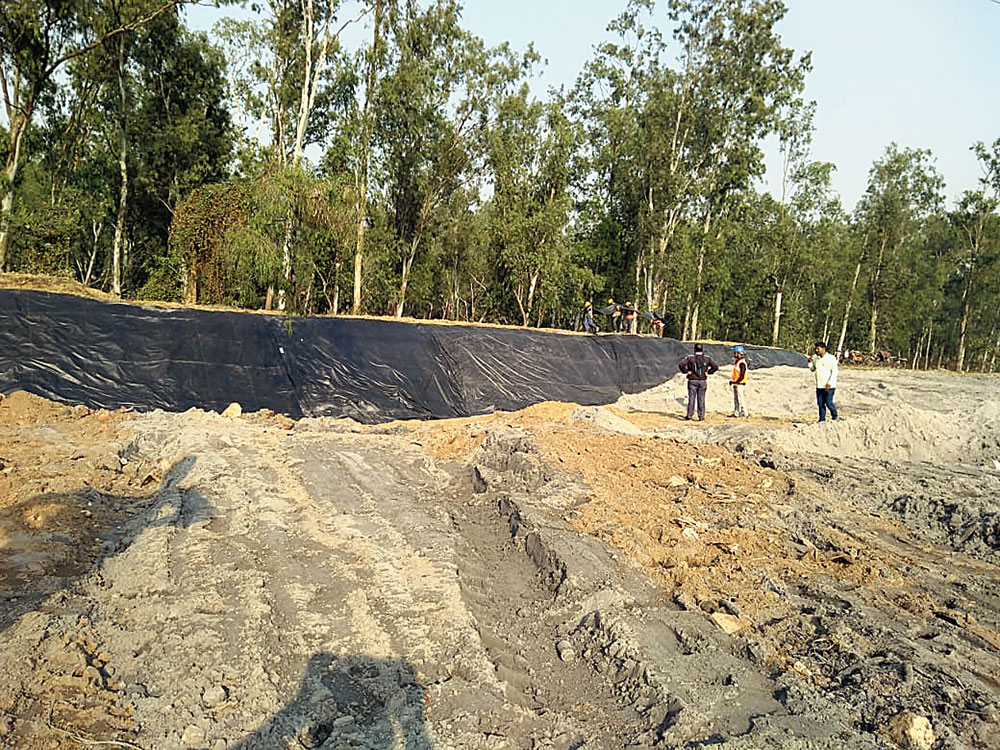 The scientific landfill site at Jemco in Jamshedpur.
Telegraph picture
---
Published 14.01.19, 06:43 PM
|
---
The city has become Jharkhand's first urban centre to dispose of garbage at a scientific landfill site, which eliminates the risks of groundwater contamination, methane emission, uncontrollable fires and resultant cardiovascular diseases in one sweep.
In the process, it hopes to improve its ranking in the pan-India sanitation survey, Swachh Survekshan 2019.
Special officer of Jamshedpur Notified Area Committee (JNAC) Krishna Kumar told this newspaper on Monday that four acres of vacant land near Jemco in Telco had been developed into a scientific landfill. "Following a thorough inspection, we began using the facility two days ago. It has a capacity of over 300MT," he said.
One of the biggest problems of ordinary landfills, besides indiscriminate dumping of waste, is seepage into underlying soil and water.
According to experts, scientific landfills eliminate this risk of contamination with a thick base layer made of clay and topped with a plastic liner. Above them is a drainage layer of medium thickness made of soil and then a thin vegetative layer to minimise soil erosion. The presence of these layers ensures that leachate (water that has passed through waste) is collected before it seeps underground.
Scientific landfills also act as degassing systems by reducing the production of methane. Since the layers soak most of the impurities in the waste disposed, methane generates slowly compared to the generation speed in ordinary landfills. Vertical wells installed in scientific landfills help extract methane regularly, and the gas can then be used for electricity and heat generation purposes.
A senior JNAC official said the Jemco landfill was their ticket to a better rank compared to 30 last year.
"Work on the waste-to-energy plant at Khairbani is yet to commence. We have a landfill site near Bara, but the design there is not scientific. Jusco too has a treatment facility for biodegradable waste at Jubilee Park. While solid waste collected from door to door is mostly recycled, the scientific landfill will allow us with drain sludge and roadside trash," he said.
Areas under JNAC command and those under Tata Steel's civic utility wing Jusco are expected to be surveyed before January 31.
Swachh Survekshan 2019 carries a total of 5,000 marks, a thousand more than the previous survey. Data will be collected from four broad sources — service level progress, direct observation, citizen feedback and certification. Each source will carry 1,250 marks. Solid waste management is under service level progress. Collection and transportation of waste in this category accounts for 338 marks and disposal 375.
JNAC city manager (Swachh Bharat Mission) Shakil Mehdi Anwar sounded bullish about a better rank.
"Door-to-door garbage collection is already in practice in Jusco areas while in the next few days, all JNAC command areas will be covered. We have no problem in segregating dry and wet waste. Reject waste (that cannot be recycled) are being sent to the scientific landfill site. The leachate from the landfill will be treated at the sewage treatment plant of Jusco in Bara," Anwar said.