Jamshedpur gets another biodiversity park
The park is located in Kadma and is spread over nearly 13 acres with 5,650 trees already planted in addition to 300 existing trees and an existing plant grove of 1,200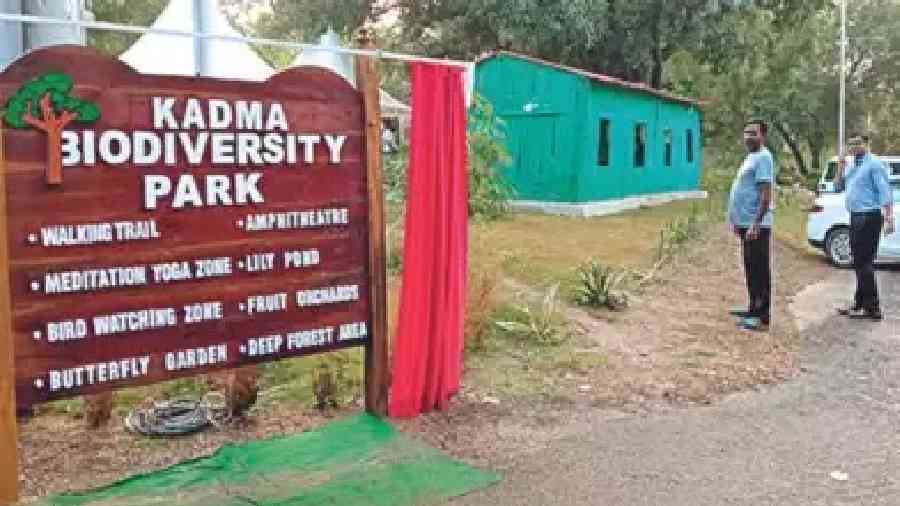 Kadma Biodiversity Park
Twitter
---
Jamshedpur
|
Published 29.09.22, 01:25 AM
|
---
Jharkhand got its second biodiversity park in the industrial city of Jamshedpur on Monday.
The state already has a biodiversity park at Lalkhatanga near Ring Road in Ranchi, spread over nearly 542 acres of land with proper distribution of parks, gardens, medicine conservation, animal preservation area and others.
The biodiversity park at Kadma in Jamshedpur developed by Tata Steel is spread over nearly 13 acres with 5,650 trees already planted in addition to 300 existing trees and an existing plant grove of 1,200. The park has been developed with 4,650 types of shrubs and a 1,600 square meter grass area has been developed.
The biodiversity park has a 2.3km-long walking trail, yoga and meditation zone, bird watching area, rainwater harvesting pond and lily pond, information centre, butterfly zone and fruit and bamboo orchards.
"We hope that this would add more greenery to the city of Jamshedpur. The park has been developed in less than 15 months and we have a programme to open such parks in different parts of the city," said Tata Steel vice-president (corporate services) Chanakya Chaudhary.
Some of the biodiversity projects of the steel major include the Jubilee Park and Zoological Park in Jamshedpur, JN Tata Park in West Bokaro, Dalma View Point, Jamshedpur and CRM Bara Ponds, Jamshedpur, among others.
Tata Steel launched its biodiversity policy way back in 2016. The policy provides guidelines for including biodiversity in every strategic and operational decision-making. The company is aligning its actions with the national biodiversity targets set in 2014 (India level), Aichi biodiversity targets set in 2010 (global level) and sustainable development goals of the UN to integrate biodiversity into its business ecosystem and enable a better tomorrow for future generations.
"Jharkhand is one of the biodiversity-rich states of India because of its origin, diverse physiographic and climatic conditions. It is well known due to its tribal populations, mineral resources, and its vast forest resources. Forest resources are considered a commodity of high value across the state as most of the locals are dependent for their daily subsistence needs mainly for food and fuel wood. Jharkhand is home to tropical moist deciduous and tropical dry deciduous forests and the dominant plant species," said a source in Tata Steel.