Hooch jab at JAP wounds
For sisters Nupur and Natasha Thakuri 25/9 will always be a disquieting date on the calendar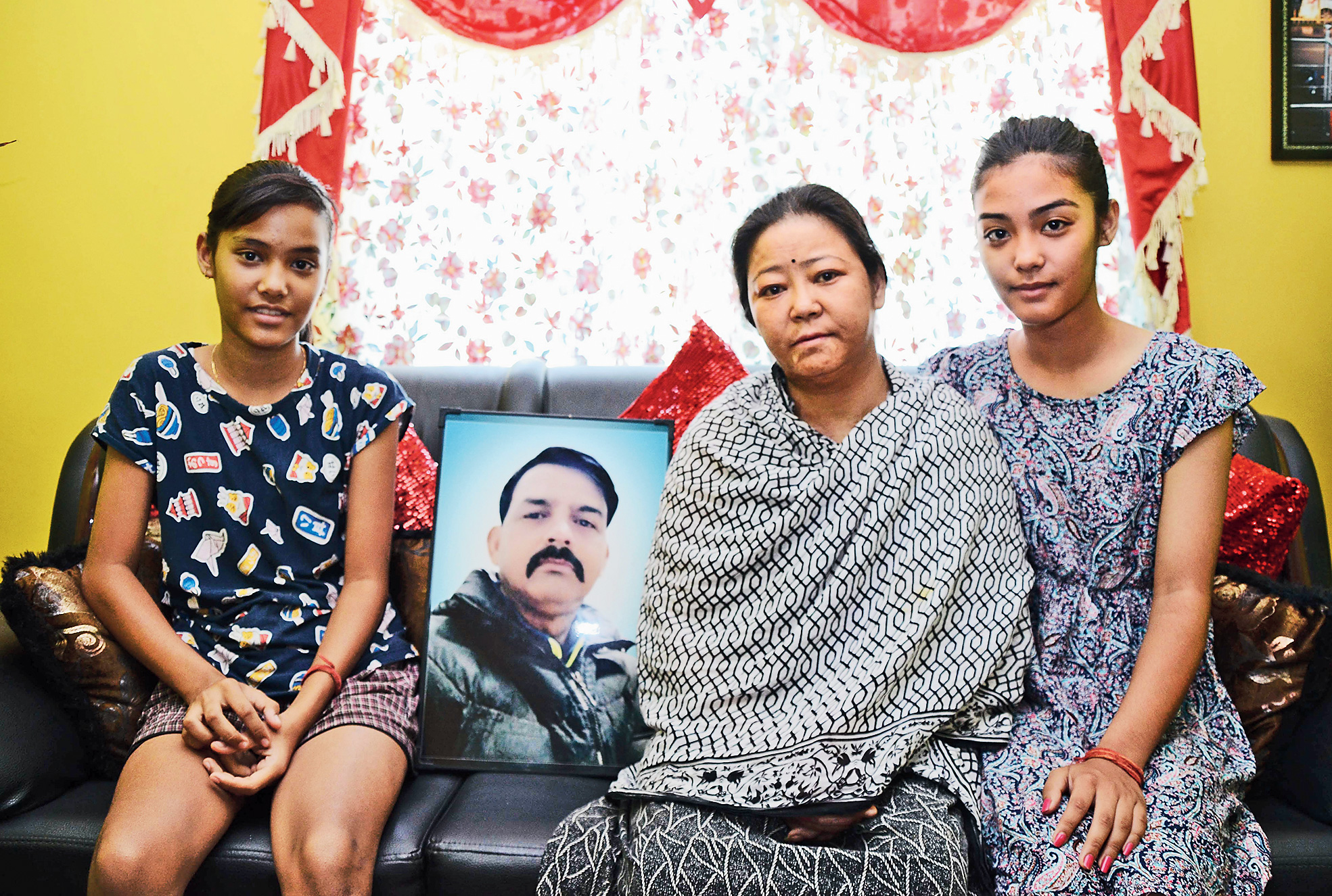 ---
|
Ranchi
|
Published 06.10.18, 07:35 PM
---
For sisters Nupur and Natasha Thakuri 25/9 will always be a disquieting date on the calendar. It was on that fateful day a year ago that the two schoolgirls lost their father and the family's sole breadwinner to spurious liquor.
But, the daughters of Jharkhand Armed Police (JAP) jawan Arvind Khetri had hardly imagined that the agony of losing a near and dear one would recur twice this year. The second time when a hooch tragedy killed strangers in Hatma.
"Deaths in Hatma have like added salt to our wound. I fail to understand how some people value life so little as to sell poison to others. Our family has been trying in vain to cope with the trauma of last year. The recent tragedy has only augmented the pain," said Nupur, who had to drop out of a good school in Siliguri, Bengal, because the family couldn't afford it anymore.
The teenager, who now stays with her mother and sister at the JAP quarters in Doranda, is pursuing her matriculation from the National Institute of Open Schooling.
"It is not just about losing a parent to spurious liquor, it is also about the accompanying social stigma. People remember my father as an alcoholic and not the brave soldier that he was," Nupur said.
Natasha, a Class VI student of DAV, Dhurwa, had her eyes fixed on Khetri's picture. "I loved my father. I understand what the children of those who died in Hatma are going through," she said.
Their mother, Sunita Thakuri, demanded stringent measures against hooch traders. "More than a dozen people, including three JAP jawans, died before Durga Puja last year. Now, half a dozen more are dead in Hatma. Spurious liquor is being sold right under the noses of people who can stop the trade," the widow said.
Manoj Chhetri, a JAP-1 constable, recalled that he spent over 16 hours at RIMS on September 25 last year.
"Constables Yogesh Chhetri and Vikram Raj, besides Khetri, were killed by hooch. For post-mortem of my colleagues and other formalities, I had to stay in hospital from 7.30am that day to 12.30am the next day. People gave me weird looks because the liquor was sold from shacks on the JAP campus in Doranda," he said.
Chhetri stressed that the Hatma tragedy had proved that "what police did (raided 30-odd hooch shacks) back then was just a knee-jerk reaction to 17 lives lost and not a sustained crackdown against a killer offence".
Ram Bahadur Godar, another JAP constable, said he felt dizzy when he heard that hooch had killed seven Hatma residents in two days since September 29. "Hooch destroys not just the person drinking it, but his family too."
Joint secretary of Jharkhand Policemen Association Sun Kumar Subba claimed the JAP campus was now free of spurious liquor. "Regular patrolling is conducted. Booze in limited quantity is procured from registered government shops," he said.