Hindalco shuts Muri plant for now
Hindalco claimed that 1 contract worker was missing and 4 injured after a bauxite residue storage area collapsed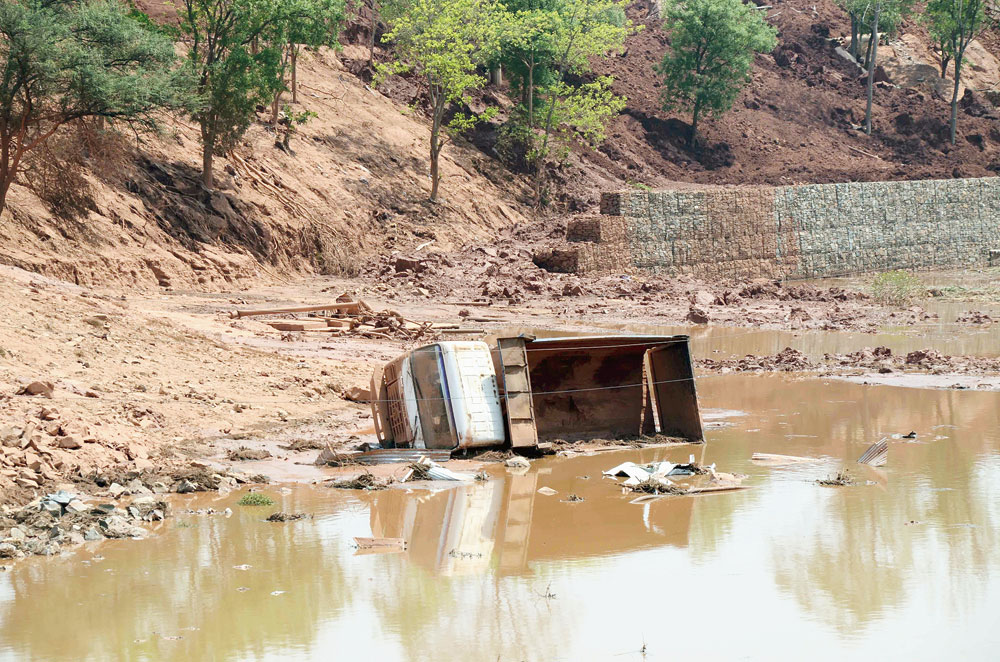 One of many trucks and earthmovers that had keeled over after a pond of industrial waste collapsed, spilling red mud (bauxite residue) over 35 acres and onto nearby railway tracks at Muri on Wednesday.
Picture by Manob Chowdhary
---
Muri
|
Published 10.04.19, 06:46 PM
|
---
Efforts to clear the spill of industrial waste from an alumina plant at a village near Muri railway station did not materialise 24 hours after the accident that prompted Hindalco Industries to suspend operations as a precautionary measure on Wednesday.
Hindalco, that runs the facility at Muri, 70km from Ranchi, said on Wednesday that one contract worker was missing and four persons sustained injuries after a red mud (bauxite residue) storage area collapsed on Tuesday afternoon.
Local residents, however, claimed they feared several people had been buried.
Officials of the district administration said the waste sludge at Lagam village in Silli block of Ranchi district was spread over 35 acres and that a road had to be build to gain access to the spot. They spent a greater part of Wednesday trying to negotiate with local villagers who were reluctant to allow NDRF members, sent there from Ranchi on
Tuesday, to start work on the road.
"When we tried to prepare an approach road in the morning so that we could send in earth movers and dumpers, villagers protested saying it would damage crop on their fields. They wanted the Hindalco management to talk to them first," said NDRF Inspector Peter Paul Dungdung.
He emphasised that without building an approach road it would difficult to begin work on clearing the sludge and check for victims.
On Wednesday, local villagers, citing the number of company equipment, like earth movers and tractors, being used at the dump site, claimed that as many as 20 people would have died. But the district administration, till Thursday, would neither deny nor confirm that figure.
Deputy commissioner Rai Mahimapat Ray said he had information of one death so far, and that the victim was from Bihar. He could provide any other detail.
HR head Hindalco Rakesh Tiga ruled out the possibility that anyone had been buried in the sludge. "All workers who work at the red mud pond are from various villages in the locality. If anyone had gone missing, they would have surely come to us," he claimed.
According to PTI, the company said in a filing with the Bombay Stock Exchange, "There was an incident in the red mud (bauxite residue) storage area connected to the alumina plant situated at Muri, Jharkhand, on 9th April 2019 (Tuesday). The incident involved a spillage in the red mud cake storage area."
The company added that operations had been suspended as a temporary measure and that preliminary investigations indicated no material impact on the surrounding environment or property.
Sagri Devi, who claims she saw the collapse of the pond and the spillage while tending to onion crop on her field, said she could not say for sure that no one had died.
"There is every possibility of casualties. I ran away from my crop field and alerted family members after I noticed the red mud spill and rush towards our house. It was like a landslide… I saw equipment getting buried under the sludge," she said.
Assistant manager Prosun Ghosh, assigned to look after clearing operations at Muri, said they did not think there were any casualties.
"It was the day after the Sarhul festival when many workers were absent. Also, at the time of the accident, many of the workers were at lunch," he said.
Local residents did not buy the company explanation. Lakendra Mahto said it was too early to draw conclusions. "There are many workers who are from outside of Jharkhand, and they visit their homes only once in weeks or a month. The picture will become more clear after a few days," he told The Telegraph.