High-rises galore, but Adityapur still stinks
Not only is garbage not being cleared regularly, door-to-door collection of domestic waste is also irregular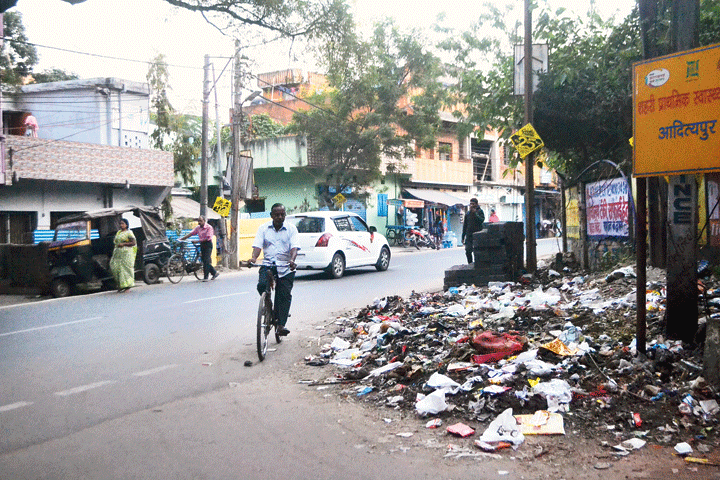 ---
---
Adityapur may have been upgraded to a municipal corporation, but it continues to stink.
The skyline of the township is changing with high-rise buildings mushrooming and the Adityapur Municipal Corporation (AMC) is spending lakhs of rupees for cleanliness, but piles of trash are omnipresent.
Not only is garbage not being cleared regularly, door-to-door collection of domestic waste is also irregular.
"When it achieved the status of municipal corporation, we had thought the town will also get rid of its unhygienic condition. Unfortunately, there is no change," said Adityapur resident N.K. Prasad, a teacher.
Another resident, Sudhanshu Kumar Singh who works at a unit in the Adityapur industrial area, said even walking on the streets had become a problem. "There is not a single street where one will not spot a pile of garbage. We use to lodge complaints with the AMC, but in vain. Now even some stretches on Tata-Kandra Road also stink as municipal garbage is dumped along the four-lane road," he said.
Divided into 35 wards, over 2.5 lakh people live under the AMC. The township generates two tonnes of waste every day. The garbage collection and disposal work has been outsourced for a year now.
Contacted, the AMC's city manager Safiur Rahman claimed all was well. "We have divided the AMC into seven sectors and given tenders to separate agencies to collect garbage and dispose them regularly. All the agencies are working properly. The cleaning agencies are dumping the garbage at Babudih in Sidhgora regularly," Rahman said.
He, however, had no reply to why then garbage was piling up in the residential colony and also along the Tata-Kandra four-lane road.
Insiders in the AMC revealed that the agencies that have been entrusted for collecting of garbage and getting them disposed tend to dump the garbage along the Kharkai river and also the Tata-Kandra Road instead of going around 12km away to Babudih in Sidhgora.