Hemant asks Opposition parties to unite against Centre's 'Hitlershahi'
CM, Yechury, Kanimozhi, Tharoor demand release of Stan Swamy, ask people to save democracy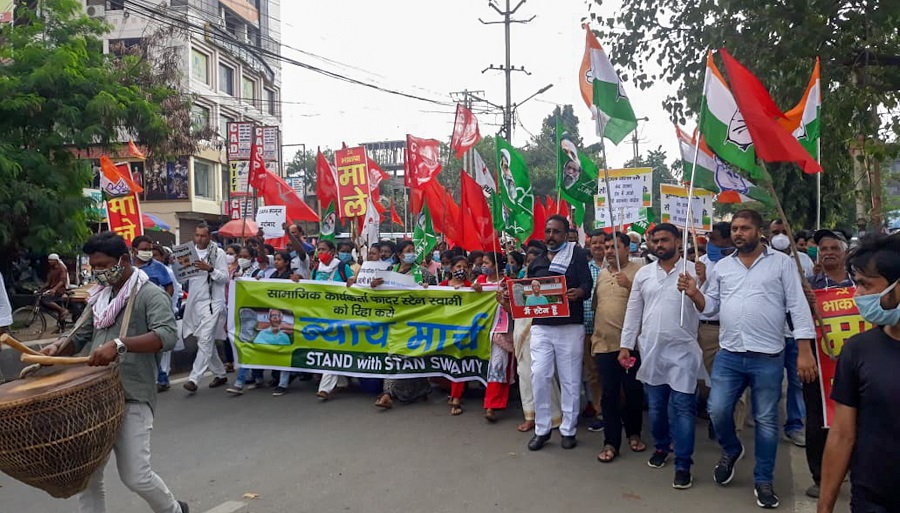 ---
---
Chief minister Hemant Soren on Wednesday called upon Opposition parties across India to unite against the "fascist" approach and "oppressive" policies of the NDA-led government in the Centre, citing the arrest of Father Stan Swamy from Ranchi as an example of "Hitlershahi (Hitler-like regime)" in the country.
Addressing an event of the Peoples Union For Civil Liberties (PUCL) via video conferencing, Hemant demanded immediate release of Swamy, an 83-year-old Catholic priest known for his contribution towards the uplift of tribals and the oppressed in Jharkhand.
"A person who worked as a guiding light for the oppressed and deprived people of Jharkhand is now being tortured by the Centre. At a time when there is absolute anarchy in the country and the Centre is targeting people with a vicious and vindictive approach, Opposition parties should not be afraid of uniting against this tyranny," said Hemant.
Stan Swamy was picked up by National Investigation Agency (NIA) officers from his residence in Ranchi on October 8 in connection with the 2018 Koregaon-Bhima case. NIA has alleged that the priest had connections with the CPI (Maoist), a banned Left wing extremist group. Since his arrest, several Catholic organisations and social activists across the country have taken to the street to protest against the government's action and demand Swamy's immediate release.
"The NIA is after me. I'm being pressured to go to Bombay. The NIA questioned me for 15 hours... I'm being called to the Mumbai office of the NIA. I refuse to go there. I am 83 and have health issues. I don't want to expose myself to the coronavirus. I have never been to Bhima Koregaon," Stan Swamy had said in a video on October 6.
Hemant also expressed concern on how the Centre would react if the protests intensified. "They will not think twice before shooting the protestors," the chief minister said.
Hemant also slammed the Centre over deduction of funds from the state's exchequer and accused it of harassment. The BJP, he said, was deliberately harassing states where they could not form a government.
"Today, it is Jharkhand. Tomorrow, it could be your state too. The Centre has deducted huge sums from our coffers in the middle of a pandemic without even consulting us. This amounts to harassment," said Hemant, adding that Jharkhand will continue its fight against the wrongdoings of the Centre. Among the others who spoke at the PUCL event were CPI(M) general secretary Sitaram Yechury as well as the DMK's Kanimozhi an senior Congress leader Shashi Tharoor.
Yechury and Kanimozhi also urged civil society groups and the public to break their silence over the "government's attacks on the rights of the people," PTI reported from New Delhi.
"Today we have to make a decision as political parties, as the whole society whether to accept what is happening in silence or say this is enough and fight them together. If we accept this, then in a few years we will not see a democratic India that we know. Every law that this government has passed has chipped away the rights of the people. It's time to break the silence," Kanimozhi said in the video conference.
As many as 16 people have been arrested under the UAPA in the case, which include three cultural activists of the Kabir Kala Manch (KKM), Ramesh Gaichor, Sagar Ghogre and Jyoti Jagtap, as well as thinker, writers and academics Anand Teltumbde, Gautam Navlakha, Shoma Sen, Hany Baby, lawyers, Sudha Bharadwaj, Surendra Gadling, Vernon Gonsalves and Arun Ferreira, who are all also trade unionists, and activists. Sudhir Dhawale, Mahesh Raut and Rona Wilson are also in prison.
"The UAPA has been grossly misused, like POTA, this law has to be removed from our statute book. However, this is not the issue of just one law. All these draconian laws are being used to silence all dissent against the government. These arrests are not isolated cases; these are part of an agenda to establish a rabidly theocratic Hindutva Rashtriya which was their plan from the beginning. This cannot be accepted. We must break this silence. For evil to succeed, the good only requires to be silent. People need to restore the secular democracy," Yechury alleged.
Senior Congress leader Shashi Tharoor said Swamy deserves "respect and support", not jail term. He said he was convinced that "no Jesuit will indulge in any violence or entice anyone towards violence".
"This must stop. I appeal to the government to be fair and at least grant him bail. We stand in solidarity with Stan Swamy," he said.