Heavy rain damages houses, traps families in Bokaro
Residents claim BSL authorities turn a deaf ear to repair complaints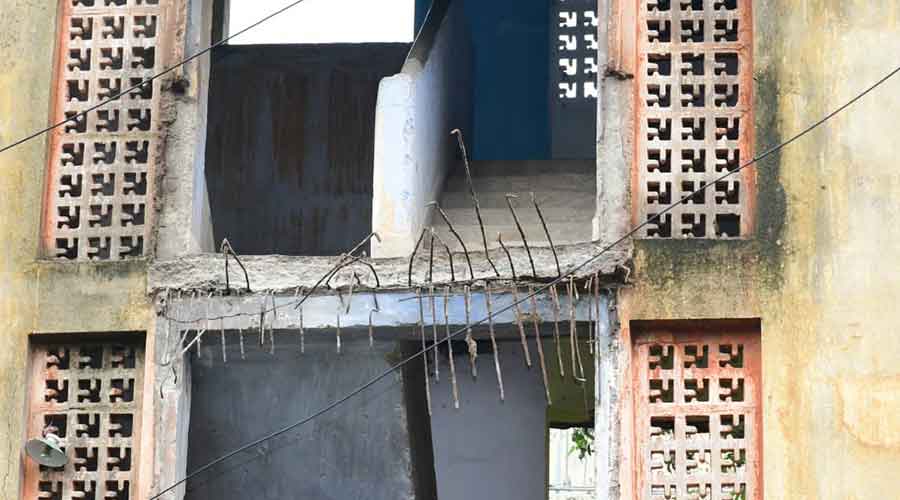 The dilapidated building on Friday.
The Telegraph picture
---
Bokaro
|
Published 18.06.21, 10:54 PM
|
---
Two families residing on the top floor of Sector-12/A in Bokaro Steel Township are trapped after the only staircase in that block subsided due to heavy rain.
They have to depend on other residents to get their essential things. Neighbours are sending them milk and other essential commodities through a rope dropped by them.
The BSL township houses employees and retired employees in majority. There are 10 different Sectors in the township in which more than three lakh people reside in residential blocks. Many of these residential buildings in each of the Sectors required immediate repairing and maintenance. During monsoon or rainfall, the subsidence of roofs or staircases is common in BSL township.
In the past two months, about a dozen incidents took place in the quarters and blocks in Bokaro Steel Township when the residents had a close shave with subsidence of plasters, staircase and railings. The Sector-12/A area is most vulnerable to such incidents with poor quality construction.
BSL employees have expressed fear for their lives who stay in such quarters.
Residents blamed the Town and Administration department of BSL for turning a deaf ear to their complaints.
Subroto Kumar Mallick, a BSL employee and a resident of the second floor who was trapped, said, "We heard a huge sound and the entire staircase collapsed to the ground. Unfortunately, a car parked under it got badly damaged. We have made complaint to Town and Administration department narrating the dilapidated condition of the building and requested them to repair it soon, but still nothing was done. We are now trapped in our houses."
On May 29, the district administration had also raised concern over deteriorating condition of residential blocks and quarters in the Bokaro Steel Plant township.
Deputy Commissioner cum chairman of District Disaster Management Authourity, Rajesh Singh had sent a letter to director in-charge, Amarendu Prakash asking to take up repairing and other necessary tasks to prevent loss of life and property during monsoon. But the request seems to have gone unattended.
Chief of communication, BSL, Manikant Dhan said survey of buildings requiring critical maintenance work in sector 12 has been done. More than 100 such buildings in sector 12 have been identified for comprehensive repair. Work had started in some buildings but due to ravaging pandemic situation, not much progress could be made during the last two months.
"A committee has also been made to explore the possibility of shifting the occupants of these buildings to other quarters till repair work is completed. Again, implementation of this step got hindered due to the pandemic situation and lockdown. In due course of time, action in respect of the above will be taken to address the issue at the earliest possible," he added.