Hazaribagh residents resort to Jal Satyagraha agitation
They stood inside the polluted Lake for over five hours to protest against the encroachment of water bodies allegedly under the patronage of the administration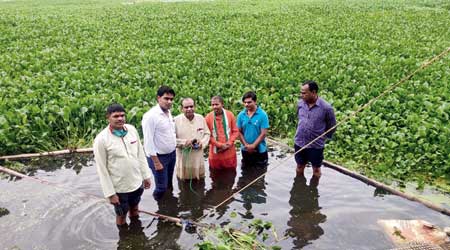 Residents during the Jal Satyagraha at Hazaribagh on Wednesday
Bhola Prasad
---
Jamshedpur
|
Published 26.08.21, 12:37 AM
|
---
Nearly 10 residents of Hazaribagh resorted to Jal Satyagraha agitation by standing inside the polluted Hazaribagh Lake for over five hours from 10am to protest against the encroachment of water bodies allegedly under the patronage of the administration.
The residents who were supported by the OBC Morcha of Hazaribagh district Congress stood in the water body filled with water hyacinth and algal growth because of lack of cleaning, and in the evening submitted a memorandum addressed to Hazaribagh deputy commissioner Aditya Kumar Anand.
"There are nearly seven lakes and over six major drains in the Hazaribagh city and unfortunately all of which have been encroached to the large extent by land mafias who sell it to gullible masses. The land mafias have the support of local land revenue officials who do not oppose to such illegal work which is in contravention of the Jharkhand High Court order of this year prohibiting encroachment of water sources," said Surjeet Nagwala, president of the Congress Hazaribagh district OBC unit.
The Congress leader has warned that if the district administration fails to undertake action within a month against land mafias who are responsible for encroachment of water bodies, they will be forced to file a petition in Jharkhand High Court.
The agitators claimed that Hazaribagh Jheel has not been cleaned for over a year which has led to the growth of water hyacinth and algal along with other garbage.
"The land mafias have got emboldened because of the tacit support of the administration and this has led to more encroachment which is leading to water clogging even after moderate rain in the city as the outlets have been closed or encroached. Seeing that the administration is doing nothing, we, the local residents, decided to take it upon us and have sent an alert to the administration about mass objection to such acts and if no proper action is undertaken against land mafias then we would be forced to take legal steps," said Jawaharlal Sinha another local resident and a Congress leader.
The members also demanded that the lake which is an icon for the district should be cleaned immediately as it is affecting the aquatic animals too.
Hazaribagh deputy commissioner Anand said any comments could be made after seeing the memorandum of the agitators.
"I am yet to see the memorandum submitted by the agitators. Only after reading the memorandum and identifying the water bodies alleged to have been encroached, I can give an explanation," Anand said.