Foresters on high alert as Dalma elephants head home
Five herds from Bengal on way to return to wildlife sanctuary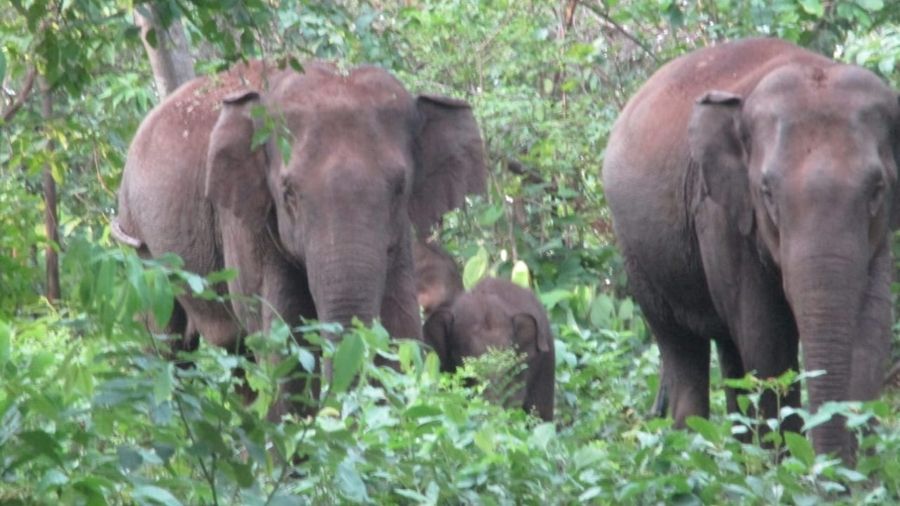 Elephants inside the Dalma Wildlife Sanctuary.
Telegraph Picture
---
Jamshdepur
|
Published 13.01.21, 10:17 PM
|
---
Five separate herds of elephants are on their way to the Dalma Wildlife Sanctuary and could return home anytime, thus alerting foresters, who have taken a host of measures to ensure their safety along with that of the locals.
The elephants have been returning home earlier for some time now. A herd of 35 elephants had moved into the sanctuary, 30 km from Jamshedpur, in December last year.
The Dalma range office is keeping touch with Ghatsila counterparts about the position and movement of the jumbos, including calves.
"We need to be on maximum alert for the imminent arrival of elephants from Bengal. Most of the jumbos have left the Bengal jungles. We have reports of the five herds anchored near Dhalbhumgarh but more should be on their way to Dalma," a forester said on condition of anonymity. 
The herds, which migrated to the jungles of West Midnapore and Bankura in neighbouring Bengal last year, are presently scattered at a forest near Dhalbhumgarh in East Singhbhum.
 Besides coming home early, the elephants had also migrated to Bengal about a month earlier, in July. 
"The jumbos generally catch the corridor to Dalma after harvesting season ends in Bengal," the forester said.
Trackers have been asked to closely monitor the elephants' movements and remain alerted, and inform the range office when the herd nears the sanctuary.
The villagers have already been handed over firecrackers and 'mashals' (torches) to keep elephants at bay. They have also been told not to unnecessarily venture out of their home in the night. Elephants often barge into farms to damage standing crops which results in man-animal conflict.
Dalma range officer (West) Dinesh Chandra said the herd, which arrived home last month, is presently in Suklara inside the sprawling 192 square kilometre sanctuary. "Rest of the elephants should be home anytime," he added.
A Dalma forest guard said the herds are stationed in Dhalbhumgarh forest to quench thirst. 
"The elephants are expected to stay there for some more days. Though jumbos are moving animals but usually  stay at a particular place -- where food and water is not an issue -- for some time. The movement  depends on their mood," he said.
"But we are on alert," the forester added.