Flying foxes return to Jayanti Sarovar
As fear of viral infection keeps humans home, nature begins to heal itself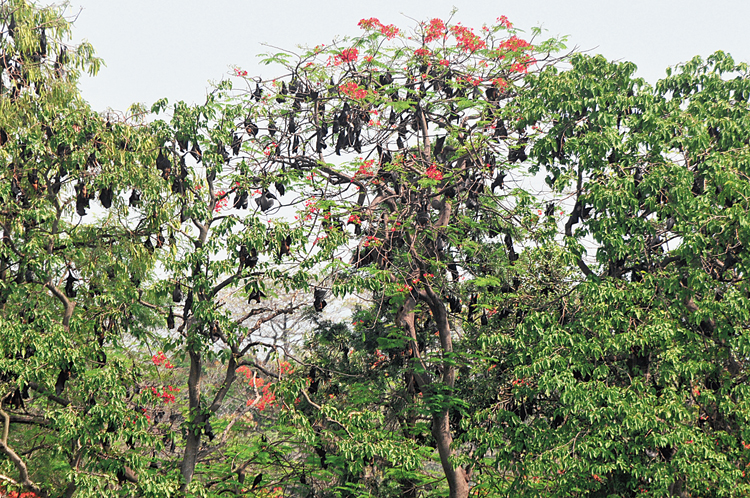 ---
---
The ongoing lockdown has made fruit bats return to their island abode.
The island at Jayanti Sarovar inside the landmark Jubilee Park is once again teeming with bats that had made a hasty retreat from their home due to noise pollution.
The fruit bats, also known as flying foxes, have been living at the island for over seven decades now but noise pollution at the lake and its surroundings, particularly in the lead up to the Founder's Day celebrations to mark J.N. Tata's birth anniversary on March 3, had forced the mammals to disperse.
The bats had made a biological assessment about the impending danger (read noise pollution) before bidding goodbye to the island, according to steel city-based ornithologist K.K. Sharma. Jubilee Park and other establishments across the steel are illuminated for Founder's Day.
Sharma said the bats now have a sense of security due to restricted human movement around the lake. "The lockdown has proved to be boon for the fruit bats. They are back to their natural habitat," he added.
These mammals prefer to live in silent zones, he explained. They typically stay close to water bodies and hide in trees to protect themselves from predators such as snakes or hawks.
However, the bats will again disperse from the island once the lockdown is lifted, Sharma said.
"Boating will once again resume in the lake and its surroundings will be used for morning walks and other activities, including vehicular movement. The entire area will become noisy again," said Sharma, a member of the Ornithological Society of India.
According to Sharma, boating should be discontinued at the lake as it causes lot of noise pollution. "Boating is conducted by Tata Steel Zoological Park. Boats can be often seen moving near the island. The activity disturbs the bats and they have no option than to bid goodbye to their home,"he reasoned.
Sharma said serious efforts should be made for the conservation of the bats, which are helpful in re-generation of forests. "Fruit bats leave the island and fly till Chandil and Ghatshila in East Singhbhum in search of food. They drop fruit leftovers which germinate in forests along the flight route," he explained.
Sharma, former head of zoology wing at Jamshedpur Co-operative College, said the number of bats at the island has decreased. "It was around 3,000 in the '70s but the figure has now dropped to 100-150. It's a disturbing sign and serious efforts should be made for their conservation,"he added.
The veteran ornithologist, who has done a study on fruit bats, rubbished fears that bats can cause novel coronavirus infections.