Fire-fight before Diwali with hands tied in Jamshedpur
Personnel strength hurdle in ensuring compliance of safety norms at cracker-sale spots across state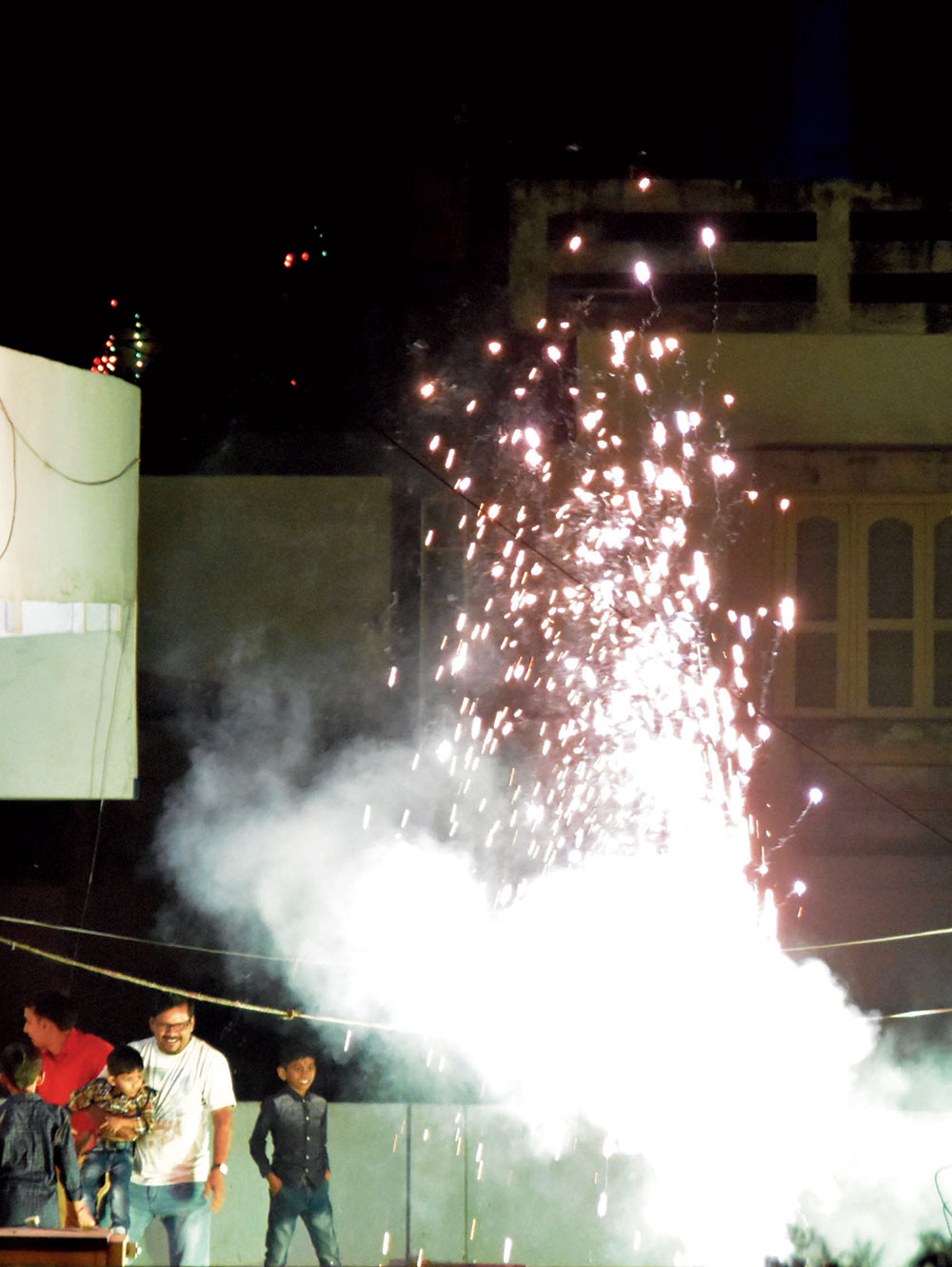 M. Prasad, fire station official in Audrey, Ranchi, said fire safety inspections would start from Wednesday
(Gautam Dey)
---
Jamshedpur
|
Published 22.10.19, 07:03 PM
|
---
State fire-fighting officials have been told inspect cracker-sale points to ensure compliance of safety norms before Diwali, but the depleted manpower of the fire services puts a question mark on the efficacy of the exercise.
Additional state fire officer Bandhu Oraon has directed fire stations across state to carry out fire safety inspections before the festival of lights.
"The directive has been issued today (Tuesday) to carry out fire safety inspection after Dhanteras (October 25) of shops selling crackers at earmarked common selling points in different districts," Oraon said. "Most of the district deputy commissioners have already issued fire safety norms to each of the licensed temporary crackers sellers while issuing licences. Our personnel would check if they are complying with the norms or not."
However, fire services personnel who spoke under cover of anonymity said the depleted strength would be put to strenuous test.
"We have 40 fire stations in the 24 districts of the state and each fire station has an official who is authorised to carry out fire-safety compliance. Even if the fire station official takes help of officials the number of personnel is insignificant compared to the large number of licensed cracker sellers. It would be a Herculean task to carry out fire safety compliance by inspecting each shop," said a Ranchi-based fire station official.
There are more than 500 personnel in the fire services unit, which functions under state police and under the administration of the department of home, jail and disaster management.
The number of personnel is negligible considering the over 6,000 licensed temporary crackers sellers across the state, additional state fire officer Oraon admitted.
"We are having a depleted manpower resource at the moment which is hardly enough to carry out comprehensive fire safety audits of each and every cracker outlet in the state. However, we would try to create awareness amongst crackers sellers that it is for their own and people's safety that they adhere to the safety guidelines," Oraon said.
Notwithstanding the hurdles, fire station officials are determined to carry out inspections.
"I have already visited few of the major common selling points in Jamshedpur and would take a team for visit of the stalls once they are set up at such selling points after Dhanteras to see if fire safety norms are being adhered to," said Ravinder Thakur, the fire station in-charge in Golmuri, Jamshedpur. "It is impossible to visit each of the stalls but we would try to touch as many as possible so that the message reaches out amongst sellers to take up safety measures."
M. Prasad, fire station official in Audrey, Ranchi, said fire safety inspections would start from Wednesday.
"Some of the major common selling point of crackers are located under our jurisdiction and due to time constraints we will start inspecting the temporary shops from tomorrow and warn those found not adhering to safety norms. We will repeat the inspection and if they still do not listen then we will submit their names to the Ranchi deputy commissioner and our additional fire safety office recommendation cancellation of their licence," said Prasad.
In Ranchi, crackers are being sold at Jaipal Singh Stadium in Kutchery, Morabadi ground, Harmu ground, Bariatu Maidan, and Singh Mor in Tupudana.
The fire safety norms include a distance of 3 metres between two shops, no residential areas in a 50m radius, at least one fire extinguisher, adequate amount of sand and water buckets in each stall, and taped electrical wiring.