Orphaned elephant calf forms unbreakable bond with foster mum
Separated from herd, elephant calf at Birsa Zoo finds a mother in Lakhi Rani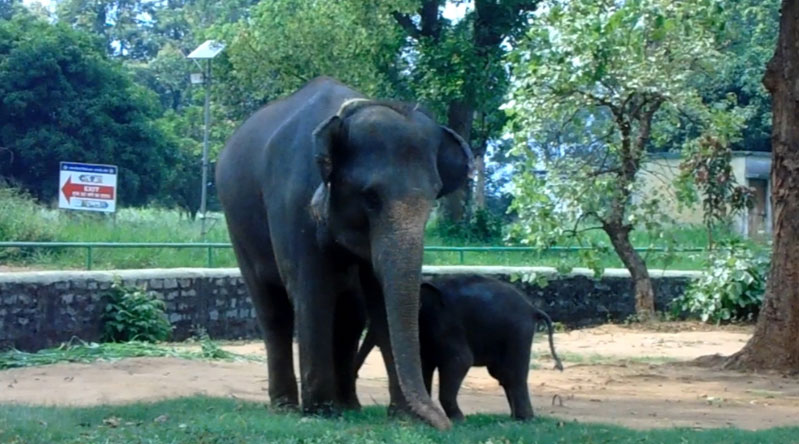 ---
---
Watching Lakhi Rani bathe Nanhey Samrat and give him tips on how to use his trunk for a bath, it is difficult to fathom that the female elephant is not his real mother.
Yet, the 17-year-old lone elephant of Birsa Zoo in Ranchi has taken on the role of a foster mother to four-month-old Nanhey Samrat with aplomb.
The director of Birsa Zoo, D. Vankateswarlu, told The Telegraph Online on  Wednesday, "The foster mother Lakhi Rani is behaving like a true mother to Nanhey Samrat. She is  protective of this calf."
The zoo veterinary doctor, Ajay Kumar, said, "The male elephant calf was just one-and-a-half-months-old when he got separated from the herd and his mother, in the Anandpur forest range of Porhat in West Singhbhum district. It is exactly not known how this separation took place. The Porhat forest personnel discovered this calf on March 9 in the jungle there."
Sources said the West Singhbhum forest officials contacted the Birsa Zoo authorities about the calf on March 12 and sought advice.
They waited for the herd to reunite with the calf but in vain.
These officials waited for the herd from March 9 to March 25. Onb March 26, the calf was sent to the zoo.
"We advised them to take care of his feed, milk and hygiene. The forest officials took care of him as far as they could," he added.
Sources said the calf, on arrival in the zoo, had a bout of diarrhea and dehydration.
Kumar said, "This male elephant calf began to remain in low spirits there. We treated him with anti-diarrhea drugs and fluid therapy. He recovered faster."
His food comprised 12 litres of toned milk, 6kg of watermelon, 4kg of ripe papaya and lots of palatable green grass from the organic farm at the zoo.
"However, he needed a mother badly and we tried to engage our zoo's lone female elephant Lakhi Rani. It was no easy work to establish a bond between the two. On May 25 Nanhey Samrat came face to face with Lakhi Rani.  The first meeting was devoid of any emotion. The two looked at each other with distaste," he said.
"On June 3, things took a turn for the better and the two marched towards each other as if they knew each other well. Today, Nanhey Samrat walks with Lakhi Rani as if she were his mother," said the doctor.
Director Vankateswarlu said the calf had also been quarantined on his arrival at the zoo and it helped the calf to adjust to the new ambience.
Kumar said the calf spent nearly two months in quarantine.