Doorstep vegetable delivery gets boost amid Covid
Enterprising youth have entered the age-old vegetable delivery business but with a twist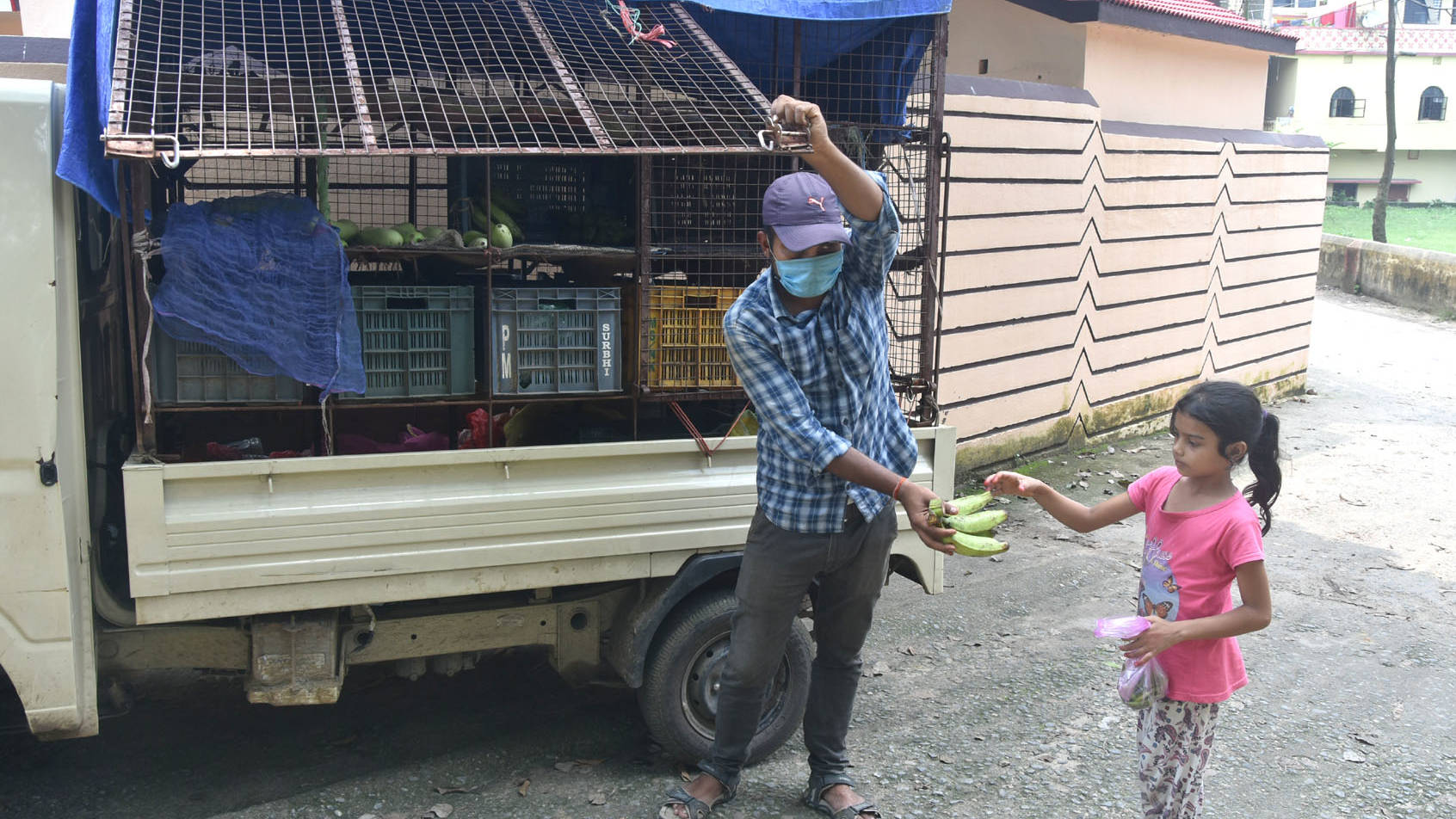 ---
|
Dhanbad
|
Published 09.08.20, 05:27 PM
---
Even though the rising number of Covid cases has drastically cut down human interactions, basic necessities like buying vegetables has got an image makeover, with the age-old handcarts replaced by swanky microvans, the shabbily-dressed vegetable seller has transformed to an educated delivery person and the rustic hawking has been upgraded to customers giving orders using tech and social media apps.

With the Covid outbreak in the district forcing people to avoid venturing out of the house let alone procure vegetables from the nearby shops, door-step delivery of vegetables through vehicles by taking orders from the customers on phone, WhatsApp, Facebook has got a boost.

Meet Vishal Singh (28), a resident of Polytechnic road in Dhanbad, who is engaged in door-step delivery of vegetables during the lockdown under the banner of Jharkhand Sabzi Express. His solution cuts the risk of contracting Covid infection compared to customers buying directly from the market.

This apart, another group led by a B Tech degree holder, Umesh Kumar Kushwaha (30), are also engaged in door-step delivery of vegetables since the last two years under the banner of sabzibazar.com offering a tech-powered solution to an age-old problem. They have also joined hands with Zomato and Swiggy, the online food suppliers, for door-step supply of vegetables during the lockdown period.

Talking to The Telegraph online on Sunday, Singh said, "We started our business in the month of February and purchased a microvan for transporting vegetables. Since then we got engaged in door-step vegetable delivery by taking orders on phone or social media (whatsapp number 6206382239)."

When lockdown was announced in March end, Singh had only one month of business and was apprehensive that this business opportunity may vanish in thin air. "But as the government allowed the sale of vegetables, our business slightly picked up in the initial phase. After a month during April end, a large number of new vegetable sellers emerged at every nook and corner owing to unemployment caused by non-functional industry and commerce," says Singh.

"Our business has again come back on track after the rise of Covid Cases in the district since the last fortnight," said Singh who was sitting idle at home after completing his plus two. He was planning to start door-step vegetable delivery along with a few friends, who joined work with him but due to covid threat, left him midway.

Echoing similar sentiments, Ajay Kumar (22) another partner of Umesh Kushwaha said, "Our business which witnessed a slight downturn in the middle phase of lockdown has again witnessed a surge with the more people preferring to avoid markets, and we are basically concentrating online business (whatsapp number-9334257272) although we have an outlet near Carmel School Dhanbad, where some people also come."

"Majority of the people give orders to us on the phone. We also supply uncommon items such as mushrooms, broccoli etc," said Singh, adding that he supplies fresh vegetables at cheaper rates as he buys them in bulk.

"My business is like a start-up, so a little support from the government can help us to pay the EMIs of the vehicle which is around Rs 9,600 per month," said Singh.