Dhanbad-Bengal train services resume after 8 months
Street vendors, office goers, students and small time traders happy at move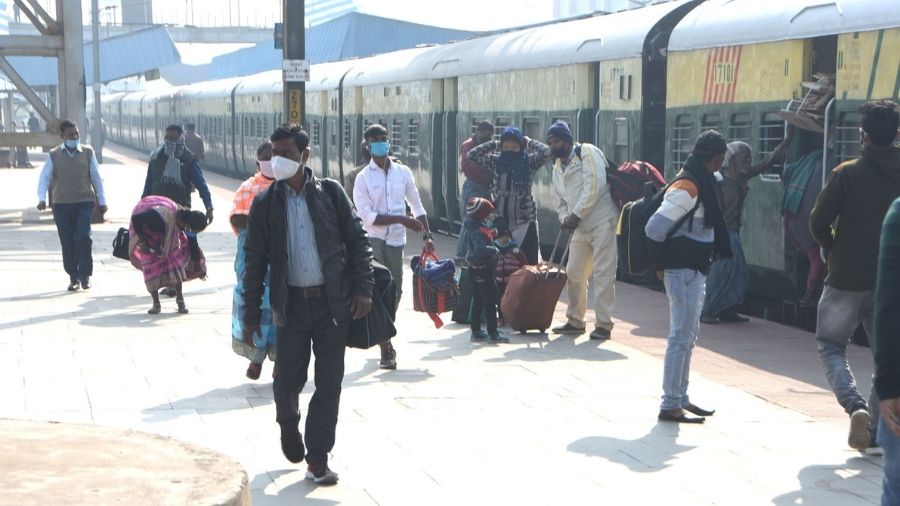 ---
|
Dhanbad
|
Published 02.12.20, 05:59 PM
---
The Asansol-Dhanbad MEMU (63543/63544), running between the two towns, and the CoalField Express (12339/12340) have resumed their services from Wednesday after being suspended for 254 days due to the coronavirus-induced lockdown and a subsequent halt in rail operations.
Street vendors, office goers, students and small time traders are rejoicing at the move, as they can now easily connect to different parts of Bengal including Asansol, Durgapur and Calcutta from Dhanbad.
Talking to The Telegraph Online at the Dhanbad Railway station on Wednesday, Sumit Bhattacharya, an Asansol resident, said, "I came here at Dhanbad at my in-laws' place two days ago on bus and came to know about the restoration of Asansol Dhanbad MEMU train afterwards. I booked the ticket yesterday (Tuesday) to return to my native place at Asansol to avoid the bus journey, which is expensive as well as causes a lot of exhaustion." The Sunshine Steel Pvt Ltd. employee boarded the train from Dhanbad at 8 am to reach Asansol at 9:50 am.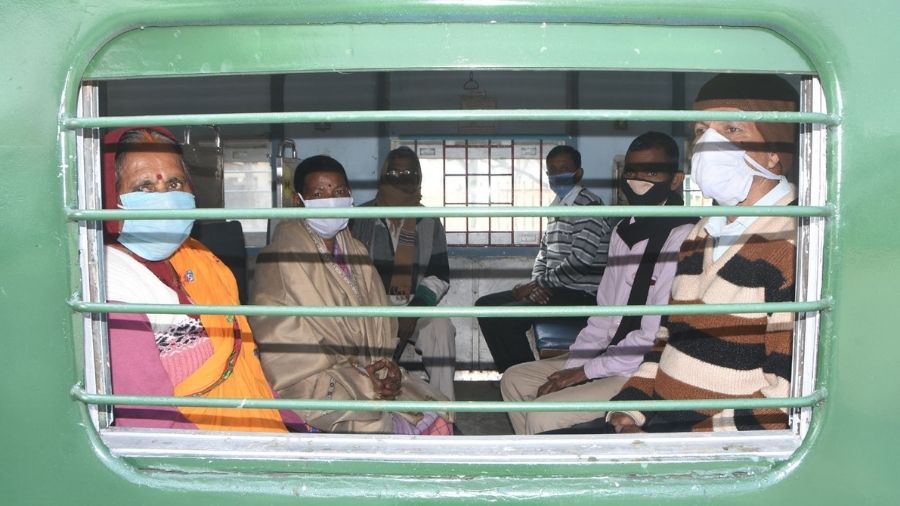 Pramod Kumar, a student residing at the Sijua area of Dhanbad, appeared to have similar opinions. "The train journey is quite comfortable.The best part is that there is no usual rush in the train as only limited tickets have been sold for the second seating arrangement," he said, as he boarded the train on Wednesday morning at Dhanbad to reach his maternal uncle's place at Asansol.
"The restoration of the train after more than eight months has provided great relief to the people like us who were compelled to make expensive, unsafe and uncomfortable journeys on bike or in buses," Vishnu Mandal, a resident of Kalubathan in Dhanbad, said. Mandal reached the Dhanbad railway Station at 9:30 am in the Asansol Dhanbad MEMU to join his duty at a local factory in the town.
The Asansol Dhanbad MEMU passenger will depart for Asansol daily at 8 am to reach Dhanbad at 9:30 am covering a distance of 58 km and making stoppages at 11 intermediate stations. These include Barachak, Sitarampur, Kulti, Barakar, Kumbardubi, Mugma, Thapar Nagar, Kalubathan, Chhota Ambona, Pradhankhanta and Dokra halt. The same train will leave Dhanbad at 9:50 am to reach Asansol at 11 am.
Another journey of the MEMU train from Asansol will begin at 6:10 pm to reach Dhanbad at 7:25 pm.
The CoalField Express, running between Dhanbad and Howrah, also made its first journey after the lockdown from the coal town at 5:55 am on Wednesday. It reached Howrah at around 10:30 am. On the opposite route, the train will start from Howrah at 5:20 pm to reach Dhanbad at 9:40 pm.