Dhanbad-based numismatist flaunts demonetized notes on fifth year of demonetisation
He also had on display, notes that were devalued by the British and Morarji Desai government in 1946 and 1978, respectively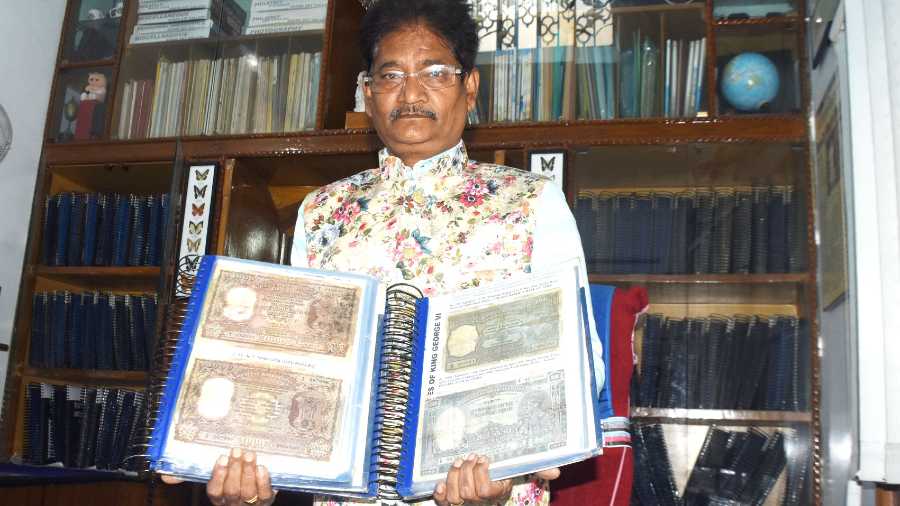 Amarendra Anand showing rare currency notes from his collection at his Kusum Vihar residence in Dhanbad on Monday.
Gautam Dey
---
Dhanbad
|
Published 08.11.21, 07:04 PM
|
---
To mark the anniversary of demonetisation, Dhanbad-based numismatist Amrendra Anand (66) flaunted currency notes that were devalued in 2016. However, what made the exhibits more appealing was the fact that he also had on display notes that were demonetised in 1946 and 1978 during the British era and Morarji Desai government respectively.
Anand, a retired development officer working with the Life Insurance Corporation of India said, "I have around 66 demonetized currency notes of 500 and 1000 denomination of different inset series which were demonetized by the government on November 8, 2016." He added that the currency notes in India are printed in four different presses - Mysore Printing Press, Devas Printing press, Nasik Printing Press and Salboni Printing presses.
"The inset are alphabet letters printed on the number panel of the bank note. There can be notes without any inset and in India but the notes bearing the different alphabets like A, B, C and D are published through the Mysore Printing Press which also prints notes without any inset," said Anand, who has demonetized currency of all inset series printed through four different press .
"The currency notes bearing the Alphabet series of E, F, G, H, K are published through Devas Printing press while the notes of L, M, N, P and Q series are published through Nasik Printing press and those with R, S, T, U, V inset alphabet series are published through Salboni Printing Press," he informed enthusiastically. 
Anand who has 18 files of different currency notes, coins, cheques, hukamnamas, hundi, khadi hundi, error notes, fancy note apart from demonetized currencies at his home based personal museum in Dhanbad further mentioned that in India demonetization was carried out thrice including in 1946 during British Raj era during which Rs 1000, Rs 5000 and Rs 10000 currency notes were demonetized.
"Besides the demonetized currency notes of 1946, I also have currency notes of Rs 1000, Rs 5000, Rs 10000 which were being printed since 1954 and were demonetized in 1978 during MorarjI Desai's government," said Anand. He added that developed the habit of collecting rare things from his father and that his collection of currency notes includes one anna denomination currency note of Junagarh estate besides the hand-made Tibetan currency, which has been categorized as rare notes.
Making a distinction between demonetization that came into effect on January 16, 1978 and that of November 8, 2016, Anand said while during the 1978 demonetization Rs 1000, Rs 5000 and Rs 10000 currency notes were declared invalid overnight, but in 2016 the general public were given a window of 52 days to deposit the demonetized currency notes of Rs 500 and Rs 1000 in different banks to get back the amount in currency notes which had not been demonetized.