Cute & mushy, but lasts for only 30 minutes
Ajitabha Bose, alumnus of Gulmohur High School, writes world's shortest love story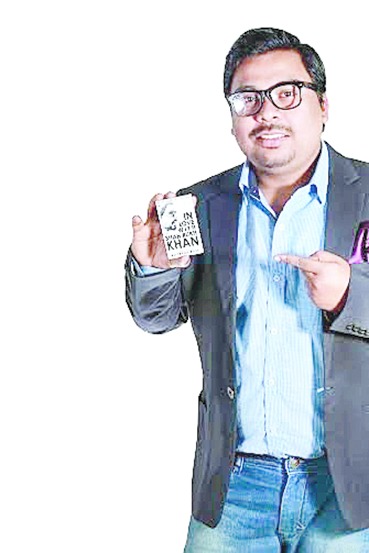 ---
Published 10.03.16, 12:00 AM
|
---
Too busy to read a book? Try the pocket book In Love with Shah Rukh Khan. It will take only 30 minutes to finish, says author Ajitabha Bose (24).
Taking inspiration from authors like Ravinder Singh, Sudeep Nagarkar and Chetan Bhagat, a young writer from Jamshedpur wants to bring a new trend in books for the busy generation with short attention spans.
In Love with Shah Rukh Khan, published by Authors' Ink Publication, New Delhi, is according to Online World Records, the shortest love story in the world.
Ajitabha, an alumnus of Gulmohur High School who did his mass communications course from Delhi, has in his pocket book, written a cute love story about a fan of Shah Rukh Khan who meets a flirt.
In Love with Shah Rukh Khan is Ajitabha's second pocket book. The book measures 2.5x4 inches, has 50 pages and is priced at Rs 99.
The story is about Aanya, a fan of Shah Rukh Khan, who meets Vivaan, a flirt, who promises to make her meet the star. The story is about the journey of two persons of very different natures.
"Everyone has a dream. It's just that some dreams get fulfilled while some stay locked in our hearts. This is a story which everyone can relate to," said Ajitabha.
The Pocket Love Story, his first pocket book published last August, was 63 pages long.
So, why pocket books? "I want to bring this trend in the market. People are so busy now that a majority of them have no time to read books or novels. So why not write a book which can be completed in 30 minutes," said Ajitabha.
"Nobody has time today. You can't think of reading a novel while travelling between Jamshedpur and Ghatshila. The reason to write a book like this is to help youngsters pick up a book, to touch and feel it," said Ajitabha, who is also a filmmaker, and currently stays in Delhi.
The author's parents - Amitava Bose is former Tata Motors employee and mother Meena Bose is a housewife -reside in Telco Colony.
Ajitabha earlier penned a longer book named It's A Love Story (2013). He has also contributed to LOVE: A Sweet Poison and Zindagi: The Story Of Life. He also edited The Untold Love Stories written by various authors.
The books are currently available at stores in Delhi and also on e-commerce sites like Amazon and Pustakmandi.