Fear of cops claims life amid lockdown in Jamshedpur
Man jumps into a pond and drowns to escape patrolling policemen enforcing the lockdown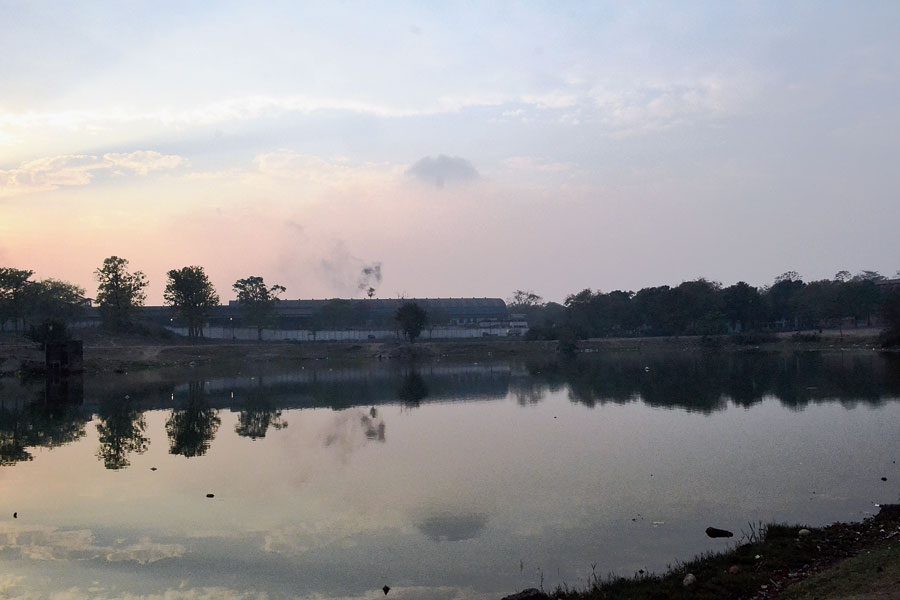 The pond in which Vicky Mahto jumped to his death.
Picture by Animesh Sengupta
---
Jamshedpur
|
Published 07.04.20, 06:40 PM
|
---
A young man from Birsanagar Zone 5 who had gone out on Monday evening jumped to his death in a pond when faced by a police patrolling team enforcing the lockdown in the wake of the novel coronavirus pandemic.
Vicky Mahto, 26, out to buy groceries, had stopped for a chat with friend Asif Hussain near a large water body known as C2 Talab that is under both Birsanagar and Telco police station areas.
As soon as the two friends saw the police team around 7pm, Asif fled. Birsanagar police station officer in-charge (OC) Sunil Kumar Kushwaha and his men tried to catch Vicky, who jumped into the pond.
The swift currents dragged him deeper and he vanished out of sight even as the police team watched.
The body was recovered after three-hour-long efforts by the Tata Motors fire brigade.
Vicky's mother, Surekha Mahto, said he was the sole breadwinner of the family as his father had died long ago.
Vicky worked as a light fitter under a local decorator. His income ran the family of four, including two sisters and mother. Surekha said she had sent Vicky to bring some grocery items.
"It is the policemen who are responsible for my son's death," said Surekha, who filed an FIR against the cops at Telco police station on Tuesday afternoon.
"My son got scared of what they might do," the mother added, demanding compensation of Rs 25 lakh and a job for one family member.
On Monday, angry residents tried to throw stones at the police party but were pacified late in the night by city superintendent of police (SP) Subhash Chandra Jat who promised an impartial probe.
Jamshedpur East MLA Saryu Roy visited Vicky's house on Tuesday and later spoke to the police administration for an investigation so that the police officials if found guilty may be punished and compensation be given to the bereaved family.
City SP Jat said: "We will conduct a thorough investigation into the tragic incident. If any is found guilty, we will recommend stern action.'
Asif, who is also a resident of Zone 5 in Birsanagar like Vicky, said he had come out of his house to buy milk.
"I saw Vicky sitting near the pond and stopped for a chat. On hearing the siren of an approaching police van, I promptly fled the spot, but Vicky jumped into the pond."
Asif said he was deeply shocked at the death of his friend. "After the police party left, I along with another friend Dinesh Kumar tried to search for Vicky in the pond, but we failed," he said.