Cleaner ghats after Durga Puja in Jamshedpur
The steel city hosts the largest number of pandals in Jharkhand and witnessed over 350 immersions on Friday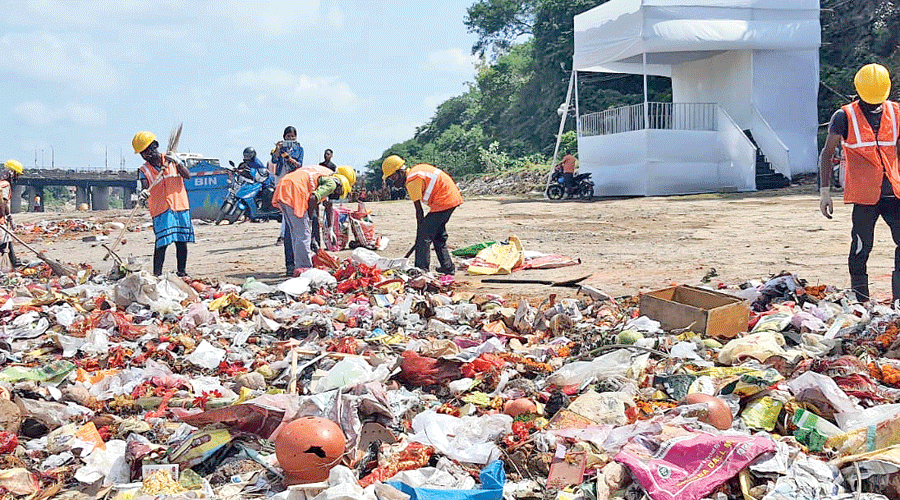 ---
Jamshedpur
|
Published 18.10.21, 12:33 AM
|
---
Jamshedpur, which hosts the largest number of Durga puja pandals in Jharkhand and witnessed over 350 immersions on Friday, had its river ghats wore a cleaner look on Saturday as compared to other years.
As against puja paraphernalia, rotting flowers, idol frames clogging the river ghats along two main rivers of the city — Subernarekha and Kharkai — in earlier years, water bodies sported a cleaner look this year.
"Usually we do visit the ghats the very next day of the Maha Dashami to see the ghats and coordinate with respective local urban bodies to get it clean before the Kali Puja and chhath festivities. However, Saturday we were pleasantly surprised to see most of the over 18 ghats sporting a cleaner look, barring the idol frames, there was no puja paraphernalia seen anywhere in the rivers," said septuagenarian Rambabu Singh, patron of the Jamshedpur Kendriya Durga Puja Samity (the apex body which coordinates with administration and civic bodies during puja festivities).
Jamshedpur Notified Area Committee (JNAC), the state-owned civic body, regulates the cleaning activity during major festivals in the company (Tata Steel) and non-company command areas in the industrial city of Jamshedpur, patted its back along with Tata Steel Utilities and Infrastructures Services Limited.
"We had carried out an intensive awareness campaign this year with all Durga Puja committees about the importance of segregating puja paraphernalia and other items like thermocols which are prohibited by Central Pollution Control Board (CPCB) from immersing in rivers. We also informed the puja samitis well in advance through posters about specially dug water pits along river banks and dropping the paraphernalia, havan materials and other decorative items used on Durga idols at the pits and only immerse the idols at the river. Our efforts seem to have yielded the results," claimed JNAC special officer Krishna Kumar.
JNAC had also deployed personnel to direct the devotees and puja committees to throw their puja items in the specially dug pits and those violating the norms were shouted upon by the volunteers.
Jharkhand State Pollution Control Board member secretary Y.K. Das, however, preferred to wait for the water quality assessment report.
"As per CPCB directive we had carried out samples from all major rivers across Jharkhand before immersion, on the day of immersion and after immersion. We would be tabulating the samples test report soon and only then we can say if the river water has been less polluted this year," said Das.