Class-act claim vs cry of disaster
In education, the writing is on the blackboard: More misses than hits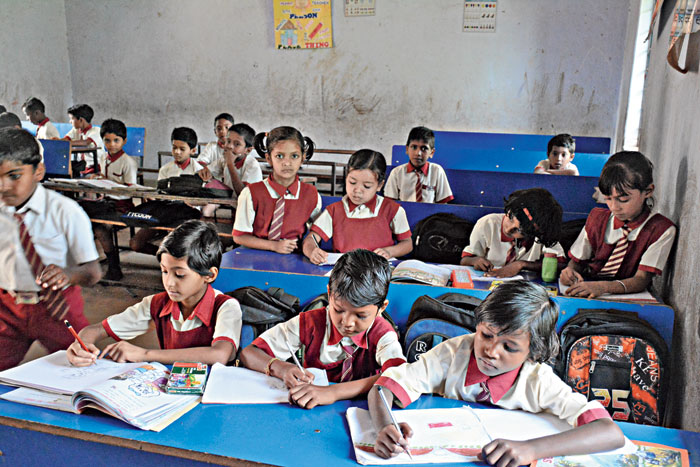 ---
---
Education minister and Koderma MLA Neera Yadav sparked outrage in July 2015 when she garlanded a picture of APJ Abdul Kalam when the former President was still alive. That outrage was missing in 2017-18 when the Jharkhand government decided to follow Niti Aayog's recommendation to "rationalise" resources and merge smaller schools with bigger ones.
Under the move, recommended by the Boston Consulting Group that was hired by Niti Aayog, the state proposed to merge over 6,000 schools as "reform".
Mayhem followed.
Across the state, people alleged schools were closed arbitrarily and that in many cases children, including first-generation learners from particularly vulnerable tribes, needed to cross hills or highways or rivers to reach their new schools. By the end of 2018, more than 5,109 schools across Jharkhand had been merged.
It is not known how many schoolchildren slipped through the cracks.
In the five years of the Raghubar Das government, education hit headlines for other less-than-glowing reasons, most prominent being the agitation of para-teachers — appointed under the mass literacy mission on contracts or on terms different from regular teachers— for better pay from November 2018 to January 2019.
Over 67,000 para-teachers of the state struck work for over two months after the police lathicharged thousands of them during last year's Statehood Day celebrations on November 15 in the state capital's Morabadi grounds. The strike, from November 16, 2018, crippled some 35,000 schools, especially in villages where para-teachers are the backbone of education.
To put things in perspective, the number of regular teachers in Jharkhand is around 61,000.
The impasse between the state and the para-teachers — who got Rs 10,000 per month, while government teachers get between Rs 50,000 and Rs 1 lakh — worsened as the Das government filed cases against agitators, decided to sack over 200 prominent protesters and refused dialogue for weeks. By 2018 November-end, the agitating para-teachers claimed three of their colleagues had died. The JMM and Congress sided with para-teachers, even BJP veteran Arjun Munda reminded his party's state government to act soon.
Late in January, the para-teachers ended their strike when the government promised to increase their pay by up to Rs 4,800 and study the regularisation system of other states, especially Chhattisgarh. So far, the government has hiked their pay by around Rs 3,000. Para-teachers have sporadically raised pay-hike demands since then, but the government has cited Lok Sabha and now Assembly polls, and held back.
The para-teachers' agitation, contrary to the Opposition's expectations, did not become a Lok Sabha poll issue.
Among the positives, in the past five years, 17,534 teachers through the Jharkhand Teacher Eligibility Test were appointed in primary and middle schools, and 10,000 teachers in secondary schools. A Jharkhand Education Project Council (JEPC) source claimed the state has maintained a teacher-student ratio of 35:1.
However, of 1.5 lakh sanctioned teacher posts, 26,000 remain vacant.
Under Gyanodaya, the state government has distributed 43977 HP Pro tablets with e-Vidya Vahini mobile apps to 38,000 state-run schools to help teachers manage administrative work, monitor attendance and assess the academic progress of schools.
Also under the Das regime, the government started Gyan Setu, a classroom improvement programme for academically weak students, selected brainy government school students from all 24 districts for state-sponsored educational tours, and started awarding exceptional teachers with state awards.
The Das government also counts among its achievements the Jharkhand Education Tribunal (JET) (Amendment) Act that prevents private schools from increasing their fees "whimsically".
On the higher education front, many announcements were made in the past five years.
The state introduced three medical colleges in Palamau, Hazaribagh and Dumka, and laid the foundation stone for a women's engineering college in Ramgarh, a Kaushal (skill training) College for women in Ranchi and five nursing colleges in Chanho, Gumla, Itki, Chaibasa, Sahebganj and Jamtara. The three medical colleges were inaugurated by Prime Minister Narendra Modi and started in a hurry without their sanctioned strength of professors. Binod Bihari Mahato Koylanchal University has come up in Dhanbad. Ranchi College has been upgraded to Dr Shyama Prasad varsity. Jamshedpur Women's College was upgraded to a women's university in February this year, followed by land allotment for campus expansion, but it still awaits a vice-chancellor and other officials.
A total of 12 women's colleges as many districts, 13 model degree colleges in as many districts, 27 degree colleges in as many Assembly seats are coming up. The government has set up polytechnic colleges or given the go-ahead to private entities to do so, and has introduced Jharkhand Technical University, Ranchi, with a sanctioned sum of Rs 60.98 crore.
This year, Das urged the Centre for funds to open five new medical colleges, Sanskrit and tribal universities, and upgrade 13 degree colleges to model colleges.
The state government, through the Jharkhand Skill Development Mission Society, collaborated with Tata Institute of Social Sciences and IL&FS to provide skill training to 50,000 college youths.
Despite all this, most students of Delhi boards leave Jharkhand after Plus Two to study in metros or even other smaller cities such as Pune and Bhubaneswar.
JMM contestant from Ranchi Mahua Maji, who is also a Hindi writer, said she was sceptical about the government's numbers. "Be it primary or higher education, everything here lacks monitoring. There's a lot of talk about numbers, not much about quality. And yes, the school merger has been the biggest disaster in the last five years," she said.
XLRI professor Sanjeev Varshney said there were many professional colleges in Jharkhand now but the "moot question is whether they are just to pull in the numbers or whether they are quality-centric".
He added that while it was true that a lot of students from remote areas get access to higher education due to these colleges, the exodus of bright students from private schools after Plus Two had not waned.
"The state has not been able to retain a lot of its talent," he said.