Bring on the night, says Ranchi
200 people were seen on Day 1 of the weekend night market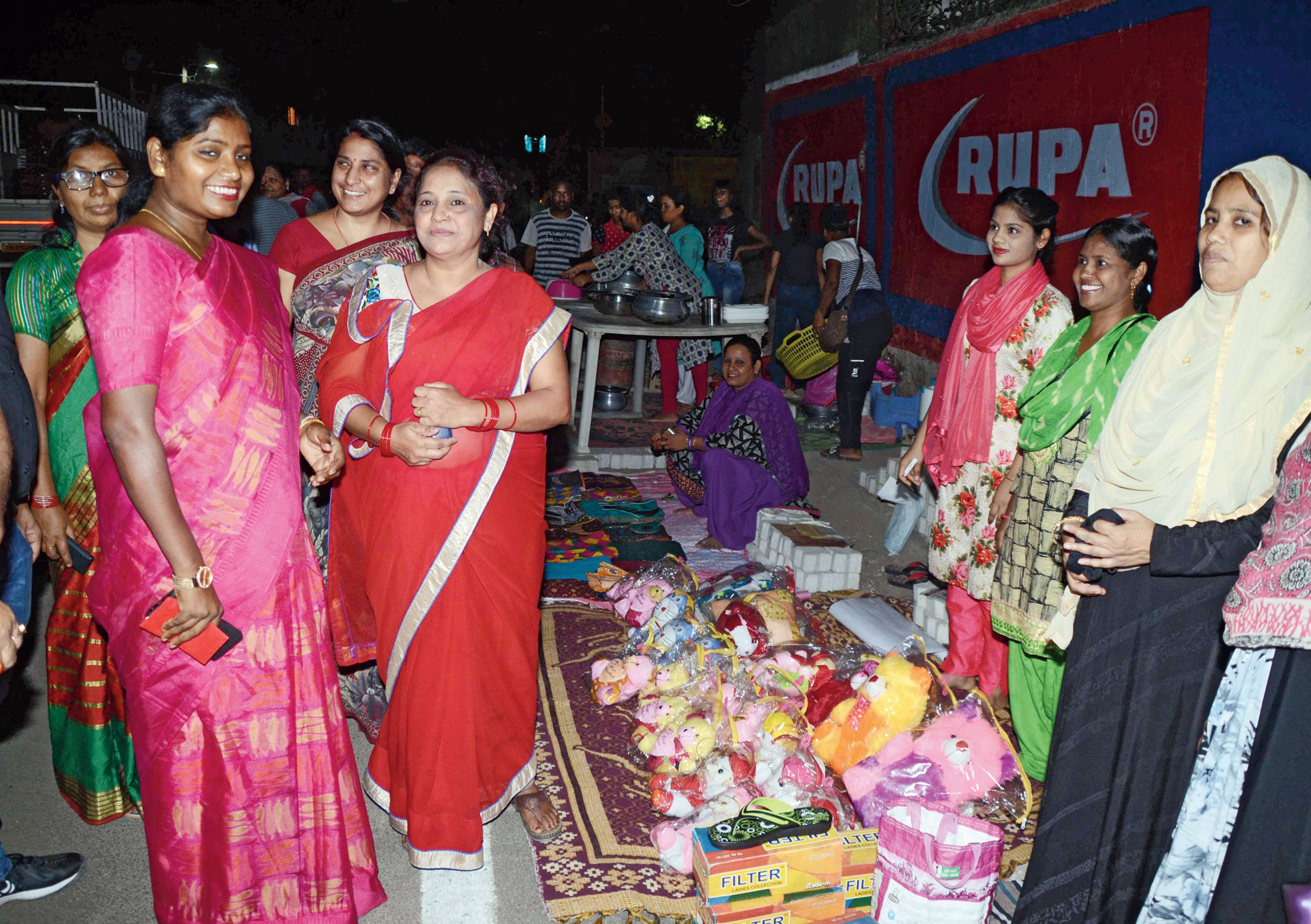 Mayor Asha Lakra at Ratri Bazar on Ranchi Lake Road on Sunday.
Picture by Manob Chowdhary
---
Ranchi
|
Published 09.06.19, 06:35 PM
|
---
The capital may have glitzy malls and multiplexes but it still sleeps early, thanks mainly to frequent power cuts and regular incidents of groping and snatching.
To dispel this sense of insecurity among Ranchiites, newly elected MP Sanjay Seth floated the idea of a weekend Ratri Bazar or night market, which was launched on Saturday night on the northern side of Ranchi Lake. From now, depending on public response, the night market will be open every weekend from 8pm to midnight.
"Why can't our daughters go out on their own for ice creams at night as their counterparts can do in many other cities?" Seth said when asked why he thought of the idea. "Ratri Bazar is a start, more of an experiment. I want to see if it catches on."
He said it would be a win-win if families got a place to unwind at night and entrepreneurs, especially women's self-help groups, got to earn some extra money. State urban development minister C.P. Singh, who inaugurated the bazar, said it would be a law and order challenge, in the positive sense, for the administration to ensure the market runs smoothly and people feel safe.
In its maiden outing, Ratri Bazar has around 60 makeshift stalls, which may go up to 100 in later editions. Many were put up by women's self-help groups (SHGs) having at least 10 members each, which are promoted by Ranchi Municipal Corporation.
The stall displaying soft toys attracted scores of visitors, many with children, on Saturday.
"Our members make these soft toys themselves," said Riya Devi, secretary of Swastik Mahila Samiti, who was at the stall that also sold dress materials for women.
Stalls put up by members of other SHGs had wall hangings, embroidered tablecloths and other knick-knacks.
"Women's groups generally make items of their choice. These are all usually handcrafted," said Saba Manjar of Noor Nagar Mahila Samiti. The state khadi board also had a stall in which it displayed readymade shirts and dress materials. It drew a large number of visitors.
Another stall that drew curious onlookers was the one put up by Bhoomi Mahila Samiti of Purani Ranchi.
It offered such tribal snacks such as marwa or madua (millet) roti and dhuska, served with dhania (coriander) chutney.
Ranchi mayor Asha Lakra exclaimed it was a brilliant idea to sell tribal snacks at a platform like this.
"It's really very nutritious and tasty," she said, holding a madua roti. "To think its only for Rs 10 apiece."
Rani Kachchhap, secretary of Bhoomi Mahila Samiti, stood smiling. "This is for the first time we have put up a stall and we hope sales will pick up," she said.
More than 200 people were seen on Day One.
"Good word-of-mouth publicity will help increase crowds," said Deepak Maroo, president, Federation of Jharkhand Chamber of Commerce & Industries. "Families will get somewhere interesting to go at night. It's a getaway right in the city," he said.
Renu Prasad, a homemaker from Kanke Road, who went there with her family, agreed. "This is a good change. Women will initially come out with their families to this market, and then maybe even on their own. If the atmosphere is safe and homely, why not?"
Another visitor, Aniruddh Kumar of Harmu, said he was curious if the night bazar would have any takers in a city with perennial power cuts. "People will think twice before venturing out in the dark unless security personnel are deployed," he said.
City SP Sujata Veenapani promised regular patrolling
of the area. On whether the market would generate filth and harm the lake, mayor Lakra said: "Cleaning is done every morning. "