Birsa museum gift after Assembly polls
180-year-old prison building renovated with style intact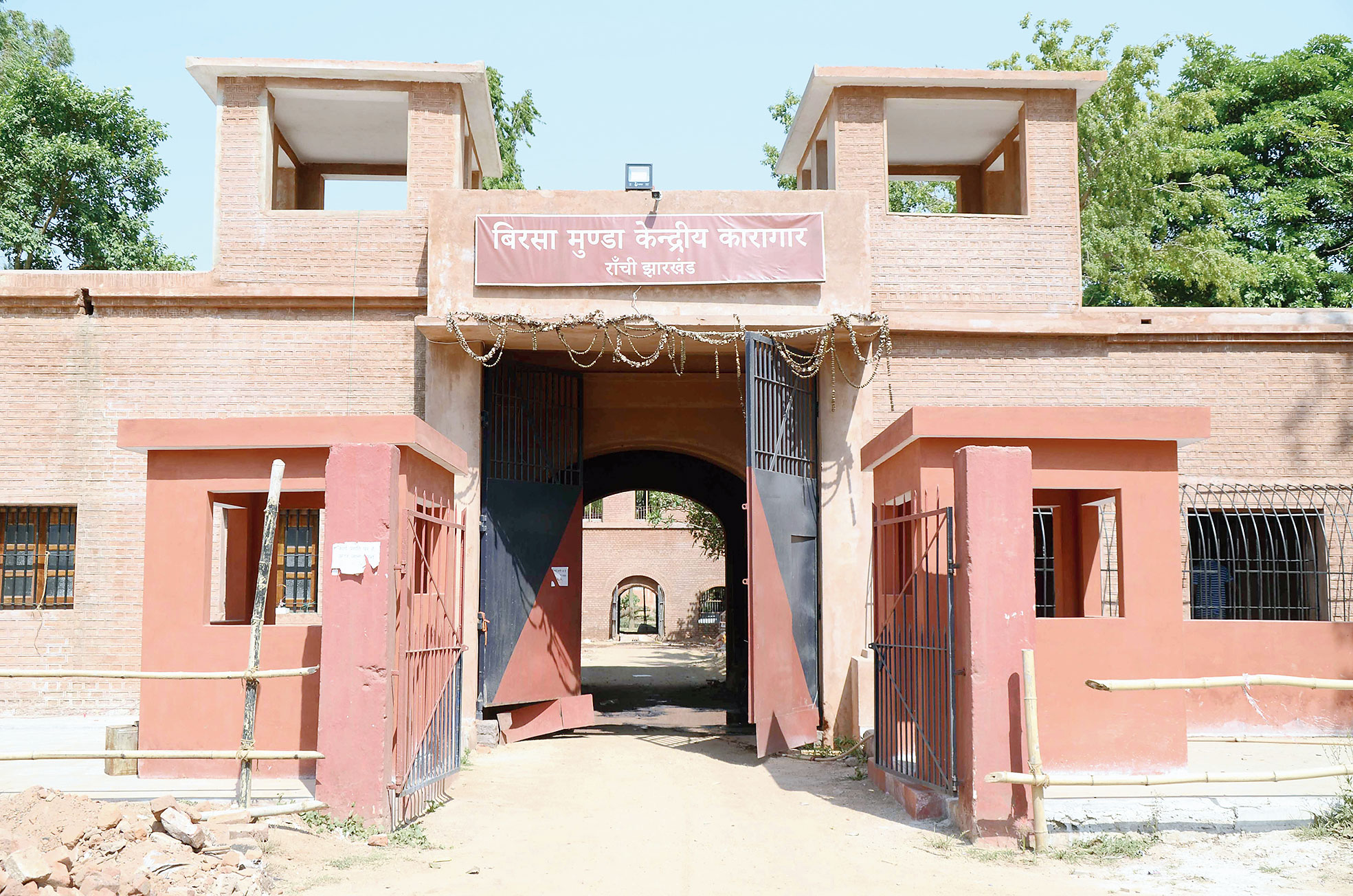 The revamped old Birsa jail on Circular Road in Ranchi.
Picture by Manob Chowdhary
---
Ranchi/Jamshedpur
|
Published 16.09.19, 07:22 PM
|
---
Tourists will have to wait till after the Assembly polls to visit the new Birsa Munda Museum and the renovated Smriti Park on Circular Road in the state capital.
The 180-year-old jail where freedom fighter Birsa Munda died is being converted into a museum, along with statues of 11 freedom fighters in the state, infrastructure for light-and-sound and laser shows on Birsa's life, among others. The existing park nearby is getting a new look.
The Rs 27-crore restoration and renovation work, funded by Union ministry of tribal affairs, is being executed by state urban development department through Jharkhand Urban Infrastructure Development Company Limited (Juidco).
But though Juidco officials had hoped the project would be a foundation day gift to the people of Jharkhand on November 15, it can't be possible due to the upcoming state polls. The model code of conduct will be in place by then.
Asked about the model code of conduct, state urban development secretary Ajoy Kumar Singh was diplomatic. "We are going ahead with our plans to finish the project by November 15. Let's see what happens then," he said.
Inauguration of the museum and park can be officially done only after the Assembly polls are over in December 2019, though dates for that have not yet been announced, a Juidco official told this reporter.
"Ideally, we'd have liked the inauguration on Jharkhand statehood day. As things stand, it will be deferred either to the last week of December or early in January 2020," said a senior official of Juidco associated with the project.
He added that the state government plans to invite Prime Minister Narendra Modi to inaugurate the project.
"It was the Prime Minister who had asked tribal museums be built in 10 states across the country. The Raghubar Das government is confident of returning to power and wants the PM to inaugurate the museum and park," the official said.
Ranchi's Birsa Munda Central Jail is a historic building that's being converted into the museum. In other towns, the museums are being built from scratch.
Indian Trust for Rural Heritage and Development (ITRHD) has used materials like surkhi (pozzolan), lime, chua (a by-product of jaggery) and rotten wood-apple water to replicate the kind of construction done two centuries ago as far as possible to renovate the building, said its state representative S.D. Singh.
"We also tried to ensure that there is no change in architectural style of the ancient building. Our chairman S.K. Misra and vice-chairman heritage conservation and architecture A.G.K. Menon are here to inspect the building," Singh added.
Officials are tight-lipped about the statues of the freedom fighters. It is only known as renowned sculptor Ram V. Sutar is making the statues, including the 25-foot-high Birsa Munda's and 9-foot statues of 10 other freedom fighters.
The nearby Smriti Park will showcase the tribes of Jharkhand in specially designed huts. There are 32 tribes, eight of them designated vulnerable, in Jharkhand.