Bijli ayee? Modi's poser prophetic
Chief minister Das's promise of zero power cuts remains a distant dream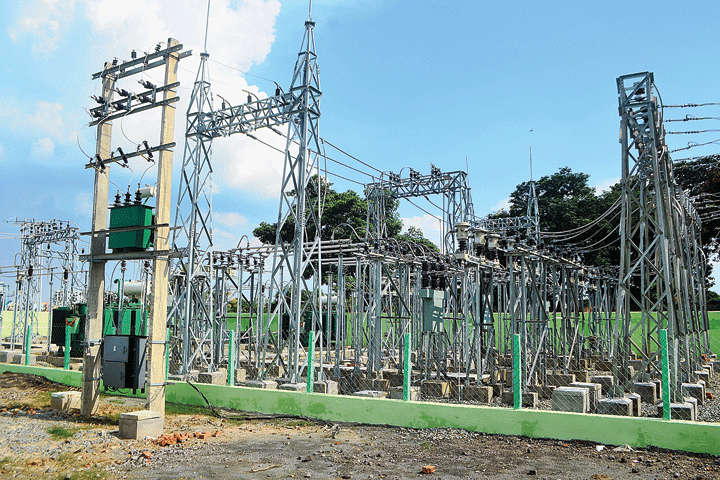 ---
---
Bijli ayee? (Has electricity come) Prime Minister Narendra Modi would ask during campaigning for the 2015 Bihar Assembly elections in a bid to nail his party's then rival Nitish Kumar's failures. Four years later, the question can be asked of Raghubar Das.
In 2016, chief minister Das promised zero power cuts in Jharkhand by December 2017. He made the same promise in the summer of May 2018, but the zero-power-cut goalpost was shifted to December 2018. Das even said that he would seek votes from people only when the state gets round-the-clock electricity.
In September this year, M.S. Dhoni's wife Sakshi, during a visit to Ranchi, tweeted that Ranchi got power cuts ranging from "4 to 7 hours daily" and added "I hope the problem is addressed by the concerned authorities".
Not surprisingly, she was trolled with posers about why she was complaining against the BJP government and whether "Dhoni bhaiya" did not want to fight the elections, and without power cuts how would inverters sell (Dhoni endorses an inverter brand).
Residents of state capital still go without power for three to four hours a day. And Das is asking for votes — for himself in Jamshedpur East constituency and for the BJP overall — this election, something that prompted ally-turned-rival Ajsu Party chief Sudesh Mahto to ask recently in Simaria, Chatra: "When there's no power, with what face can the CM ask for votes?"
JMM working president Hemant Soren posted the report on Mahto's rally on his Twitter handle.
Power supply had always been Jharkhand's Achilles' heel even as part of undivided Bihar.
Jharkhand had a total installed power generation capacity of 1,762.06MW, comprising 554.05MW under state utilities, 753.27MW under private sector and 454.74MW under central utilities. The state needs extra 400MW to meet the demand of consumers, including commercial and industrial ones.
During the UPA regime, the Centre had launched rural and urban electrification projects. Of these, the Restructured Accelerated Power Development and Reform Programme (RAPDRP), meant to improve power distribution in urban and semi-urban areas, is still on. During the first Narendra Modi-led NDA government, the thrust to improve power distribution saw the Integrated Power Development Scheme (IPDS).
For rural electrification, Jharkhand got its share of the pie under RAPDRP and IPDS. While work under RAPDRP is almost in the completion stage, 68 per cent of the work under IPDS has been done so far though the deadline was March 2019.
Under the RAPDRP, the Jharkhand Bijli Vitran Nigam (JBVNL) was supposed to beef up power distribution with new substations and a stronger network of 11KV lines and service lines. The IPDS projects are supposed to strengthen distribution transformers, power feeders and metering, beside bringing about IT-enabled distribution.
General manager of JBVNL (RAPDRP), Shravan Kumar, admitted they were lagging behind in IPDS, a flagship government project to improve power distribution and supply. "We are making efforts to speed up IPDS work in Jharkhand for which the Centre has given us Rs 751 crore through the Power Finance Corporation," Shravan, who also looks after the IPDS programme, told The Telegraph.
The ground reality, however, continues to be grim.
Insiders say that the quality of work carried out under both the IPDS and RAPDRP is sub-par. Reason: the commission culture. Power officials allegedly take hefty cuts from private agencies. So much money changes hands that not much is left for actual work.
For example, under the RAPDRP, a new substation was set up at Gajadih near Marine Drive in Sonari under the Jamshedpur circle of the JBVNL. The substation was to be connected by 33KV underground cables to draw power from the Baliguma power grid. The agency, which laid the 33KV line, defied safety norms. Instead of digging three feet to lay the high-voltage cable, it dug just 1.5 feet.
Similarly, the installation of poles to draw 11KV line has not been carried out according to norms, leading to several of them tilting or getting uprooted after storms.
In the past two years, nine power substations were set up under the Jamshedpur circle of JBVNL under RAPDRP, subject to a third-party inspection by Mecon, but all have been made operational.
Apart from these, a huge number of rail poles meant for electrification were stolen under the Jamshedpur circle of the JBVNL. As recently as in October, a theft case was filed with RIT police in Adityapur.
This dismal power scenario has empowered the Opposition. Congress Jharkhand state committee spokesman Kishore Shahdeo pointed out that the chief minister had promised zero power cuts many times but they all ended in a big zero. "Even capital Ranchi has daily power cuts, what to say of people in villages."
However, there is a silver lining. In the past five years, power pilferage has come down from 40 to 29 per cent, reportedly because various projects to improve power transmission and distribution system are in place.
General manager JBVNL's Singhbhum electricity supply area Arvind Kumar said online metering system and cable wires made a difference. 'Due to cable wires, illegal hooking of power has completely stopped,' he said. "There are continuous raids against power theft. I expect the loss to come down to 15 per cent, the national benchmark, in the next few years," he said.
The power situation has prompted many a quip on social media, including one recently by a Twitter user who replied to a tweet from CM Das's official handle with words to the effect of: Jamshedpur is under Tata's care, rest of the state is at the mercy of god.