At MGM hospital, one dose of vaccine was left over
Health officials looking into anomaly, 160 immunised at two centres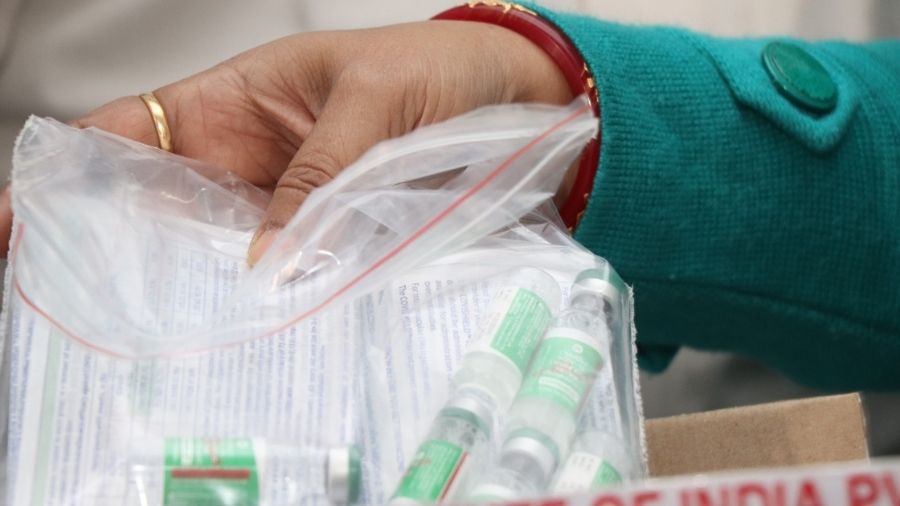 Covishield vaccine at Sakchi in Jamshedpur on Sunday.
Telegraph picture
---
Jamshedpur
|
Published 17.01.21, 08:31 PM
|
---
The two vaccination centres of the steel city recorded a turnout of 160 recipients of Covishield on Saturday, but health department sources admitted to one anomaly on Sunday: one dose of the vaccine was left unused in a vial at MGM Medical College.
"Yes, one dose was left unused in a vial even though 10 recipients were administered vaccines," said East Singhbhum deputy commissioner Suraj Kumar who was supervising matters on the day. "I have asked the concerned health department official to keep the remnants of the vaccine in the freezer," he told The Telegraph Online on Sunday.
Each vial contains 10ml of the vaccine making up for 10 doses of .5ml. Deputy commissioner Kumar could not offer a definite explanation on how a dose could be left unused. But and district surveillance officer Sahir Pal said that vials often contain additional fluid to make up for wastage during the administration of the vaccine.
"There is always some additional fluid in a vial.  Certain amount of fluid is wasted in preparing the syringe and removing air bubbles from it. Vaccine makers often keep additional fluid," Pal said.
Captain (Dr) N.N. Jha, a paediatrician who had worked at Tata Main Hospital, agreed that vaccine makers tend to keep additional fluid in a vial as there was always a chance of wastage.
"But, even if no loss of fluid takes place during the preparation of syringes, the leftover amount of fluid in the vial should not be equal to a dose of 0.5 ml. Maybe 0.2 ml or a little more leftover is acceptable. But if it's more, there is a chance that others may have received less than the prescribed dose," Jha said.
Health workers who were present at MGM agreed the matter should be looked into. "How could this happen?  We should look into the matter seriously," said a senior doctor in the health department.
As for the number of vaccine recipients, neither of the two centres, MGM Medical College and Tata Main Hospital, met the target of vaccinating 100 people at each centre. While 90 people were administered Covishield at MGM, the number of recipients at Tata Main was 70.
District civil surgeon R.N. Jha said that those who could not be administered the vaccine on Saturday due to the time crunch would be given the vaccine at the same venues on Monday.