ASI excavates the tallest statue at Hazaribagh village
After digging out the large Buddha statue archeologists find the tallest at Bahronpur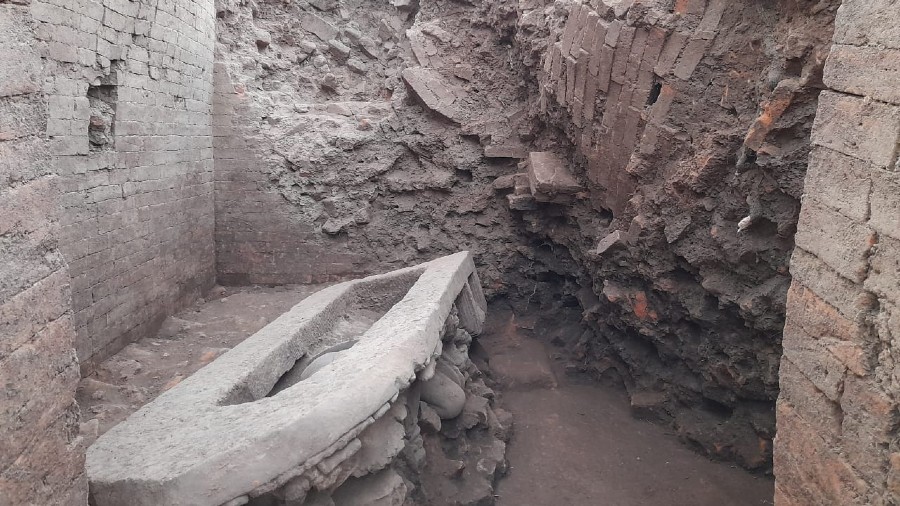 Tallest statue excavated in Bahronpur in Hazaribagh on Sunday
Vishvendu Jaipuriar
---
Hazaribagh
|
Published 07.03.21, 09:00 PM
|
---
Twenty kilometers away from Hazaribagh, archeologists of the Archaeological Survey of India (ASI) at Bahronpur in Sitagarha, discovered one of the tallest statues from the excavation site. Archaeologist Virendra Kumar said the statue was found from the central shrine discovered by them. He said the statue is 6feet 7 inches long. However, they are yet to ascertain whose statue it is, as the backside of the statue is visible.
ASI was permitted to dig the mounds of Bahronpur in Nov 2019, following which they began working at the site after Buddhist monk Bhante Tiswarro shared the details of Bahronpur, which was considered to be a popular monastery during that era. Tiswaro discovered this place based on an ancient Buddhist map which was having details of Bahronpur. On his initiative, ASI began excavation at the site. The relics discovered by the central agency have established that Bahronpur was not only a shrine or a monastery but also a well-developed city. The ASI began excavation at the site in November 2019 but had to stop their work for a few months because of the pandemic.
ASI has excavated several statues of Gautam Buddha and Ma Tara made of white sandstone. The structure of idols and recovered potteries are similar to those found in Itkhori of Chatra which is known as the confluence of three religions and having 9th-century temples. It was considered that Bahronpur also had structures similar to those during the Pala dynasty which was ruling this area during the 9th century.
Kumar said, "We are trying to bring out this tallest statue. We have been instructed to move ahead cautiously so that no damage is done to the idol." He said that Bahronpur became the hotspot since the relics were discovered. According to him, over 1000 individuals are visiting the site daily.