Alarm bells sound on disasters in Jharkhand
NDRF chief admits state is vulnerable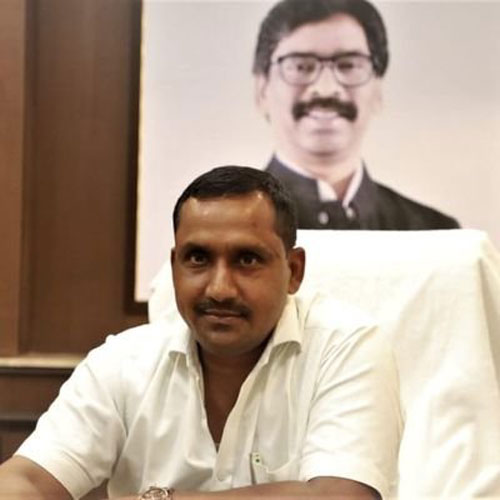 State health and disaster management minister Banna Gupta promised constitution of the SDRF at the earliest.
(Twitter/@BannaGupta76)
---
Jamshedpur
|
Published 08.05.20, 07:32 PM
|
---
Incidents like the Visakhapatnam gas leakage can happen in Jharkhand as well because the state is lagging behind in preparedness to tackle industrial disasters, specially of chemical, biological, radiological and nuclear origin.
This, despite Jharkhand having 13 major accident hazard installations.
Most of these installations — isolated storage and industrial site handling, including transport through carrier or pipeline, hazardous chemicals — do not have any offsite plans. And the state still does not have a state disaster response force (SDRF) equipped to tackle CBRN — chemical, biological, radiological and nuclear — disasters.
As per the 2011 report of the chief inspectorate of factories, there are 13 major accident hazard installations — SAIL, Indian Oil Corporation bottling plant, Indian Explosives Limited (all three in Bokaro), Usha Martin Industries Limited (Ranchi), Aditya Birla Chemicals (Palamau), Indian Oil Corporation, Hindustan Petroleum Corporation Limited, Usha Martin Limited (all three in Seraikela-Kharsawan), Tata Steel, Tata Motors, Praxair Unit-I and Unit II, and Linde India Limited (all five sites in East Singhbhum).
"Unfortunately the state does not have a district level disaster management plant, nor does it have a disaster response force ready to tackle any man-made or industrial disaster," said Delhi-based disaster management specialist Sanjay Srivastava, who had been associated with the state disaster management till a few years back.
"There is no proper mechanism to monitor if the MAH (major accident hazard) installations are implementing their onsite emergency management plans. To make matters worse, there are no offsite emergency management plans in any of the installations," Srivastava added.
As per the government of India's National Disaster Management Guidelines, Chemical Disasters, 2007, it is mandatory for an MAH installation to have testing of onsite emergency plans every six months through mock drills and evacuation plans for the entire unit.
The guidelines also mandate that offsite emergency plans should be conducted through mock drills at least on a yearly basis making people outside the installation area (as much radius outside the installation premises as possible) aware of the standard operation procedures (SOPs), precautions in case of gas leakages, SOPs for rescue teams and quick-response teams like wearing of standard protective gear before entering the hazardous zones, and making arrangements through mock drills of medical emergency plans.
Jamshedpur has witnessed gas leaks in the past.
The Tata Motors plant had a chlorine leak from its water filtration plant in May 2008 causing several residents of Telco colony to be hospitalised. The company has stopped using chlorine gas at its filtration plant since then.
An explosion in the gas holder of Tata Steel works in November 2013 had left one dead and several injured while an explosion near an ammonia scrubber in Tata Steel had injured several workers in November 2015.
S.N. Pradhan, director-general of the National Disaster Response Force, who is a 1988-batch IPS official of Jharkhand cadre and a former ADGP of Jharkhand, speaking to The Telegraph over phone. underlined the need to have a state disaster response force.
"They should have an SDRF at the earliest which should be equipped to tackle CBRN and industrial hazards. Units are opening after Covid-19 lockdown without knowing if the gases in their installation have changed nature, pressure, volatility which results in disasters like the one in Visakhapatnam. The SDRF during peacetime should also be used on mission mode to increase awareness among the public about what to do during such CBRN disasters," said Pradhan.
The state is solely reliant on the NDRF unit in Hatia, Ranchi
State health and disaster management minister Banna Gupta promised constitution of the SDRF at the earliest.
"At the district level we have a mechanism to inspect if the MAH installations fulfil all criteria of disaster management before issuance of licence and also to ensure that such units have their own disaster management task force to handle such situations and coordinate with district administration during emergencies. If things go out of control we rush NDRF units from Ranchi. They are adept at handling CBRN disasters," said Gupta. He said a draft is ready for constitution of a state disaster management authority.