70 elephants from Dalma back home after annual sojourn
More elephants on way to sanctuary from West Midnapore, Bankura forests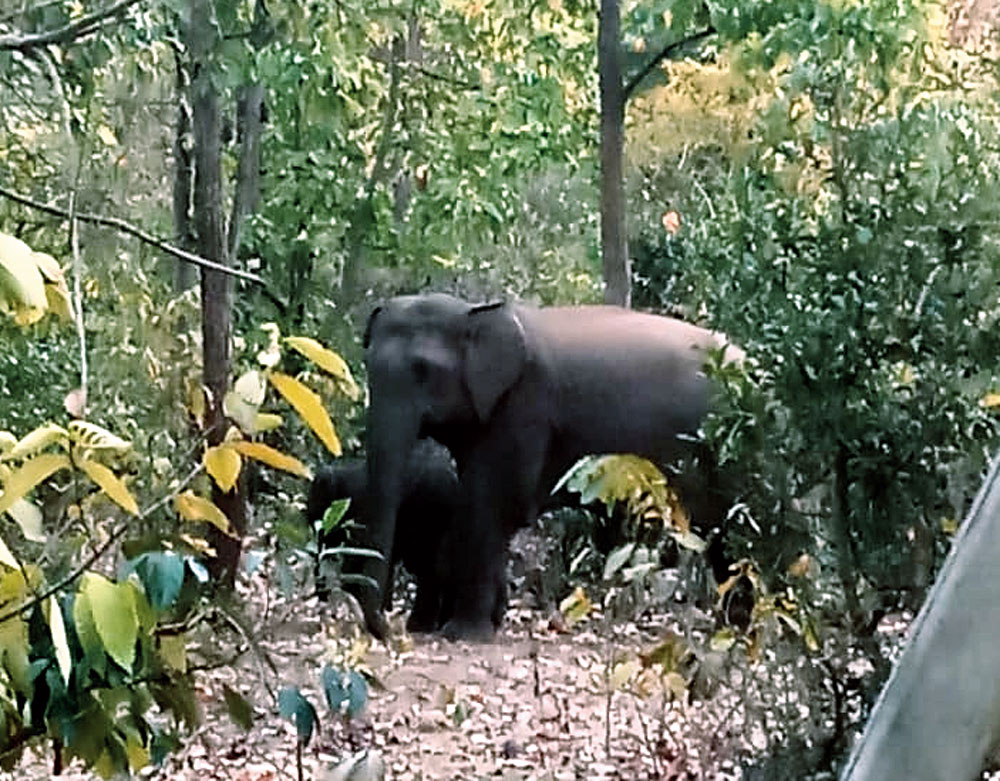 An elephant and her calf near Makulakocha village at Dalma Wildlife Sanctuary on Tuesday.
Telegraph picture
---
Jamshedpur
|
Published 20.02.19, 06:38 PM
|
---
Over 70 elephants have ambled back to Dalma Wildlife Sanctuary after their annual sojourn to neighbouring Bengal.
According to foresters, more were on their way to the sprawling 192sqkm abode, some 30km from here.
On Tuesday evening, a female elephant and her calf had come too close to their captive counterparts, Champa and Rajni, who live near the main entrance gate at Makulakocha village.
"Champa and Ranji trumpeted after seeing the wild elephants near the gate. We think the mother-calf duo wanted to play with the rescued jumbos. However, forest guards drove them away," said Dalma range officer R.P. Singh on Wednesday.
Eleven-year-old Rajni was rescued by foresters after it fell into a well in Seraikela-Kharsawan in 2010. Champa, aged around 40 years, was also rescued from vagrants in Jamtara the same year. Both are being rehabilitated at the sanctuary.
The range officer informed that more jumbos had left the jungles of West Midnapore and Bankura in Bengal and were on their way to the sanctuary. "About 70 elephants have returned to the sanctuary while others are in the vicinity. Around 22 jumbos were spotted near Patamda on Tuesday evening," Singh said.
While some of the elephants have already moved into the core area of the sanctuary, others are still scattered at the reserve. The jumbos slipped into the core area by crossing Bota, the largest jungle inside the sanctuary. Fresh dung were spotted by forest guards along the route leading to the jungle.
Over 130 jumbos had left their Dalma abode in August-September last year. Most of the herds had moved into Bengal jungles while some stayed anchored in Ghatshila and Dalbhumgarh in East Singhbhum. Jumbos generally return home in January-February, although there have been instances when they returned early.
With most of the jumbos back home, tourists can look forward to watching them in their playful best near the watering holes like Badka Bandh, Chotka Bandh and Bijli Ghati.
The range officer added they were yet to distribute mashals, crackers, battery-operated torches and kerosene among villagers living in the foothills for keeping the elephants at bay.
"We have sent a requisition to the state forest department, but it was yet to materialise. We have asked people to be on alert and inform us about the presence of elephants near their villages," Singh said.