Yoga drive with eye on Olympics
The Centre announced its plans to promote yogasana championships through 'formal recognition', structured sport events and scoring rules with long-term goals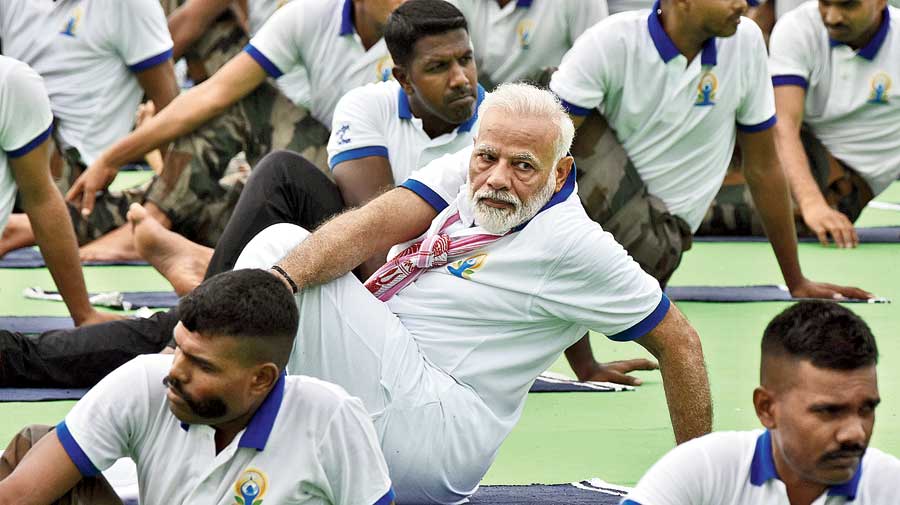 Modi at an International Yoga Day event in Ranchi last year
File picture
---
New Delhi
|
Published 18.12.20, 12:57 AM
|
---
Five years after introducing International Yoga Day, India wants to gift the world championships in yogasanas — a mix of traditional and choreographed yoga movements — promising medals and titles and career and revenue opportunities.
The Centre on Thursday announced its plans to promote yogasana championships through "formal recognition", structured sports events and scoring rules with the long-term goal of introducing such championships in the Olympic Games. 
The Union ministries for sports and ayurveda, yoga, siddha and homeopathy (Ayush) said they planned to organise the first national individual championship event for traditional yogasanas to be conducted in the virtual mode in February 2021.
District-level, state, national and world championship events are also proposed during 2021, Ayush ministry secretary Rajesh Kotecha said. 
The plans also envisage telecasting the championships through leagues, shows and competitions to "generate revenue for self-financing", he said.
He said the Ayush ministry had already prepared documentation for rules, regulations and syllabus for yogasana competitions and proposed automated scoring rules to introduce objectivity and processes for the certification of coaches, referees and judges.
The proposed championships would cover traditional, artistic, individual, group and rhythmic yogasanas across multiple categories and be open for men and women competing for 51 medals, Kotecha said.
Yogasana leagues would help create fresh career opportunities for performers and practitioners, he said.
A national yoga sports federation has helped formulate the list of compulsory and optional yogasanas for inclusion in the championships.
"We've included traditional yogasanas as well as various artistic forms of yogasanas that have evolved on their own," said Ishwar Basavaraddi, director of the Morarji Desai National Institute of Yoga, New Delhi, and president of the national federation.
"Practitioners may combine multiple asanas into choreographed performances with music," said Basavaraddi whose institute has developed several such artistic and group yogasanas some of which combine yoga movements with ballet and other dance forms.
Sports minister Kiren Rijiju announced plans to include yogasana events in university games and the national games. "The aim and objective of any sport is to be included in the Olympics — this is a beginning of a long journey," Rijiju said. "We will have to make it a very proper, authentic and well-accepted form of sport. That is why the technicalities are to be given a very professional touch."
The United Nations accepted a proposal made by Prime Minister Narendra Modi in 2014 to mark an annual International Yoga Day, the first of which was observed on June 21, 2015.