Yediyurappa for CBI probe into tapping charge
He cited demands by several political leaders, including Congress that partnered the erstwhile coalition government with JDS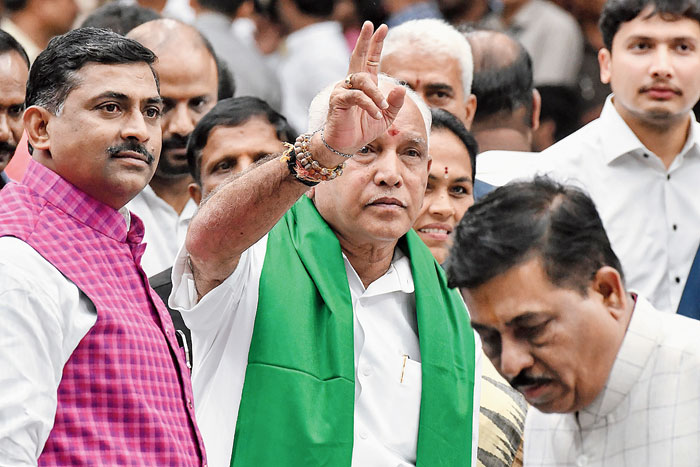 ---
---
Karnataka chief minister B.S. Yediyurappa on Sunday said he would order a CBI probe into allegations of phone-tapping during the previous government's tenure.
The chief minister cited demands by several political leaders, including Congress that partnered the erstwhile coalition government with the Janata Dal Secular.
While former chief minister and JDS leader H.D. Kumaraswamy said he was ready for a probe by even an "international agency", his alliance partner, the Congress seemed a divided house.
"On the telephone tapping issue, several leaders, including Congress Legislature Party leader Siddaramaiah, have said it should be probed and truth should come out. So, I have decided to order a CBI probe. Tomorrow itself I will order the probe," Yediyurappa told reporters here on Sunday.
Last week, senior Congress leader D.K. Shivakumar had come out in defence of Kumaraswamy after the former chief minister was accused of ordering illegal phone-taps on senior leaders, including from his coalition partner.
Kumaraswamy was under fire for allegedly ordering unauthorised phone taps on several leaders, including Congress leader Siddaramaiah and police officer Bhaskar Rao who was installed as the Bangalore city commissioner by the new BJP government.
The scandal came to light when someone from the government leaked an audio clip, purportedly featuring a conversation between the new police commissioner and a person named Faraz. The content of the leaked audio take indicated that the voice, purportedly that of the police officer, was lobbying for the city commissioner's post.
The new BJP government appointed Rao by removing Alok Kumar who served 47 days as the city police chief. In a departure from tradition, Kumar didn't conduct the official handing over of charge. He has since approached the Central Administrative Tribunal.
"No phone was tapped. I don't know what was leaked to the media," Shivakumar had said alluding to the leaked audio clip. "I did ask around about this, but was told there was no truth in the allegation."