Why coronavirus doesn't last long on paper
A study has explained the puzzling observation of varying survival times on different surfaces made by US researchers nearly a year ago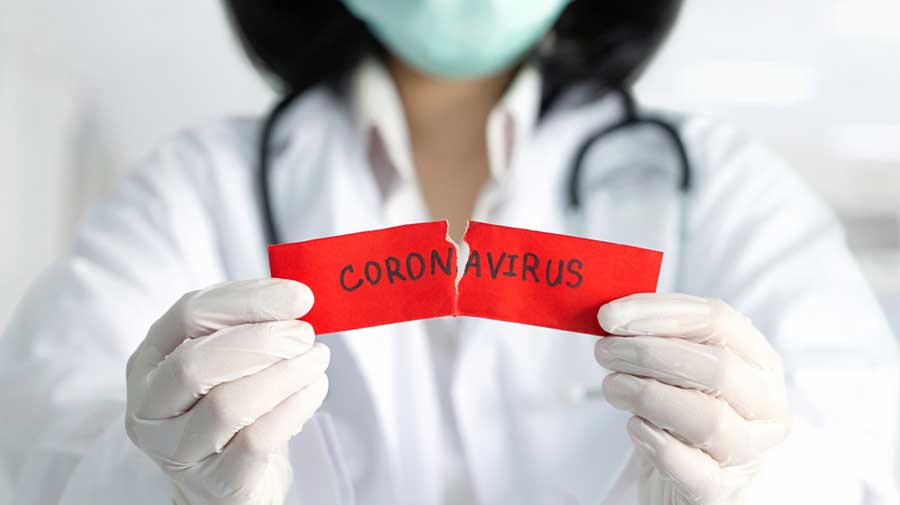 ---
---
Scientists in Mumbai have discovered why the novel coronavirus survives less than three hours on paper but remains viable for three to seven days on smoother materials such as plastic, glass, or stainless steel.
Their study exploring the mechanisms through which the coronavirus expelled in respiratory droplets remains viable has also explained the puzzling observation of varying survival times on different surfaces made by US researchers nearly a year ago.
Rajneesh Bhardwaj and his colleagues at the Indian Institute of Technology, Bombay, have found that residues of droplets called thin films survive for a much shorter time on a porous surface, making it less conducive for the survival of the virus.
"Our findings imply that covering glass, laminated wood or stainless steel with porous materials such as paper or cloth could reduce the risk of transmission from surfaces," said Sanghamitro Chatterjee, a post-doctoral researcher and team member.
Their study, which combined experiments on droplets and computer simulations, has suggested the coronavirus can survive for four days on glass, seven days on plastic or stainless steel, two days on cloth and only three hours on paper.
Researchers at multiple academic institutions in the US were the first to show last March that the coronavirus could survive on cardboard for up to 24 hours but several days on plastic or steel.
"That was a mystery actually — the respiratory droplets that hold the virus evaporate in seconds to minutes. The mystery was how can the virus survive even after the droplet has evaporated," said Bhardwaj, associate professor of mechanical engineering.
The IIT-Bombay scientists first used computer simulations to show that the droplets leave behind residual thin films — a surface of liquid about 100 times thinner than human hair where the virus can continue to remain viable.
Then, they conducted experiments with droplets and residual thin films on different surfaces and found that thin films themselves have much shorter lifetimes on paper or cloth than on plastic, glass or stainless steel.
"We now have a physical mechanistic explanation for the different survival times," said Amit Agrawal, professor of mechanical engineering. "It is the geometric features of the surface rather than the chemical composition of the material that explain the differences."
Team member Janani Srree Murallidharan said the findings would help inform the public to exercise caution where necessary as well as to avoid unwarranted fears. During the early weeks of the pandemic last year, virus transmission from surfaces had stirred concerns. The scientists have published their findings in the journal Physics of Fluids.