Who from govt pressurising banks to grant loans to Adani: Congress
Debt, being offered on a platter to some friends of the government, has created an anxious situation for the nation, says Gourav Vallabh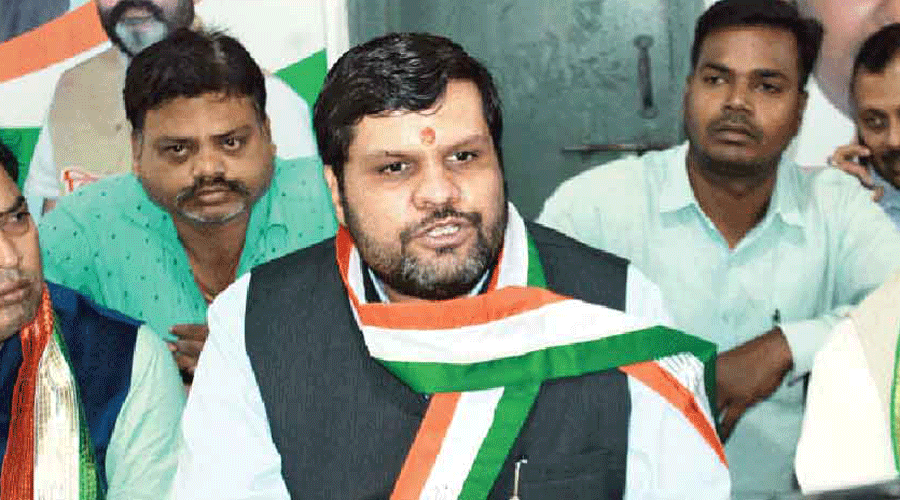 Gourav Vallabh.
File photo
---
New Delhi
|
Published 26.08.22, 01:24 AM
|
---
The Congress on Thursday asked which functionary of the Narendra Modi government was pressuring banks to grant loans to the Adani group, which it said was reeling under a debt of Rs 2.3 lakh crore while venturing into new areas without the requisite expertise.
Congress spokesperson Gourav Vallabh said that nearly 40 per cent of "the major loans obtained by the Adani group" between April 2020 and June 2022 had come from the State Bank of India.
"Who from the government is pressurising banks such as the SBI to grant loans of such proportions, putting the national economy and banks at colossal risk?" he asked, and went on to highlight Adani's alleged proximity to the Prime Minister.
"Debt, being offered on a platter to some friends of the government, has created an anxious situation for the nation, on top of the national debt obligations which have risen from Rs 55.90 lakh crore in 2014 to Rs 152.17 lakh crore in 2022," Vallabh said, adding that the country's spiralling debt was deeply worrying.
"Recently, a New York-based credit research firm, Credit Sights, published its analysis on the debt position of the Adani group. The total gross debt with all key Adani entities is close to Rs 2.3 trillion (Rs 2.3 lakh crore)."
Vallabh said that Adani had adopted a business model of acquiring every possible business under the sun.
He underlined that the credit report had listed several concerns, from the group's aggressive expansion efforts to its forays into new or unrelated businesses; environmental, social and governance (ESG) risks; and limited evidence of equity capital injections by Gautam Adani and his family.
"Out of the major loans obtained by the Adani group (from April 2020 to June 2022) of Rs 48,000 crore, (nearly) 40 per cent is funded by the SBI alone, that is, Rs 18,770 crore," Vallabh said.
 "Fourteen global/ private banks have funded the remaining 60 per cent (Rs 29,000 crore). This exposes the most prominent Indian bank to a huge risk. The report highlights that these businesses do not make profits in the initial few years, and hence there is a likelihood of rolling over/ refinancing for interest obligations, for which they would again have to reach out to banks."
Vallabh added: "The report calls out that overly ambitious debt-funded growth plans could eventually spiral into a massive debt trap. The other important point to note is that the Credit Sights report puts this blatantly: 'Gautam Adani also enjoys healthy relations with the ruling Modi administration. Adani and Indian Prime Minister Narendra Modi know each other well, going back to the latter days as the chief minister of Gujarat state'."
To buttress the charge of Modi's closeness to Adani, Vallabh recalled that the chairman of Sri Lanka's state-owned Ceylon Electricity Board had claimed before a parliamentary panel that the Indian Prime Minister had pressured then President Gotabaya Rajapaksa to award a renewable energy project to the Adani Group. The official later retracted his statement and resigned.
"Also, as soon as the Modi government came to power in 2014, the SBI drafted an in-principle agreement with the Adani group for a $1-billion facility and brought in several banks worldwide to provide funding," Vallabh said.
"After constant protests, the SBI backed off and scrapped the MoU. In 2020, news of another Rs 5,000-crore loan by the State Bank of India to Adani's Carmichael coal project in Australia became public. Pressure by investors such as Amundi and AXA led to the SBI's loan getting stuck."
Vallabh also mentioned what he described as the hostile takeover of NDTV.
"Why are the finance ministry and Sebi sitting idle on the entire hostile acquisition episode of a leading TV News channel?" he said.
"What is the Modi government's plan to save the economy and specific sectors from collateral and cascading damage in case of default or loan repayment delay as the Adani group's debt is consistently increasing?"