Wherever Nirmala looks, she sees Bajaj
Bajaj had said that industrialists did not have the confidence that if they openly criticised the government, it would be appreciated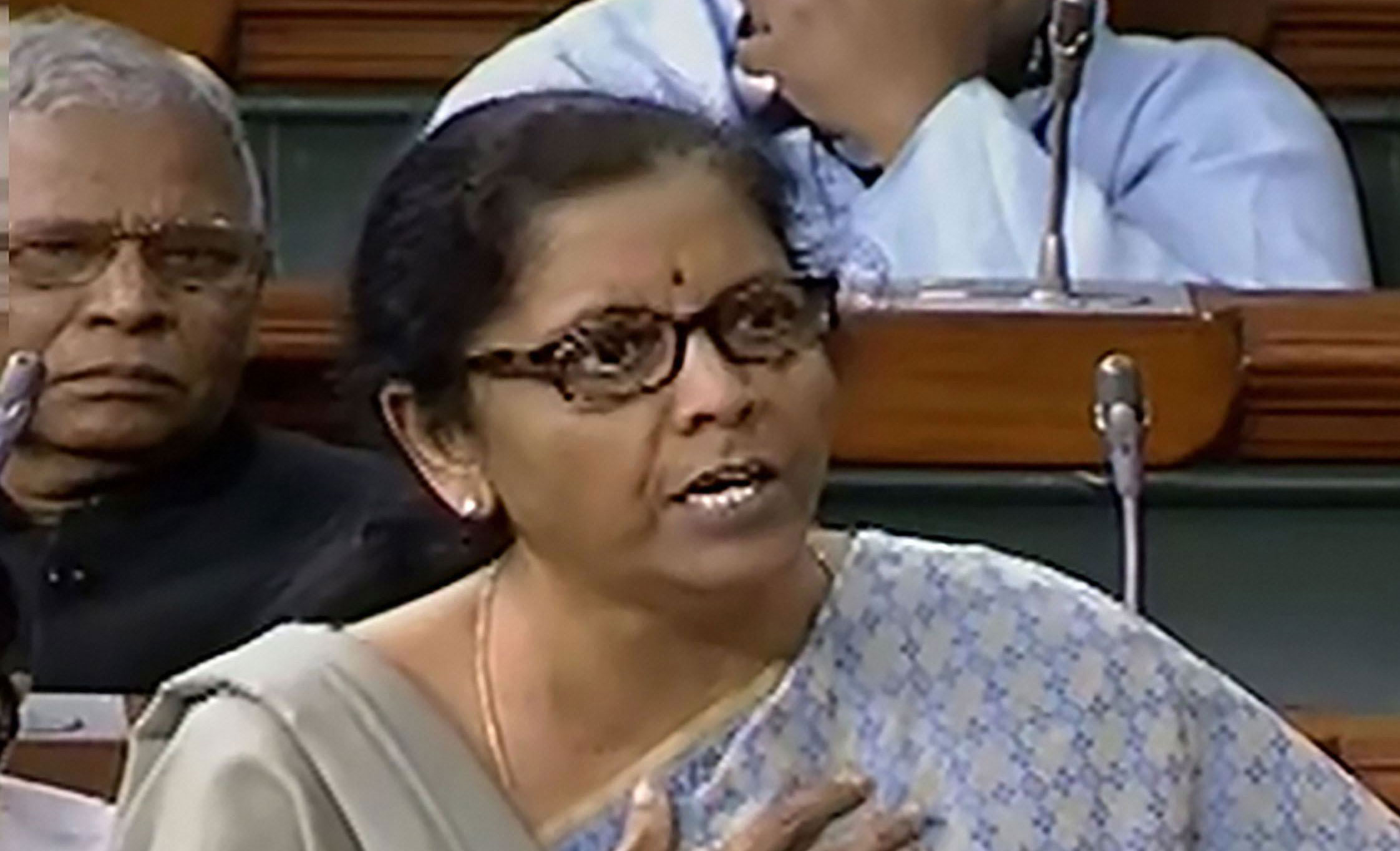 Nirmala Sitharaman speaks in the Lok Sabha on December 2, 2019.
(PTI)
---
New Delhi
|
Published 02.12.19, 08:41 PM
|
---
The Rahul Bajaj episode appears to have made finance minister Nirmala Sitharaman "quite happy" as well as angry at the same time.
The minister on Monday angrily told the Lok Sabha the Narendra Modi government was "quite happy" to listen to criticism and respond, suggesting the ruling dispensation was yet to get over the weekend plain-speaking in Mumbai.
At The Economic Times awards event, Bajaj had said that industrialists did not have the confidence that if they openly criticised the government, it would be appreciated.
Since then, trolls have targeted the veteran industrialist and, on Sunday, Sitharaman posted a tweet with a reference to the potential that "impressions" have to "hurt the national interest", which drew a fair amount of criticism.
On Monday, the minister told the Lok Sabha that her tweet was "nuanced" but had been misrepresented by the media. "We are a government, we listen. We hear, whether it's criticism or inputs, and we respond," Sitharaman said while replying to the debate on a taxation bill.
Sitharaman appeared unable to shrug off the Bajaj incident, which took place in front of home minister Amit Shah and herself. "When the home minister responded to an industry leader, I was very much on dais…. It was this clear attitude that we are ready to hear criticism and respond to it, rather than say you can't speak at all. We are quite happy to hear," she added.
The minister stressed how she had been called the "worst finance minister" even before she had competed six months.
"I have gone around the country and met industry leaders. I have gone around the country where people both in the social media and to my face said, 'Oh my God! You are the worst finance minister we have seen', not even waiting for me to finish six months of my tenure," said Sitharaman, looking angry.
"I haven't told anything to them (the critics). Nor have I responded in an unacceptable manner. I told them, 'Please give me more ideas, we will work on it'."
"If there's a government and there is a Prime Minister and there are ministers who are constantly being pilloried and who have responded positively, it is this," Sitharaman said, jabbing at the table.
"It is this government under Prime Minister Modi that listens to criticism, which responds to criticism with positivity, rather than keep sitting and criticising…."
She again brought up the Bajaj incident. "And, therefore, to be constantly told that there is an industry leader who stood up to ask questions, talk truth to power…. Yes, please do talk. Not just he, anyone of you can do and that's what I have been hearing for the last six months," Sitharaman said.
When Adhir Ranjan Chowdhury of the Congress tried to intervene, she said: "Why don't you stand up? Haven't you called (me) names in this place? I must tell you, if it's a habit and if it's in someone's DNA to ask questions and run away before the answers are given, it's not our party, it's some other party."
"The Prime Minister must come, the finance minister must come, the defence minister must come…. But when we come here to reply, you walk out without listening," she said, referring to walkouts by the Congress. "Still we are willing to listen and respond."
Triggering protests from the BJP benches, Chowdhury had earlier said: "We do have a lot of respect for you but sometimes we wonder if it wouldn't be more apt to address finance minister Nirmala Sitharaman as 'Nirbala (powerless) Sitharaman'."
He had added: "You head the finance ministry but we don't know whether you are even able to speak your mind on the economy."
In her speech, Sitharaman had made a reference to "jija (brother-in-law)". BJP leaders usually use the term to refer to Robert Vadra, the brother-in-law of Rahul Gandhi.
"Eight crore people got gas connections under Ujjwala. Who are the 68 lakh beneficiaries of Ayushman Bharat? Who are those 11 crore people who got toilets in their houses? Are they someone's damaad or jija? We don't have jijas in our party, we only have karyakartas," Sitharaman said.