What's behind Brand Rahul on Twitter? Not just Rafale
Wit, humour, sarcasm and one fight a day is the formula, say Congress social media spin masters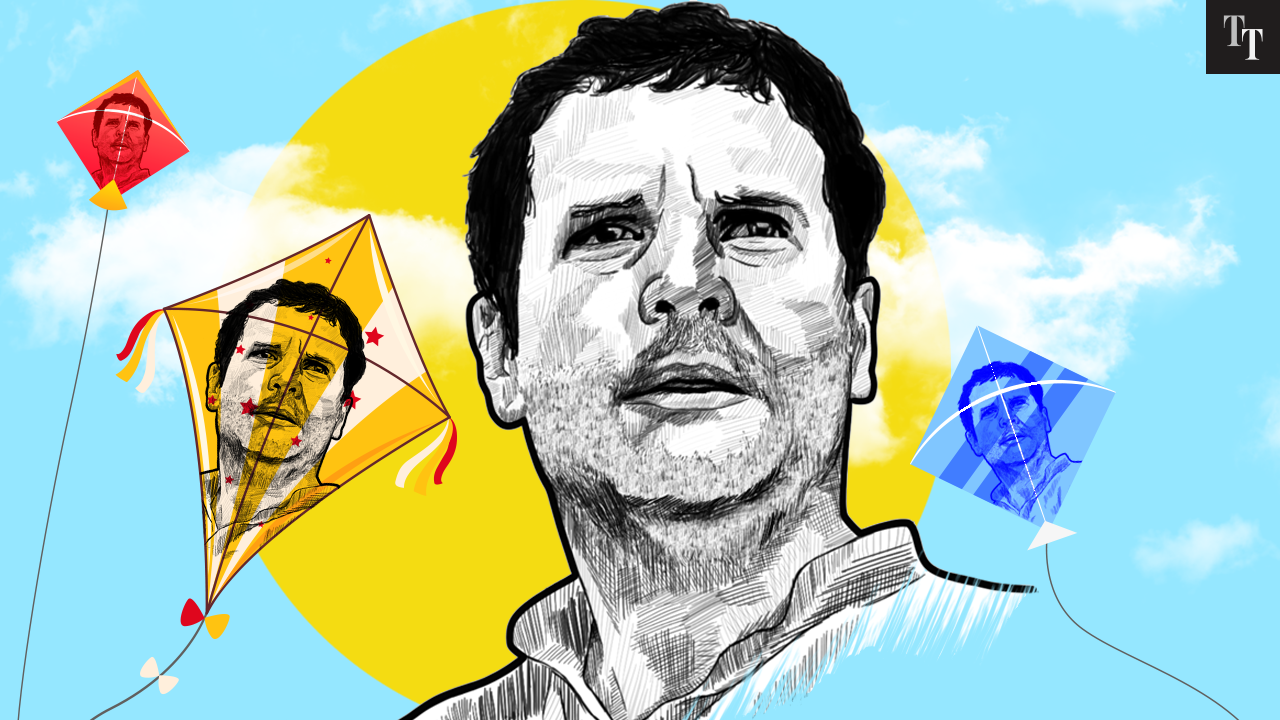 ---
---
It's Rahul Gandhi's new name for Narendra Modi and he used it to send a Twitter blast to the Prime Minister on the interim Budget day.
"Dear NoMo. 5 years of your incompetence and arrogance has destroyed the lives of our farmers. Giving them Rs. 17 a day is an insult to everything they stand and work for."
This cannonball tweet earned @RahulGandhi a very impressive 14,199 comments, 12,753 retweets and 44,469 likes.
Dear NoMo,

5 years of your incompetence and arrogance has destroyed the lives of our farmers.

Giving them Rs. 17 a day is an insult to everything they stand and work for. #AakhriJumlaBudget

— Rahul Gandhi (@RahulGandhi) February 1, 2019
It left Modi, who's the master of Twitterverse, trailing in the dust.
That day the Prime Minister had sent out three tweets — two on a trip to Bengal and one on the Budget — and they pulled in 3,000 comments, 7,468 retweets and 28,000 likes in total.
Till about a year ago, Modi seemed to be the master of all he surveyed on the Indian Twitterverse. He's followed by 45 million handles and among global politicians, that puts him only behind Donald Trump, who has 58.1 million followers.
By comparison, Rahul's only got 8.42 million followers but he's regularly scoring direct hits on battleship Modi and the BJP. His budget tweet outscored Modi, who has five times as many followers.
In sheer numbers, Rahul's only in the same league as well-known English media journalists such as Barkha Dutt (@BDUTT), who has 6.81 million followers, and Rajdeep Sardesai, who has 8.56 million.
But even the BJP has now grudgingly taken note that Rahul's Twitter game has improved. It has become more strategic. Some BJP leaders have insinuated that the retweets and likes are paid for.
AICC convener for communications Priyanka Chaturvedi says Rahul's social media strategy has changed sharply. "He (Rahul), through wit, humour, sarcasm, manages to target the government, especially Mr Narendra Modi", she said. "People are now engaging more with him."
A key part of Rahul's communications strategy has been to target the Prime Minister directly. Says an official in Rahul's communication strategy team: "For a long time, people used to attack the BJP but no one had the guts to take on the Prime Minister directly. Rahul Gandhi was very clear, even before the Gujarat elections. 'Look, if I am one of the key faces in the Opposition and I don't have the guts to take on the Prime Minister head on, why will my party workers or others do that?' he asked."
NoMo Jobs!

The Fuhrer promised us 2 Cr jobs a year. 5 years later, his leaked job creation report card reveals a National Disaster.

Unemployment is at its highest in 45 yrs.

6.5 Cr youth are jobless in 2017-18 alone.

Time for NoMo2Go. #HowsTheJobs pic.twitter.com/nbX4iYmsiZ

— Rahul Gandhi (@RahulGandhi) January 31, 2019
#HowsTheTwitterGame
This was a dramatic shift from earlier years. All through 2015 and '16, Rahul Gandhi's official Twitter handle, @OfficeOfRG, was like a Congress bulletin board.
For example, from April 18-24, 2016, @OfficeOfRG tweeted on the following things: a rally in Bengal, Mahavir Jayanti, a Rajasthan rape-and-murder probe, Rahul's visit to his Lok Sabha constituency Amethi and meetings there, the court ruling scrapping President's Rule in Uttarakhand and an attack on Narendra Modi in this context, deaths in an Arunachal Pradesh landslide and an announcement for a rally again in Bengal.
There were 16 tweets in all. The highest number of retweets a post got was 1,074. It was the tweet attacking Modi.
Now, cut to January 28-February 3, 2019. @RahulGandhi had 11 posts, seven of which attacked either Modi or a BJP minister. Retweet average: 10,990. The post on the Congress's minimum income promise if it came to power got 11,302 retweets, the highest that week.
We cannot build a new India while millions of our brothers & sisters suffer the scourge of poverty.

If voted to power in 2019, the Congress is committed to a Minimum Income Guarantee for every poor person, to help eradicate poverty & hunger.

This is our vision & our promise.

— Rahul Gandhi (@RahulGandhi) January 28, 2019
The social media team official said Rahul's handle is now more focused about what he wants to convey. Quantity has given way to quality. Team members insist that the Congress chief frames the ideas on what should go out on social media, not a hired Twitter finger.
The official in Rahul's communication strategy team, who did not want to be named, said that @RahulGandhi tweets basically "just one idea a day to avoid diluting focus". On Facebook, three to four ideas are tackled. "We judge the success of a tweet by looking at retweets, likes and how many mainstream media outlets circulated it or commented on it."
The pruning of tweets has been severe. There is no post on Rahul's now famous hug to Modi in the Lok Sabha on July 20, 2018. To relive such moments, a Congress karyakarta has to follow the @INCIndia handle.
सभी कांग्रेस कार्यकर्ताओं और युवाओं से मेरी अपील- देश को हम सबकी ज़रुरत है, कमजोर लोगों को हमारी ज़रुरत है, आगे बढ़कर आईये और मदद कीजिये! pic.twitter.com/fON4iYPhn0

— Rahul Gandhi (@RahulGandhi) November 12, 2016
Before take-off
The Twitter game did not always look so good for Rahul.
@OfficeOfRG went near silent at the time Indians needed to hear a reassuring voice that would emerge as an alternative to Modi's. On November 8, 2016, the day the Prime Minister dropped the demonetisation bomb, @OfficeOfRG put out two tweets. One was a condolence message on the passing away of a veteran journalist, the other was a birthday wish to BJP senior L.K. Advani.
It took three days for the handle to reflect the unfolding countrywide mayhem.
On November 12, a video went out. A solemn Rahul requested Congress workers to help those standing in queues outside banks. His appeal: "Jahan bhi apko line dikhai de, log dikhai de, madadh kijiye (wherever you see a queue, help the people)."
Was it #Rafale?
The Congress social media strategist said the Rafale deal and Rahul's campaign against it paid off on Twitter.
But #Rafale landed on India's news cycle at the tail end of 2017, so also on Rahul's Twitter timeline.
Rahul had first turned aggressive around July 2017 soon after he was attacked for meeting the Chinese ambassador at a time when Indian and Chinese forces were face to face in Doklam. Initially, the Congress had denied the meeting but then Rahul went on the offensive on Twitter.
First, he confirmed that the meeting had happened.
It is my job to be informed on critical issues. I met the Chinese Ambassador, Ex-NSA, Congress leaders from NE & the Bhutanese Ambassador

— Rahul Gandhi (@RahulGandhi) July 10, 2017
But @OfficeOfRG was not done.
Rahul also targeted Modi.
After July 2017, the statistics on @OfficeOfRG never dipped to its 2015 levels when his posts clocked around 800 retweets and 900 likes.
Rafale sure made the tweets soar, but Doklam gave @OffiecOfRG the first crucial lift.
Gujarat
One of Rahul's earliest tweets on Rafale was in the middle of the Gujarat election campaign on November 15, 2017. After that, Rafale became a continuous hum along with GST, which he rechristened Gabbar Singh Tax.
Before the Gujarat elections, for the first time the Congress stole a march over the BJP with a campaign idea, which was not of its making but was quickly adopted by the party — Vikas gando thayo chhe (Vikas has gone crazy). The BJP felt compelled to release a series of counter-campaign videos.
In October-November 2017, Congress leaders, social media cell members retweeted photos of Rahul practising aikido, a Japanese martial art form. Nothing appeared on @OfficeOfRG, but the photographs showed Rahul, sometimes derogatorily called Pappu by his rivals, in a different light in the middle of a crucial election season.
In the last one month, @RahulGandhi has tweeted on the Rafale deal and the lack of jobs. In contrast, @narendramodi has tweeted on exam stress for students and refinery openings and everything in between, sort of how @OfficeOfRG used to tweet back in 2015.
Modi still has one unbeaten tweet.
India has won! भारत की विजय। अच्छे दिन आने वाले हैं।

— Narendra Modi (@narendramodi) May 16, 2014
"India has won. Bharat ki vijay. achchhe din aanewale hain," he had tweeted on May 16, 2014, after the BJP won the Lok Sabha elections.
That tweet has clocked 107,249 retweets and 77,621 likes.
@RahulGandhi has nothing to equal that triumphant winner. The question is whether he will be able to match it on the day after the next general election results.