WHAT IF CHENNAI HAPPENED IN PATNA
Enjoy the chill but spare a moment for a chilling thought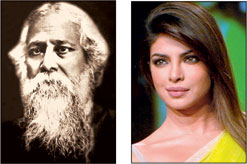 ---
Published 28.12.15, 12:00 AM
|
---
Winter is probably a good time to drop a chilly thought on you. Silently, and quite unheeded, a disaster is marinating around Patna. It could drown Bihar's capital far swiftly and effortlessly than Chennai was drowned; it could wreak far greater damage.
Patna is a saucer-shaped receptacle bounded by four interlinked rivers that can be trusted to turn turbulent - the Ganga to its north, the Gandak to the west, the Sone to the southwest and the Punpun to the southeast. Overburdened by its populace (nearly two million people packed 2,000 to every square kilometre) and recklessly urbanised, it sits atop a rotten, or on places altogether absent, drainage system.
Subjected to a downpour such as Chennai's earlier this year - about 235mm on the critical day - it may be neither alarmist nor unimaginable to see Patna capsize. Nature has rigged it to recurrently drown, man hasn't done enough to protect it from reversals.
"Patna is lucky it hasn't had much rain in recent years," says Dinesh Mishra, an IIT-trained civil engineer and flood expert, "A flood in any of the encircling rivers can flood all others and there aren't enough discharge points. And the drainage is so poor and clogged, even a little downpour can deluge vast parts of the city. There is too much water all around, and we do not have a drainage plan." This city is far too ill-set and far too ill-equipped to resist, much less throw off, a sudden water siege brought upon it by its ring of rivers and low marshlands.
It's happened to Patna in the near past. A deluge came, it devastated and passed. Few care to remember its horror, fewer still took any lesson.
My co-reporter Piyush will have no memory of it for he wasn't yet born. But I do. It was back in 1975. I had just come upon my teens. Patna saw recurrent waves of political unrest and violence that year and eventually they brought on the Emergency in June. Then came waves of water as Patna's rivers began to impose themselves, an invasion from all sides that overnight turned the capital into a filthy seamless lake.
From the terrace of our apartment block in Rajendra Nagar, a notoriously low-lying neighbourhood, I saw the water arrive, at first no more than the shape of a minor spill. Then it obliterated the length of the road, lapped over the kerbs and drank up the grass on the park and patches of backyard vegetation. Within a couple of hours, it had defied all effort at fortification and swilled into ground floor homes. The lights went out, and the ground floor people lumbered up with what they could. Dogs and pigs moved into the stairwells to find what ledge they could above the waters. They howled and squealed in the dark all night.
The next morning little boats were drifting about where the road lay, and boys were floating about in the crooks of inflated tyre tubes. Some of them dropped lengths of cloth in the water and brought up fish. There were spells of thrill to be had from being marooned. Three days into the flood, Air Force helicopters began to fly supply sorties, lowering close on Patna's rooftops and dropping pouches of drinking water and dry rations - grams, gram flour, loaves of bread, strips of chocolate that came down crumbled and were always fought over most. The water pouches seldom survived the drop, bursting open in sprays mid-air.
The worst of the flood came after the flood receded. Patna had been rendered a muddy bog-pit strewn with mangled junk and animal carcasses. Everywhere stank of live decay. The only relief on it was the pungent pervasiveness of DDT, the post-flood talcum Patna came to sprinkle itself liberally with. "It was a horrible time," recalls sociologist Hetukar Jha, "The flooding happened in areas we least expected to be affected ... It took us more than six months to recover and get back to normal."
Could 1975 repeat itself in Patna? In the reckoning of experts, yes. "Accumulation of rainwater in case of a downpour is inevitable because of Patna's sunken shape," says Prof. Ashok Ghosh of the department of environment and water management at AN College, "On top of that, the development of the city over the past two decades has followed a totally unregulated manner ... the southern portion of the city remains water-logged or flooded for major parts of the year anyhow."
Barring the construction of a flood fence - 24 kilometres in length along the Ganga from Ranighat in the east to Danapur - no correctives followed the havoc of 1975. Over the last four decades, the population of Patna has exploded. The city has expanded haphazardly on its southern and western fringes with no due to civic planning. Most of these areas are low-lying and prone to accumulation of water. Hundreds of thousands have made new home here - in outlying Kankerbagh and along National Highway 16 - without bothering about streets or sewers, concrete bogs mounted upon marshy bogs.
The inner city today is infinitely more congested and overcrowded. The pressure of that shows up everywhere in drains and sewers that have burst and spilled over. Since 1968, records show, no drains have been built, and existing ones don't get cleared regularly or effectively enough.
And in the absence of the meanest required measures, Patna has continued to flirt with new and future peril. On the dry bed of the Ganga along the Bans Ghat-Kurji stretch, for instance, land-sharks have, in recent years, engaged in rampant reclamation and builders have erected apartment towers. True, the Ganga has changed course and receded 3km north from the Bans Ghat banks. But big tropical rivers are known to shift course without notice, as the Kosi did in 2008 causing wanton devastation in the northeastern districts of Bihar.
By a 1996 order of the Patna Regional Development Authority, all high-rise construction beyond the flood fence stands banned. Yet, close to 20 multi-storeyed apartment blocks have come to rise on the Ganga bed. Nothing is to protect them from a future spate that could bring the Ganga hurtling to its old course.
Within the municipal city itself, the arrangements for preventing or fighting off a deluge are either absent or in disrepair. A storm water drainage system is unknown to Patna; what exists in some parts is a sewage network that is meant to double as drainage. At the best of times, this network lies overburdened with unrelieved human effluence. Enquiries at the Patna Municipal Corporation reveal that it has no estimates about its installed capacity to drain out rain or flood water from the city. There are, on paper, 35 pumping stations in Patna, but monsoon after monsoon, they have been found wanting, their men and their machines. One expert speculated that at the current state of (non) preparedness, civic authorities in Patna will take no less than 48 hours to flush out the effects of a 65mm downpour. God forbid the likeness of a Chennai-like 235mm quantum. Chilly thought, but the relief is the monsoon's a fair bit away, there's yet time for some corrections.