Wall falls, friends hug at last
Decades of wait end as Modi lands in Promised Land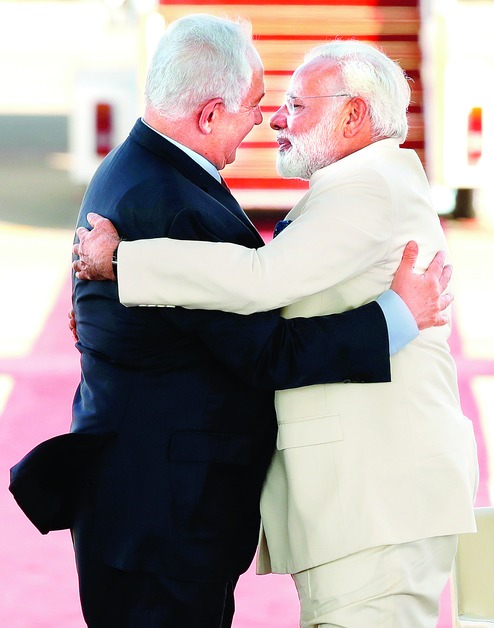 ---
Jerusalem
|
Published 05.07.17, 12:00 AM
|
---
Jerusalem, July 4: Prime Minister Narendra Modi today tore down what his Israeli counterpart called the "final walls" dividing India and Israel, his full-throated public embrace of the relationship completing a shift in India's West Asia policy that began in 1992.
With four bear hugs, personal references and an unconcealed thrill, Modi and Israeli Prime Minister Benjamin Netanyahu praised each other and their nations at Ben Gurion airport today, the show merely a starter, officials from both countries told The Telegraph.
"We love India," proclaimed Netanyahu, referring to a country that till the early 1990s explicitly prohibited its citizens from travelling to Israel using the Indian passport. "We view you as kindred spirits in our journey."
Modi, the first Indian Prime Minister to visit Israel, twice referred to his trip as "path-breaking," and called his unprecedented flight into a country New Delhi considered a pariah till 25 years back a "singular honour".
Later in the evening, Modi took another dramatic step towards dismantling India's complicated legacy with Israel. He agreed to Netanyahu's on-the-spot proposal to visit the tomb of Theodor Herzl, considered the founding father of Zionism.
India had voted in 1975 to declare Zionism "racism" under UN Security Council 3379. Modi's visit to Herzl's tomb amounted to a formal endorsement of Zionism.
Modi's visit to Israel comes after months of careful preparation, and years of waiting. For most of that period, starting with Israel's creation in 1948, India took strongly partisan positions against the country, and alongside Palestinian demands.
Away from the public gaze, India and Israel did cooperate - when New Delhi needed weapons during the 1962, 1965 and 1971 wars, and when it asked for help in agriculture and water management. But Israel's assistance largely went unrequited - at least in public.
With this visit, India and Israel have made clear that phase is over.
"In 2014, we had decided to tear down the final walls dividing our countries," Netanyahu said, referring to his September 2014 meeting with Modi on the margins of the UN General Assembly summit in New York that year. "It took a meeting of hearts and minds to accomplish that."
Modi is consciously staying away from visiting Palestinian territories like Ramallah, which every previous Indian dignitary and most world leaders who visit Israel also travel to. In his first public comments in Israel, he did not even tangentially refer to the crisis in West Asia, and Palestine's demands for a separate state - a position India officially supports.
Instead, what was on display was clear personal bonding between Modi and Netanyahu, and careful homework by Indian and Israeli officials in preparation for the visit.
Both Modi and Netanyahu repeatedly referred to each other as "my friend". The Indian leader referred to the Israeli Prime Minister by his nickname "Bibi" - almost as though to emphasise their friendship. Netanyahu called Modi " mere dost (my friend)."
Netanyahu's brother Yonatan, an Israel Defence Forces officer, had died on July 4, 1976, during Operation Entebbe, one of the most daring hijack rescue operations in aviation history.
Modi referred to that incident, "exactly 41 years ago" - acknowledging the Netanyahu family's sacrifices, underscoring the common threat of terrorism both countries face, and making clear where India stands on Palestinian attacks against Israel.
"Your heroes are an inspiration for future generations," Modi said. "India applauds your accomplishments."
Sections within India's strategic establishment have long admired Israel's counter-terrorism capabilities, and have even turned to them for help - especially after the 2008 Mumbai terror attacks.
Modi, in a political rally after the September 2016 "surgical strikes" against Pakistan-based terrorists, had even compared the Indian Army's actions to Israel's successes.
But Modi's comments today broke with past coyness by India in acknowledging both its respect for Israel's self-defence abilities, and in seeking counter-terrorism cooperation. "Alongside building a partnership for shared economic prosperity, we are also cooperating to secure our societies against common threats such as terrorism," Modi said.
Modi wasn't the only one who had done his homework - on Netanyahu's brother, in his case.
The Israel Prime Minister had clearly been briefed about Modi's love for neat acronyms. Netanyahu unveiled one today, that had Modi smiling. The acronym - "I square T square" - stands for Israeli Technology, Indian Talent, according to Netanyahu.
Later, at the Danziger Flower Farm, Israel announced that it had decided to rename a chrysanthemum "Modi". Modi and Netanyahu then visited the Yad Vashem Holocaust memorial, which the Indian Prime Minister said serves as a "mirror to our societies".
"Yad Vashem is a reminder of the unspeakable evil inflicted generations ago," Modi said. "It is also a tribute to your unbreakable spirit to rise above the depths of tragedy, overcome hatred and forge ahead to build a vibrant democratic nation."
Netanyahu also hosted a private dinner for Modi.
Before they entered the dinner, the two leaders spoke again. Netanyahu said he had been "inspired by Prime Minister Modi's enthusiasm for yoga". Netanyahu said he was beginning to practise yoga at a basic level.
"When I turn my head left while performing the talasana (the palm tree pose), the first democracy I will see is India," Netanyahu said. "And when Prime Minister Modi turns his head right while performing the vashishtasana (side-plank pose), the first democracy he will see is Israel."
The relationship, Modi acknowledged, has grown each year since 1992, when the Congress government of P.V. Narasimha Rao established full diplomatic relations with Israel.
But it is under Modi that the relationship has gained the visibility Israel has long sought. Apart from September 2014, Modi and Netanyahu also met in Paris in December 2015 on the margins of the climate change conference there. The two leaders are known to have spoken on the telephone on multiple occasions.
Today, Netanyahu waited half an hour for Modi's plane to land, then took off his sunglasses and stood at the base of the stairs leading up to Air India One - the Indian Prime Minister's official plane.
As Modi descended the stairs, dressed in an off-white suit with a blue pocket handkerchief, Netanyahu extended his arms.
The two embraced and laughed. "It's great," Netanyahu said, the words caught on an Israeli microphone. "It's wonderful."
Modi received a guard of honour at the airport, before the two leaders made brief statements. Before they spoke though, they hugged again. Netanyahu spoke a few words in Hindi - " Aapka bahut, bahut swagat hain, mere dost (You are very, very welcome, my friend)."
Modi started off his comments with the Hebrew greeting "Shalom", adding in the language that "it is great to be here".
Netanyahu has made clear he will accompany Modi through most of the three days the Indian Prime Minister is in Israel. It is a moment Israel has long waited for, he said."We've waited a long time," Netanyahu said. "In fact, we've waited nearly 70 years."