BR Ambedkar's oaths 66 years ago rile New India
Vows BJP and Arvind Kejriwal can't gulp
Bharatiya Janata Party leaders, like their counterparts from other parties, regularly visit Deekshabhoomi where a pillar displays the 22 oaths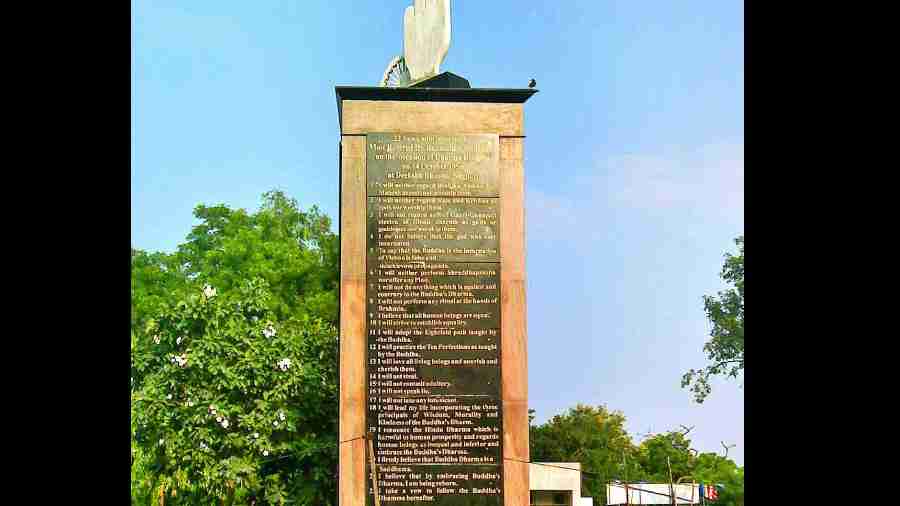 The inscription of the 22 oaths at Deekshabhoomi in Nagpur, where Ambedkar and thousands of his followers embraced Buddhism on October 14, 1956.
Picture credit: Ganesh Dhamodkar/Wikimedia Commons
---
New Delhi
|
Published 17.10.22, 02:04 AM
|
---
Delhi minister Rajendra Pal Gautam's resignation from the cabinet recently in the face of controversy has brought under spotlight a wellspring of Dalit resistance that an academic says was "blacked out for almost 70 years".
The minister had resigned on October 9 saying he was saddened by the BJP's attacks on Aam Aadmi Party chief minister Arvind Kejriwal for Gautam's participation in an event where B.R. Ambedkar's 22 oaths, including one renouncing Hinduism, were recited. Kejriwal forwarded Gautam's resignation to the lieutenant governor on October 10.
As many as 66 years ago —on October 14, 1956 — Ambedkar had converted to Buddhism in Nagpur. Twenty-one years earlier, he had declared at the Conference of the Depressed Classes in Yeola, Maharashtra, that: "I solemnly assure you that I will not die a Hindu."
That comment had come after an unsuccessful four-year agitation by Dalits to enter the Kalaram Temple in Nashik.
Ambedkar, who had written and spoken extensively about his quest for an egalitarian religion, studied other faiths and interacted with leaders of those religious communities, finally choosing Buddhism. The ceremony was conducted by Bhikkhu Chandramani Maha Thera of Burma (now Myanmar).
The chapter titled "The Buddha Dhamma will be the saviour of the world" in Part-III, Volume 17, of Dr Babasaheb Ambedkar: Writings and Speeches, published by the Centre's Dr Ambedkar Foundation, describes the ceremony.
Part-III — and only Part-III — was unavailable, when this report was filed, on drambedkarwritings.gov.in, which is run by the Foundation. However, it is available on the ministry of external affairs website. The chapter says: "On 14th October, people got up early in the morning and started towards Deeksha Bhoomi, in the processions, shouting slogans. 2 to 2.5 lakh people thronged and the half of the pandal was full by 7 a.m. The arrangement of this Ceremony was entrusted to 'Samata Sainik Dal' of Nagpur and Mumbai. There were only 10 to 11 police posted for this Ceremony.
"A special arrangement was made for the media. There were about 30 press reporters from India and abroad. The people intended to get converted were so enormous in numbers that all the entry cards got exhausted and eventually the organisers were forced to declare the ceremony open to all."
The Samata Sainik Dal was a voluntary organisation formed by Ambedkar in 1924 to protect the oppressed. It was later affiliated to the Buddhist Society of India, which he founded in 1955. October 14 was chosen since the date that year was observed as Asoka Vijayadashami to commemorate the Mauryan emperor's acceptance of Buddhism.
The place where Ambedkar converted is now called Deekshabhoomi and is a pilgrimage for Ambedkarite Buddhists. Asoka Vijayadashami is celebrated across India in October, and the event that Gautam had attended was one such celebration.
The chapter adds that Ambedkar and his wife Savita began the conversion ritual at 9.30am, around which time the crowd had swelled to between 5 lakh and 6 lakh.
It further says: "The conversion ceremony for the masses started at 10 a.m. Dr B.R. Ambedkar proclaimed that those who are willing to renounce Hindu religion and embrace Buddhism should stand with folded hands and recite Trisharan and Panchsheela after him. In response to this proclamation, the whole gathering stood up and Dr B.R. Ambedkar initiated them to Buddhism. As a part of this Ceremony Dr B.R. Ambedkar got recited the 22 Oaths from the people, which are as follows:
"1. I shall have no faith in Brahma, Vishnu and Mahesh, nor shall I worship them.
"2. I shall have no faith in Rama and Krishna, nor shall I worship them.
"3. I shall have no faith in 'Gouri', 'Ganpathi' and other Gods and Goddesses of Hindu religion, nor shall I worship them.
"4. I do not believe in the theory of incarnation of Gods.
"5. I do not and shall not believe that the Lord Buddha was the incarnation of Vishnu. I believe this to be mischievous and false propaganda.
"6. I shall not perform 'Shraaddha' nor shall I give 'pind-dan'.
"7. I shall not act in any manner contrary to the principles and teachings of the Buddha.
"8. I shall not perform any ceremony through Brahmins.
"9. I believe in the equality of mankind.
"10. I shall endeavour to establish equality.
"11. I shall follow the Eightfold Path taught by the Buddha.
"12. I shall follow the 'Ten Paramitas' enunciated by the Buddha.
"13. I shall be compassionate to all living beings and nurture them with care.
"14. I shall not steal.
"15. I shall not lie.
"16. I shall not commit carnal sins.
"17. I shall not consume liquor.
"18. I shall strive to lead my life in conformity with the three principles of Buddhism i.e. Pradnya (wisdom), Sheel (character) and Karuna (compassion).
"19. I hereby embrace Buddhism by renouncing my old Hindu religion which is detrimental to the prosperity of humankind and discriminates between human beings and treats them low.
"20. I firmly believe that the Buddha Dhamma is the Saddhamma.
"21. I believe I am entering the new life.
"22. Hereafter I pledge to conduct myself in accordance with the teachings of the Buddha."
The wording of the oaths may vary in different reproductions, possibly because of diversity in translation from the original.
In the video that the BJP has cited to complain to the police against alleged incitement by Gautam, he is seen on stage when the first three oaths are taken.
BJP leaders, like their counterparts from other parties, regularly visit Deekshabhoomi where a pillar displays the 22 oaths.
On October 5 this year, Maharashtra deputy chief minister Devendra Fadnavis and Union ministers Nitin Gadkari and Ramdas Athawale (of the Republican Party of India-Athawale) visited the site.
Fadnavis addressed a gathering there and promised a Rs 190-crore development plan for Deekshabhoomi.
Prime Minister Narendra Modi visited Deekshabhoomi on Ambedkar's birth anniversary, April 14, in 2017.
C. Lakshmanan, an associate professor at the Madras Institute of Development Studies, visited Deekshabhoomi early this month where he estimated that some 30 lakh pilgrims were present on October 4 and 5.
Lakshmanan, who is also the convener of the Dalit Intellectual Collective, which has condemned the AAP's capitulation, said: "It is the blindness of the intelligentsia and media to not reflect on what has been happening since 1956…. This spontaneous gathering is not organised by any party, group or individual. Why has this been blacked out for almost 70 years?"
Kejriwal has remained silent on the controversy. Sources close to him told reporters on October 9 that Kejriwal was "extremely displeased" with Gautam, following which the minister resigned.
Although no FIR has yet been registered on the BJP's complaint of incitement against Gautam and Kejriwal, Gautam spent around four hours on October 11 at Paharganj police station after being called for questioning.