'Freedom of press bedrock of democracy'
Vinod Dua in Supreme Court: Criticism of Modi not sedition
Journalist booked over a video in which he accuses the PM of using deaths and terror attacks to garner votes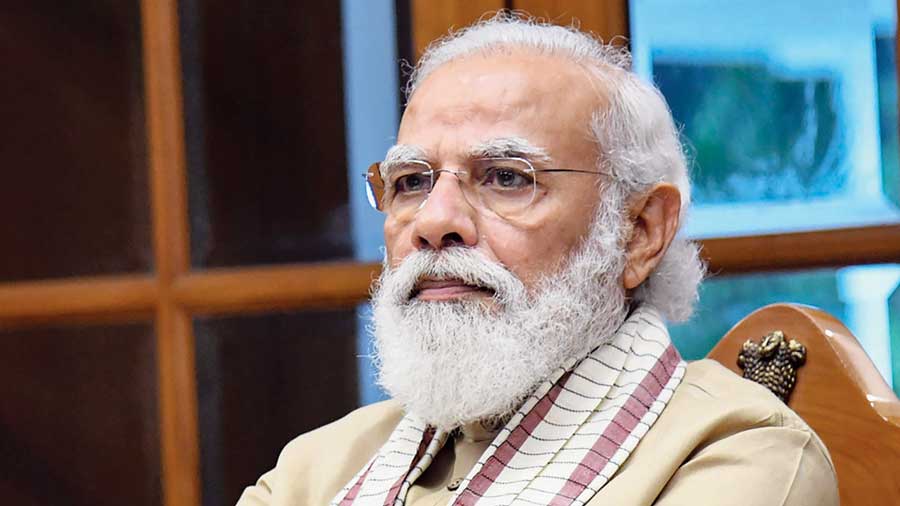 Narendra Modi
File picture
---
New Delhi
|
Published 22.08.20, 02:25 AM
|
---
Journalist Vinod Dua on Friday told the Supreme Court that criticism of the Prime Minister does not necessarily mean criticism of a lawfully elected government, also reasoning that he cannot be prosecuted for sedition in a democracy for expressing his opinion.
Dua has challenged in the Supreme Court the move of Himachal Pradesh police to book him for sedition over a March 30 video in which he had been accused of saying that "Narendra Modi has used deaths and terror attacks to garner votes" and creating panic by "spreading false information that the government does not have enough testing facilities" for Covid-19. 
The case was started on the complaint lodged by a man who claims to be a BJP leader.
In the video, however, Dua did not explicitly say Modi "has used deaths and terror attacks to garner votes". He had said the Pathankot and Pulwama terror attacks and the Balakot air strike had been "politicised" to seek votes.
Appearing for Dua before a bench headed by Justice U.U. Lalit, senior advocate Vikas Singh pleaded that if freedom of press was not guaranteed to journalists, then democracy in the country would be "under threat".
"Any criticism of the government cannot be sedition unless it instigates violence. Moreover, if I criticise the Prime Minister, it does not come under criticism of the government," Singh said on behalf of Dua.
"In a democracy a citizen has a right to say or write whatever opinion he holds about the government or its measures by way of criticism or comment, so long as he does not incite people to violence against the government established by law or with the intention of creating public disorder," Singh told the bench, also having Justices M. Shantanagoudar and Vineet Saran.
The court adjourned the matter to September 2.
On June 14, the apex court had restrained Himachal police from arresting Dua but had refused to stay investigations into the sedition case against him. It had allowed the police to interrogate him through videoconferencing since the senior journalist was a Delhi resident and had expressed inability to go to Himachal due to the pandemic.
On July 8, the court had told Dua not to answer a second questionnaire sent to him by Himachal police and made it clear that it would quash the FIR if there was merit in his contention that he was being harassed.
During Friday's arguments, Singh said that freedom of press should also be extended to social media, where Dua's video had been uploaded. "If freedom of speech is not specifically guaranteed to the press, things will take a degenerative turn in the country. If press is not allowed to be free, our democracy will be under threat…" Singh said.
The senior counsel submitted that "…disloyalty to a government established by law is not the same thing as commenting in strong terms on the measures or acts of the government or its agencies so as to ameliorate the condition of the people".
Singh pointed out that while Dua's video had been aired in March-end, the FIR was lodged on May 6, and that there had been no violence till now. The spread of violence is a key clause for a person to be prosecuted for sedition.
Pleading that no case under IPC Sections 124A (sedition) or 505(2) (statement creating enmity, ill will or hatred among different classes of people) could be made out, Singh urged the court to quash the FIR immediately.
He also wondered how Himachal police could invoke provisions of the Disaster Management Act, under which the pandemic-induced lockdown is in force, against Dua.
"The FIR says that Mr Dua's statements were of the nature intended to spread fear and panic and defeat the purpose of the lockdown…," Singh told the court, pointing out that a case under the Act could be lodged only with the permission of a court.
Singh referred to the 1995 Balwant Singh and Another vs State of Punjab case in which the Supreme Court had held that mere raising of a slogan, which did not result in violence, would not constitute sedition. 
"We find it difficult to hold that upon the raising of such casual slogans a couple of times without any other act whatsoever, the charge of sedition can be founded," advocate Singh quoted from that judgment.
Justice Lalit asked: "Would it be a case for evidence (to assess if sloganeering led to violence or could lead to violence), or for quashing of FIR at initial stages?" 
Singh replied that as per the law, inciting violence is an offence. "In this case also, the complaint was filed belatedly.… His (Dua's) show has a shelf life. The complainant said that he found the show while surfing the Net and found that it could be inciteful," the advocate said. "Our democracy in true sense is in threat if our press is not allowed to function freely," Singh added.