VC saw the biggest thieves in 'tupi'. How did you miss them, PM?
A query on visitors to Rajghat on October 2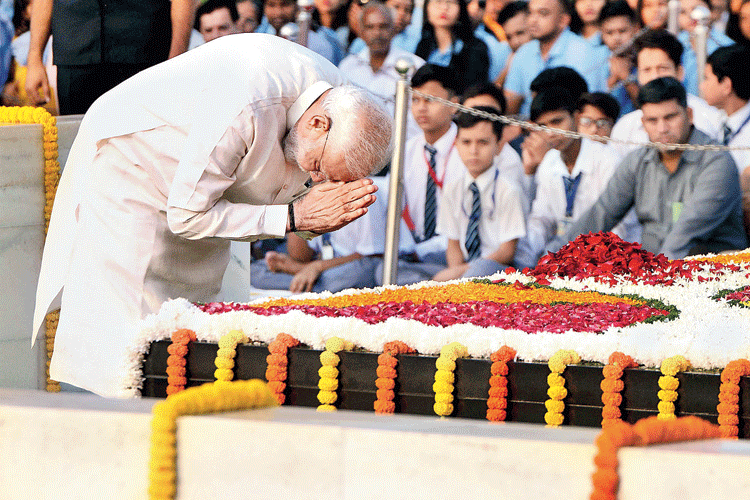 Prime Minister Narendra Modi pays tribute to Mahatma Gandhi at Rajghat on October 2, 2019.
File picture by Prem Singh
---
Published 21.02.20, 10:22 PM
|
---
Bidyut Chakraborty, the vice-chancellor of Visva-Bharati, said on Friday during an event: "Doshra October Rajghatey dhoka jai na. Gandhir jonmodine. Sab tupi pore sara desher jato baro baro chhor tara sab dhoke okhane. Ar sara bachhor tara setai koren, jeta Gandhi apotti korten. (It is difficult to enter Rajghat on October 2, Gandhiji's birth anniversary. The biggest thieves of the country enter the place wearing caps. Through the year they do things that Gandhiji had objected to)."
Later, The Telegraph sent a text message to Chakraborty and also officiating public relations officer Anirban Sircar, asking whether the VC had any particular leader in mind since usually public figures, including the Prime Minister, make a beeline to Rajghat on October 2.
This newspaper also asked Delhi police, which report to the Union home ministry now headed by Amit Shah, whether they had come across any thief on the hallowed grounds. Rajghat law and order falls under the jurisdiction of the deputy commissioner (central Delhi). There was no response from the police spokesperson till Friday night.
In the evening, the officiating public relations officer of Visva-Bharati said: "The VC did not mean any political leader while referring to thieves at Rajghat.
He just gave an example to explain the present situation of the varsity. He meant that the situation was similar in Visva-Bharati where a section of people, who are part of the institution, are trying to tarnish the image of the varsity. The VC wants to restore the lost glory of Visva-Bharati."