Communal torture: SC to examine petition seeking police action
An elderly Delhi resident alleged that he was abused, assaulted, stripped and robbed by four men inside a car in Noida in July only because he was 'visibly Muslim'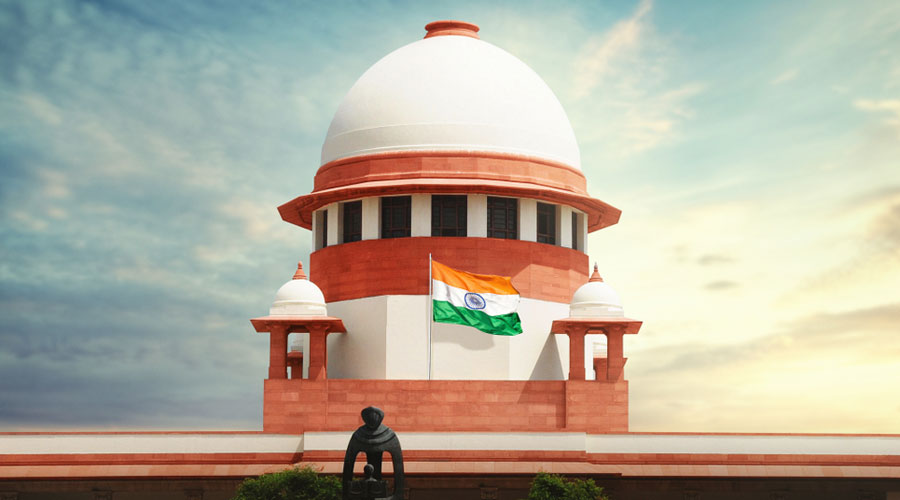 Supreme Court.
File photo
---
New Delhi
|
Published 27.11.21, 01:55 AM
|
---
The Supreme Court on Friday agreed to examine a petition seeking police action and protection, filed by an elderly Delhi resident who alleged that he was abused, assaulted, stripped and robbed by four men inside a car in Noida in July only because he was "visibly Muslim".
Kazeem Ahmad Sherwani has told the court he has received no help in the past four months from the police, who have told him not to "politicise" the matter by calling it a hate crime based on religious identity.
He said he and his family felt traumatised, not only because the attack had been on their "very identity as equal citizens of this country" but also by the refusal of law enforcement to even recognise it as a hate crime.
Sherwani, 62, has urged the court to have the perpetrators arrested and provide him with protection since he fears a threat to his life.
The bench of Justices A.M. Khanwilkar and C.T. Ravi Kumar requested that the matter be placed before Chief Justice of India N.V. Ramana, whose bench is already hearing petitions seeking action against those who deliver hate speeches.
The apex court asked senior advocate Huzefa Ahmadi to ensure that copies of the petition were served on the state of Uttar Pradesh, where Noida is located, and other authorities concerned.
Sherwani, a resident of Delhi's Jamia Nagar, said the incident took place on July 4, but instead of registering an FIR, Uttar Pradesh police were pressuring his family not to "politicise" the matter.
According to Sherwani, he is "visibly Muslim" inasmuch as he wears a beard and a skullcap and his attire makes his identity as a practising Muslim obvious.
Sherwani said he had "always felt secure in his Muslim identity in his own motherland".
"On the morning of July 4, 2021", he had gone to Noida's Sector 37 to catch a bus to Aligarh when the driver of a white van offered him a lift.
Sherwani said he had felt grateful and offered to pay the driver. He saw three men in the rear seats. When he tried to take an empty seat in the middle row, the men told him to get into the back row.
Two men were already seated in the back row and Sherwani said he felt uncomfortable, but by then he had been pushed inside and blocked from all sides.
He felt trapped and said he wanted to get out, but they forcibly pulled him back and the driver centrally locked the doors.
"The petitioner was heinously tortured over the next 15 minutes. He was attacked and repeatedly called a 'mullah' and many other derogatory words related to his religious identity. He was told that 'mullahs' had no right to remain in this country. He was humiliated: his beard was pulled by the perpetrators, and then he was stripped and insulted about his circumcision," the petition, filed through advocate Talha Abdul Rahman, states.
"He was physically attacked while being called a 'mullah', threatened that he would be blinded with a screwdriver, and finally hit with it on the nose. He was also looted and abused. The incident of that day has left the petitioner and his family completely traumatised because it attacked their very identity as equal citizens of this country."
Sherwani was thrown out of the car after being driven around for around 15 minutes. "Just before they pushed him out, one of the perpetrators also grabbed his purse and took his money, amounting to about Rs 1,200," the petition says.
Sherwani's ordeal allegedly did not end here. He says that when he regained consciousness, he was helped by a stranger who put him on a rickshaw and sent him to Gautam Buddha Nagar police station in Sector 37.
Sherwani said the policemen present there only asked his name, address and his father's name but did not take down his complaint. They refused to even hear the complaint, the petitioner alleged. Neither did the cops offer any medical help.
Sherwani then visited the home of a niece, who is a doctor in Delhi's Okhla, and received medical aid.
According to the petitioner, the local media reported the attack on him over the course of the day. Around 1.30am on July 5, a posse of policemen from Uttar Pradesh visited the home of Sherwani's niece. Instead of recording Sherwani's statement, the cops tried to convince him and his family that they were blowing the incident out of proportion, according to the petition.
Without taking down his complaint, they declared this was not a hate crime but only a roadside robbery, and that the money snatched from him would be retrieved.
Since then, Sherwani claimed, he has received several telephone calls from Noida police urging the family not to explore the hate crime angle and "needlessly politicise" the matter.
Sherwani wrote to the police commissioner and district magistrate of Noida on July 6, informing them of the hate crime. "However, no action was taken to the knowledge of the petitioner," the petition says.