US President Donald Trump flags India's religious diversity
He talks about the multi-layered Indian culture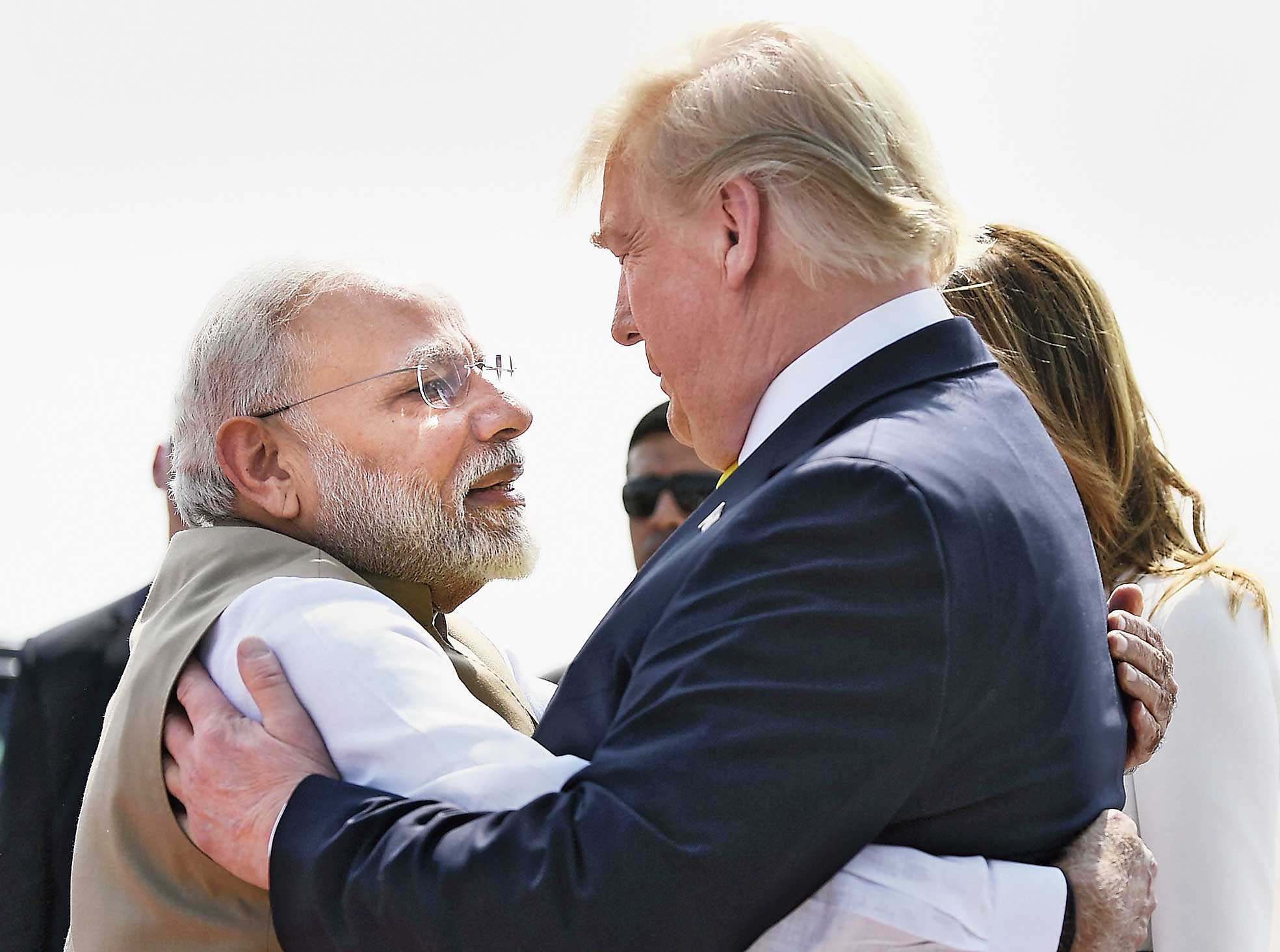 ---
---
India's constitutional values of liberty and equality were a recurrent theme of President Donald Trump's address at the Namaste Trump mega-event which also saw him talk about work beginning on an "incredible trade deal" and America's friendship with Pakistan.
Trump flagged religious freedom in his very first public remarks in India ahead of his arrival in Delhi where riots had broken out over the religion-specific Citizenship Amendment Act (CAA).
Senior US administration officials had indicated over the weekend that Trump would raise the "religious freedom issue" both publicly and privately.
Without mentioning the contentious law in his 27-minute-long speech, Trump seemed to be repeatedly reminding India that India's religious diversity was not only a source of its strength but also the reason for the respect it enjoys the world over and the awe it evokes, returning to the subject over and over again.
Apart from bipartisan concern in the US Congress, the state department, too, has voiced carefully calibrated apprehension about the CAA in the past.
Given that India and China are seen as the two economic powerhouses that would make this an Asian century, Trump, without mentioning Beijing, talked up the Indian growth story for having evolved through democracy.
"India's rise as a prosperous and independent nation is an example to every nation all over the world and one of the most outstanding achievements of our century. It is all the more inspiring because you have done it as a democratic country, you have done it as a peaceful country, you have done it as a tolerant country, and you have done it as a great free country."
Leaving no one in doubt what he was contrasting India with, Trump added: "There is all the difference in the world between a nation that seeks power through coercion, intimidation, and aggression, and a nation that rises by setting its people free and unleashing them to chase their dreams. And that is India. This is why India's accomplishment over the last 70 years is completely unrivalled, no matter where you go."
Further, he stressed that it was this that made India and the US natural allies and enduring ones at that.
"It is your faith in the strength of a free society, your confidence in your own people, your trust in your own citizens, and your respect for the dignity of every person that makes the United States and India such a natural, beautiful, enduring friendship."
Meandering on to other subjects, Trump returned to record the appreciation the world has for India's unity in diversity and the ability to have managed diversities in every which way — religious, linguistic and federal.
"India is a country that proudly embraces freedom, liberty, individual rights, the rule of law, and the dignity of every human being. Your nation has always been admired around the Earth as the place where millions upon millions of Hindus and Muslims and Sikhs and Jains, Buddhists, Christians, and Jews worship side by side in harmony, where you speak more than 100 languages and come from more than two dozen states, yet you have always stood strong as one great Indian nation. Your unity is an inspiration to the world."
Before he wrapped up his speech, Trump again talked about the multi-layered Indian culture.
"This nation is blessed with many treasures. From the sacred banks of the Ganges, to the Golden Temple, and the Jama Masjid, it is home to some of the most cherished cultural heritage anywhere on Earth.
"So today I say to every Indian — North and South, Hindu and Muslim, Jewish and Christian, rich and poor, young and old: Take pride in the glories of your past, unite for an even brighter future, and let our two nations always stand together as powerful defenders of peace and liberty, and the hope of a better world for all of humanity."
All other key issues he touched upon only once. On Pakistan, too, his words would not have been music to the ears of either the Modi government or to the ecosystem that supports it, including many in the gathering. Trump said the US has a good relationship with Islamabad.
Speaking on the war on terror, Trump said his administration was working "in a very positive way" with Pakistan to crack down on the terrorist organisations and militants that operate from its territory. Of the view that these efforts were paying off in the form of "signs of big progress with Pakistan", he touched upon reducing tensions in the region without bringing up Kashmir.
While on the subject of trade, Trump said he would be discussing it with Modi during the visit.
"We will be making very, very major — among the biggest ever made — trade deals."
India had been hoping for an announcement during the visit and had also indicated to the Americans that it was prepared to sign a small deal now and make the big-bang announcement later but Washington preferred to do it at one go after ironing out all the issues.
"We are in the early stages of discussion for an incredible trade agreement to reduce barriers of investment between the United States and India. And I am optimistic that, working together, the Prime Minister and I can reach a fantastic deal that's good and even great for both of our countries. Except that he's a very tough negotiator."
On defence ties, Trump said the US is keen to provide India some of the "best and most feared military equipment on the planet"; adding that the two countries would sign the $3-billion helicopter deal during the visit.