UP protesters 'shot like dogs'
But benign pellets awaited police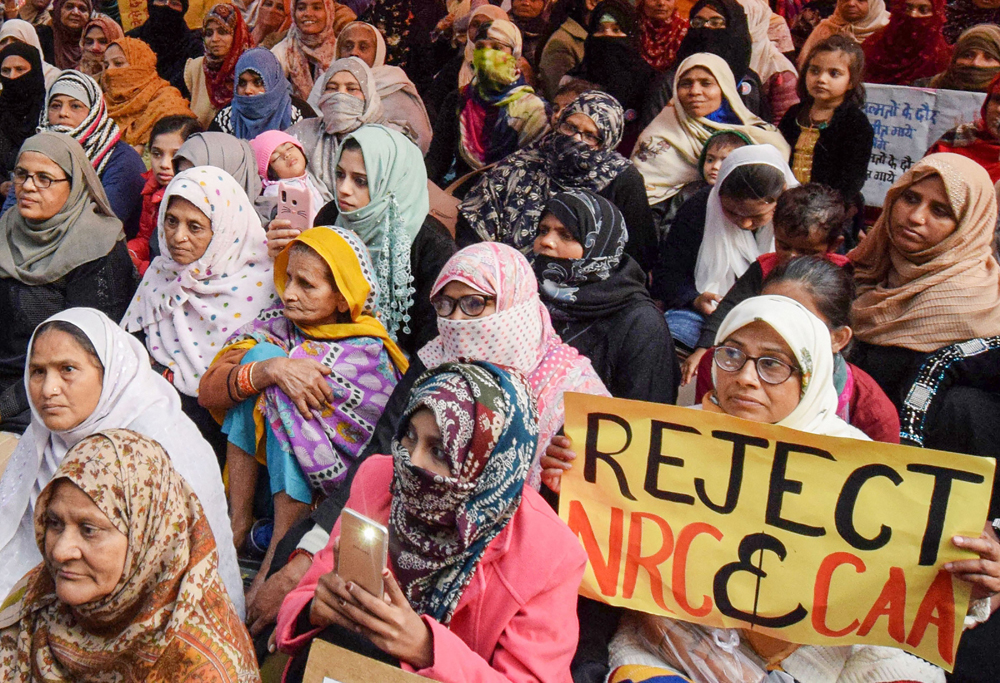 Women at a demonstration against the citizenship amendment and the National Register of Citizens in Allahabad on Tuesday. Of the 40 civilians shot at during previous protests, 19 died while five were still in hospital three weeks later on January 12
(PTI photo)
---
Lucknow
|
Published 16.01.20, 10:17 PM
|
---
Bengal BJP chief Dilip Ghosh insists "shaitans" were "shot like dogs" in three BJP-ruled states, including Uttar Pradesh. The director-general of police in Uttar Pradesh, O.P. Singh, says the "police did not fire on the (citizenship amendment) protesters; the firing was done mostly by criminals among the protesters".
Conversations The Telegraph had with multiple sources in the Uttar Pradesh home department, hospitals and police, and relatives of victims, suggest all 40 civilians (protesters and passers-by) who suffered gunshot wounds were struck by bullets fired from rifles or revolvers. Most were hit in the head, chest and abdomen.
In sharp contrast, it appears that all the 61 police and CRPF personnel and 18 civil administration officials who had firearm wounds suffered "pellet" injuries. The sources said all these injuries were to the arms and legs and that virtually all the injured were discharged from hospital within 48 hours.
Of the 40 civilians shot at, 19 died while five were still in hospital three weeks later on January 12.
"Eyewitnesses told me the police fired at my son's head at close range. His head had a hole through which his brain matter had come out at the back," said Noor Mohammad, 60, a resident of Firozabad whose disabled son Rashid was shot dead during the December 20 protests.
The administration would not say what kinds of firearms were used against the cops. Rajesh Solanki, a police inspector in Bijnore who was wounded on December 20,
told this newspaper over the phone on January 10: "I received pellet and stone injuries in both legs and was admitted to the district hospital. I was discharged after two-three days."
If DGP Singh is correct that it was criminals within the crowds who did all the shooting, it entails several puzzling questions:
Why did these criminals shoot at the protesters from rifles and revolvers, but switched their firearms to shoot at the police with pellet guns?
Why did they aim always at the policemen's limbs while generally targeting the protesters' torsos and heads?
And how did the pattern repeat itself with such amazing consistency, from Meerut to Muzaffarnagar, and Lucknow to Firozabad?
Bullets, pellets
So, who shot whom?
Former DGP Vikram Singh, referring to Meerut police's claim that doctors had recovered the bullets from protesters' bodies, had told this newspaper that these bullets could only have come from police rifles or pistols.
"If the shooters were criminals, they must have used country-made weapons. In that case, the bullets would have dissolved in the body and could not have been recovered," he said.
"I heard some officers saying the victims were killed in cross-fire between the protesters. I'm not buying this theory. It was clearly the police who used force with malicious and vindictive intentions."
The home department source, though, said some of the bullets that hit protesters had dissolved within the body. "Preliminary probes suggest these bullets were fired from rifles or pistols," he said.
As for the pellet injuries, Surya Kumar Shukla, retired director-general (home guard), told this newspaper that it's the police who carry pellet guns and that ordinary people cannot procure them legally. However, he said, it's possible for criminals to obtain country-made pellet-firing guns illegally.
Shukla said the police use "12-bore guns", which fire pellets, as non-lethal weapons for crowd control. "The pellets pierce the skin but don't kill if they don't hit a vital organ," he said.
Aiming at the right body part is key. Unlike the injured policemen in Uttar Pradesh, hundreds have been blinded in one or both eyes in Kashmir by pellets fired by security forces who had presumably aimed at the face or head.
"Pellet guns are not available to the public. But sometimes criminals also use 12-bore cartridges in their illegal country-made weapons," Shukla said.
A case registered by Parvez Ali, a constable from Colonelganj police station in Kanpur, confirms that some policemen were carrying pellet guns while controlling the protests. His FIR also affirms that the police did fire at the crowds, although he says it was only rubber bullets and pellets.
The FIR against "unidentified rioters" says a crowd had emerged from the Kayasthana street crossing in the Unchi Sadak area of Kanpur city on December 20 and attacked a police picket at Cycle Market.
"They damaged the vehicles parked there and threw stones at the police. They tried to torch properties and created anarchy and terror. The police were forced to fire 35 rounds of rubber bullets and 31 rounds of tear gas and also fired from 12-bore (guns)," it says.
DGP Singh said "35 illegal pistols, 61 live cartridges and 647 empty cartridges" had been seized, offering this as evidence of shooting by criminals.
'In cahoots'
Some eyewitnesses have agreed that criminals from within the crowds possibly opened fire during the protests. But they have suggested these thugs had been tasked by the government to infiltrate and sabotage the protests by causing mayhem.
Many protesters have described how their peaceful demonstrations were suddenly hijacked by small groups of strangers who resorted to vandalism and arson — and sometimes shooting — to give the agitators a bad name and the authorities a chance to crack down on them.
Mohammed Sattar of Muzaffarnagar had told this newspaper that a peaceful protest at Meenakshi Chowk on December 20 was nearing its end when, suddenly, "stones began raining".
"Nobody knows who started it. People ran helter-skelter. There was arson when the police started a baton charge. We don't know who set the police vehicles on fire," he had said.
Maulana Alam Raza Khan Noori, the Kanpur shahar-e-kazi, said: "It's possible that some criminal elements had sneaked in posing as protesters. But the police showed hardly any interest in stopping them from damaging public property. This suggests the criminals were helping the police."
That the shooting from the crowds was perpetrated largely by organised groups appears certain. A video shot by a reporter in Firozabad shows more than 10 men wielding long guns and handguns firing from behind a roadside wall. It couldn't be ascertained who they were firing at.
"Firing happened from both sides at four spots in the city. A police officer told us the police had more sophisticated weapons than the public," the journalist said.
'Crowd firing'
Rajveer Singh Saini, younger brother of labourer Om Raj Singh Saini who took a bullet in Bijnore, however, said the gun was fired from the crowd. Saini is the only Hindu among the 40 people with bullet injuries, and is recovering at home.
"My brother was passing through Nahtaur town in Bijnore district when he saw a mob and over 40 policemen in front of Nahtaur police station, throwing stones at each other," Rajveer said.
"Suddenly, firing started from both sides. My brother was facing the police station when a bullet pierced the right side of his back and came out through the front of the abdomen. So, the bullet must have been fired from the side of the protesters."
Two district magistrates, Vijay Vishwas Pant of Kanpur and Chandra Vijay Singh of Firozabad, have backed the DGP's claim, saying the police never fired but the "protesters" did.
Chandra Vijay said a video showed many protesters shooting at the police. "We have ordered a magisterial inquiry and everything will be clear soon," he said, but couldn't substantiate his claim that policemen had suffered grievous gunshot injuries.