'Sengar, his family and BJP are active against us'
Unnao mother: Why I am contesting
I need political strength to keep fighting the monsters, even if many of them are in jail: Congress candidate Asha Singh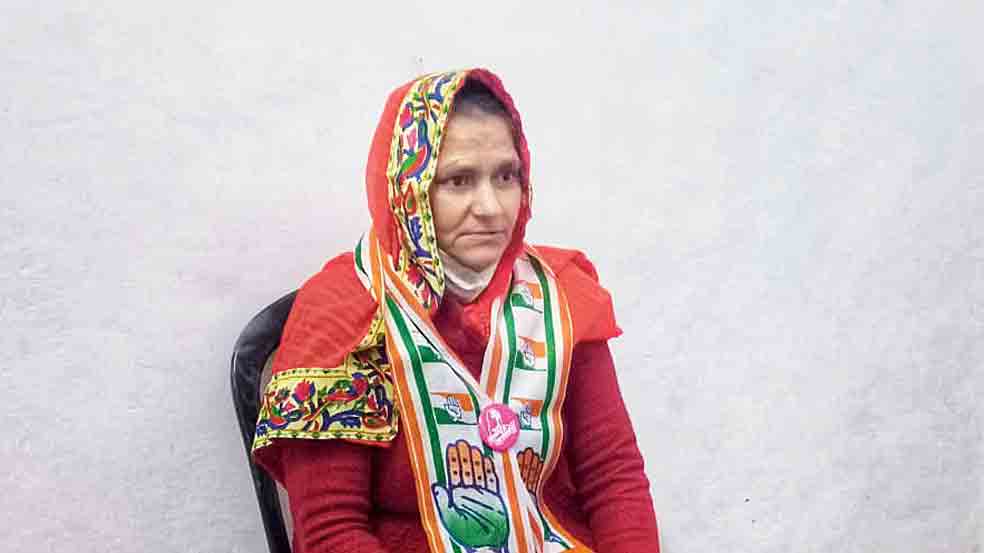 ---
Lucknow
|
Published 17.01.22, 02:35 AM
|
---
I'm the rape survivor. I can tell you the BJP is very harmful to women — Unnao rape survivor on Saturday
Asha Singh, 55, arrived at her village in central Uttar Pradesh on Saturday morning, determined to take on the "monsters" of a ruling establishment that had supported to the hilt one of its members who had raped her then-minor daughter and killed her husband.
"I know that my daughter, I myself and other family members will be killed if we become careless," Asha, fielded by the Congress from the Unnao Sadar Assembly seat, told The Telegraph over the phone.
"Sengar, his family and the BJP are still active against us," she said. Kuldeep Singh Sengar, who was a BJP MLA when the crimes took place, has been convicted of raping Asha's daughter and murdering her husband.
"My brother-in-law is still in jail, falsely accused of possessing illegal weapons," Asha added.
The mother of a son and four daughters said she had herself requested Priyanka Gandhi Vadra for a chance to contest the February-March Assembly elections.
"I need political strength to keep fighting the monsters, even if many of them are in jail. This was why I requested the Congress general secretary to give me the ticket," she said.
While disclosing a person's name is prohibited in India if that might lead to the identification of a sexual assault victim, Asha's candidature has left the issue of such confidentiality practically redundant.
Her daughter told this newspaper she would be campaigning for her mother and telling voters how "harmful to women" the BJP is.
Asha is in the village after nearly four years. She and her family have been living in a house in Delhi, provided by the central government in 2018 under orders of the Supreme Court, which believed that Uttar Pradesh was unsafe for them.
Just 200 metres from Asha's home stands that of Sengar, who is serving a life sentence for raping Asha's then 17-year-old daughter in June 2017, when he was BJP MLA from Bangarmau. Sengar is also serving a 10-year term along with brother Atul, two henchmen and two policemen for beating Asha's husband to death.
In 2019, a truck had collided with a car, grievously injuring the rape survivor and her lawyer and killing two of her aunts, but Sengar and his brothers were acquitted of murder charges.
How would she campaign against such a powerful opponent? It was the first question Asha was asked on Saturday.
Asha said she had been pleasantly surprised to see that some 20-odd people were waiting for her near her home.
"What was most satisfying was that they were all maintaining physical distancing and wore masks. They asked me as soon as I arrived, 'How should we start the campaign?'" she said.
While some of these people were residents of the village, which falls in another constituency that is part of Unnao district, most had come from Asha's constituency of Unnao city.
"I told them that a door-to-door campaign would be best. We will also use the digital platform," Asha said.
She said she would describe at her campaign meetings how "the Yogi Adityanath government did everything to bully us and support Sengar".
"The BJP removed Sengar from the party after many months, and only under media pressure. But the Supreme Court took cognisance of the case on the basis of media reports and we finally got justice," she said.
"But socio-political justice is still awaited — Sengar may be in jail but the BJP is still in power in Uttar Pradesh and in the country. I shall ask voters how they can back a party that supports a rapist and killers."
Asha faces an uphill task. The Congress last won from the Unnao Assembly constituency in 1967, and the BJP has held the seat since 2014. However, the Congress had won the Unnao Lok Sabha seat in 2009.
Asha thanked Priyanka: "She has given me and the women of the state a kind of respect no other political party ever did before."
Priyanka had on Thursday announced the Congress's first list of 125 candidates for the 403 seats in Uttar Pradesh, which included 50 women, many of whom have alleged victimisation by members of the ruling dispensation.
Asha's husband had been a political aide to Sengar and the families were friends. Asha used to frequent Sengar's house almost every day — till the then MLA called her daughter, ostensibly to discuss a job for her, and then raped her.
When the girl registered a case and her father started pursuing it, Sengar, Atul, their henchmen and some policemen tied him to a tree and beat him mercilessly on April 3, 2018. The injured man was sent to jail on the charge of attacking Sengar and possessing illegal weapons.
On April 8, Asha and the rape survivor tried to immolate themselves at the gates of chief minister Adityanath in Lucknow. The next day, Asha's husband died in Unnao district jail.
When this newspaper called Asha for a third time on Saturday, a young woman picked up the phone and said: "My mother is somewhat busy but you can talk to me. I'm the rape survivor. I can tell you that the BJP is very harmful to women. The entire country should keep this in mind when voting."
She added: "We shall soon rent a house and an election office in Unnao city and begin a full-fledged campaign."
Unnao votes on February 23.