Union Budget: High on vision, low on specifics
Affordable homes gets a thrust, as does power and clean cooking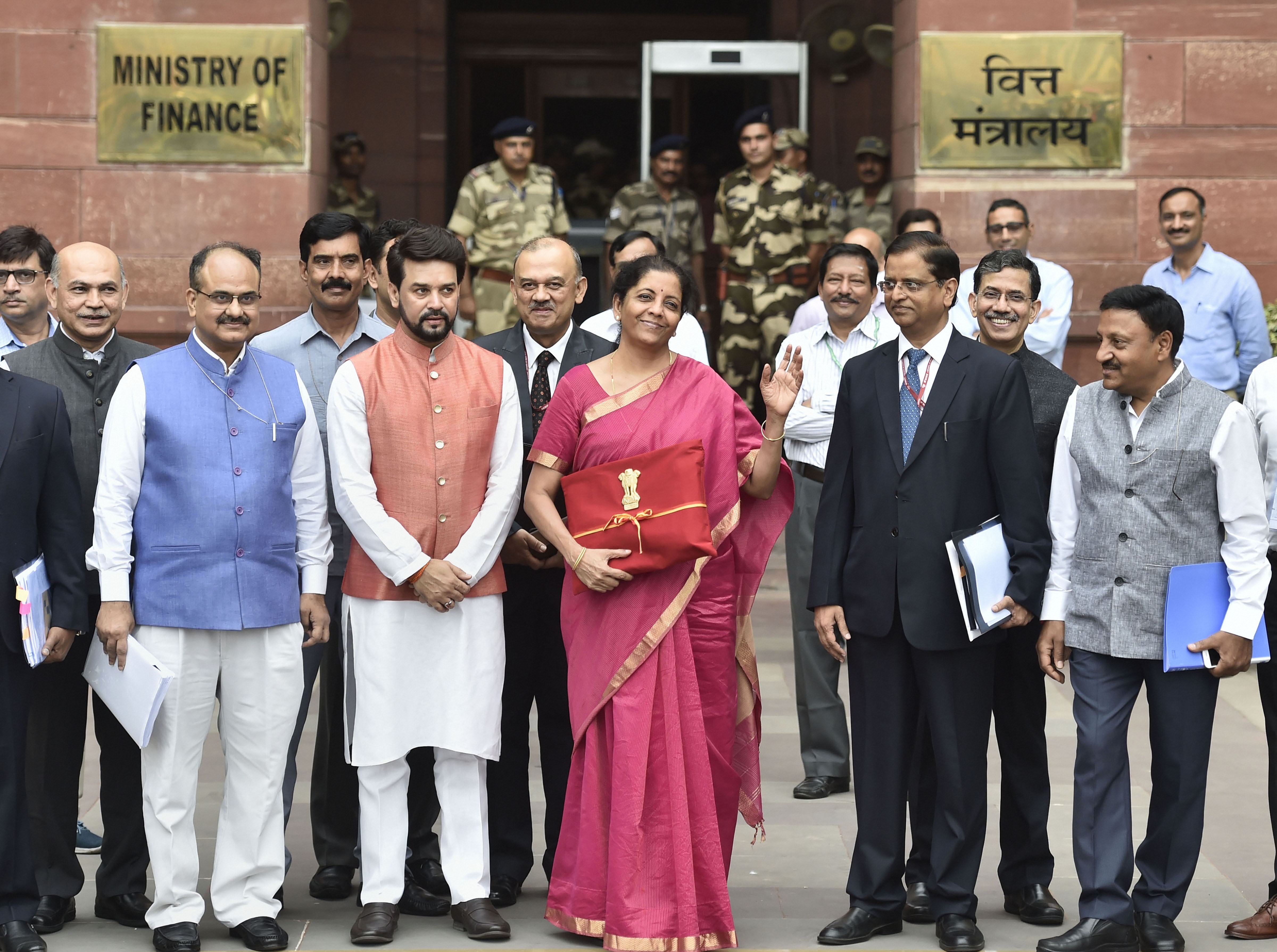 ---
---
It was a Union Budget long on vision, but short on specifics. And over it all hung the big question: how will the government to pay for all the ambitious schemes that it wants to unfold, especially as it also aims to narrow the fiscal deficit.
There was little doubt which plan the government believes will be an election winner in five years. The Modi 2.0 government is talking about housing for all and looking to build 19 million affordable homes by 2022. Almost all are slated to be constructed in urban India and real estate industry experts say the target can be met, except in cities like Mumbai where land isn't easily available at the right prices.
The government offered tax benefits till 2020 for buyers of affordable housing. Also on the cards is a far-reaching scheme to provide piped water to all, though the contours of this plan are not clear. And along with housing and water came the promise of power and clean cooking for all by 2022.
During the run-up to the election, Prime Minister Narendra Modi emphasised constantly that he needed a 10-year time frame to produce results. Now the BJP's won a crushing re-election victory, finance minister Nirmala Sitharaman, spelling out Modi's goals in what was her maiden budget speech, said the government's aiming for India to be a $5-trillion economy by 2024.
Economists said, though, this goal will be tough to achieve unless the economy accelerates considerably.
Modi is betting that he can transform India's economy with a giant infrastructure push that would mean new highways, ports, railways and metros and heavy investments to turn India's waterways into channels for moving goods and people.
The government is continuing to push organisations like the railways, which have traditionally done everything in-house, to strike private-public partnerships to increase rolling stock and lay new tracks, even though so far private-public models in all sectors of the economy have enjoyed limited success.
Sitharaman reckoned in her speech that the railways would need to spend Rs 50 trillion between 2018 and 2030. She said two dedicated freight corridors on the east and west sides of the country are expected to be commissioned by 2021 and might be operational by 2027.
As part of revenue raising measures, Sitharaman said the government would hike taxes on the wealthy, sell more stakes in state-owned firms even though the privatisation drive so far has met with a generally lacklustre response, market the first Indian global bond to help fund infrastructure spending and get the central bank to increase its dividends payments. But for the ordinary person on the street the key takeaway was that petrol and diesel's going to be Rs 2 costlier because of a new cess and another separate tax. The government defended this move by saying fuel prices have fallen in the last few months.
Also, the government reaffirmed what it had said in its February interim budget -- that taxpayers who earn less than Rs 5 lakh will now be out of the tax net. Instead, the government's putting the squeeze on the richer members of society by slapping an extra 3 per cent tax on people who earn between Rs 2 crore and Rs 5 crore and an extra 7 per cent on anyone who earns more than Rs 5 crore.
For smaller firms, the welcome news was that the lower corporate rate of 25 per cent would be expanded to companies with annual turnover up to Rs 400 crore, an increase from Rs 250 crore. But sending a chill through the stock market was that Sitharaman's call to raise the minimum public shareholding limit to 35 per cent from 25 per cent, a move that would bring a lot of paper to the market and dampen share prices in an already toppy market. In fact, the market snapped its winning streak on the back of the budget, closing one per cent lower.
And for businesses, corporates, consumers and investors, there's no sugar-coating the fact that the government's budget contained no big-idea concrete measures to spur growth.
The budget's come at a time when the economy's slowed to a multi-year low and the government's aggressive target of hiking tax revenues by 18 per cent looks to be a stretch. The economy's weakness is reflected in automobile and two-wheeler sales, for instance, that are down by almost 20 per cent.
Pressed for reasons for the drastic decline, CII president Vikram Kirloskar, who's also the vice-chairman of Toyota Kirloskar Motor, suggested new metro rail networks could be one factor. Auto industry experts strongly disagreed and pointed out that in cities like Bangalore the metros have only limited connectivity. "One line doesn't make a metro. For this to happen would need another 10-20 years," said one auto industry expert. Similar slowdowns are being reported in consumer durables and electronics industries.
Some other players did get a break in the budget. India's vibrant start-up sector will be freed from a start-up tax that threatened to pinch many small companies before they reached anywhere near the takeoff stage. "The overall development looks extremely optimistic for the Indian start-up ecosystem though the 'requisite declaration' clauses require a closer inspection," said Raman Roy, founder of Quatrro and co-founder, Indian Angel Network.
Introducing electric vehicles at high speed is a stated goal of this government. To that end, Sitharaman announced tax breaks for buyers of electric vehicles and no customs duty for certain imported EV components.
Also, foreign retailers may benefit because the government plans to ease local sourcing norms for single-brand retail.
The minister even talked about a proposed national travel card that could be used around the country on various modes of transport. But she didn't give any details about how this scheme would work. The Delhi Metro's made efforts in recent years to bring in a city-travel card but that hasn't transpired yet. Also on the cards is a modernised tenancy code that will be drawn up and circulated to the states.
Some levies, though, were either poorly conceived or brought in for a purpose other than the one stated. In an age when the print media is being challenged by fast-moving online news sites, a 10 per cent hike in customs duty on imported newsprint (there will be an additional 6 per cent IGST) was a particularly cruel blow. Almost all newsprint for the print media is imported.
Even more strangely, the government appears to be putting a tax on reading by slapping 5 per cent customs duty on all imported books including printed manuals. Sitharaman justified her move in the budget speech, saying: "To encourage domestic publishing and printing industry, 5 per cent customs duty is being imposed on imported books." This particular provision drew harsh instant jibes on Twitter. Despite its emphasis on promoting domestic publishing the government surprised observers by saying it would consider liberalising rules for the international media.
On a different plane, the government's hugely ambitious Ayushman Bharat scheme, launched in 2018 with great fanfare, was ignored in the budget speech. The spending figures showed a small increase but health care advocates say the programme will need a far larger outlay to be successful.
Strangely too, there was barely a mention of agriculture except for the promise that 10,000 farmers' associations would be formed and that the ease of doing business for farmers would improve. The Prime Minister has talked about doubling farmers' incomes by 2022 but that would need a huge economic jump and it didn't get a mention in Sitharaman's speech. This led one commentator to jokingly recall that in the old days finance ministers used to talk about farmers for 25 per cent of their speech but only allot 1 per cent of resources to them.
For those hoping for a job-generating economic upturn, the brutal fact of the matter is that the corporate sector is still squeezed for cash because many companies binged on growth and ran up a huge debt burden in the first few years of this decade. As a result, they don't have the money to look at expansion plans.
Thus, the only way forward is for the government to keep the economy moving along, ideally by pump-priming and pushing large infrastructure projects. But again, there's the cash problem. Can the government keep spending, especially as it aims to wrestle down to 3.3 per cent of gross domestic product, down from 3.4 per cent in February's interim budget?
That will be the problem looming that will need answers in the coming financial year.