MLA kidnapped: Congress
A picture of Shrimant allegedly undergoing an ECG and a letter written purportedly by him began circulating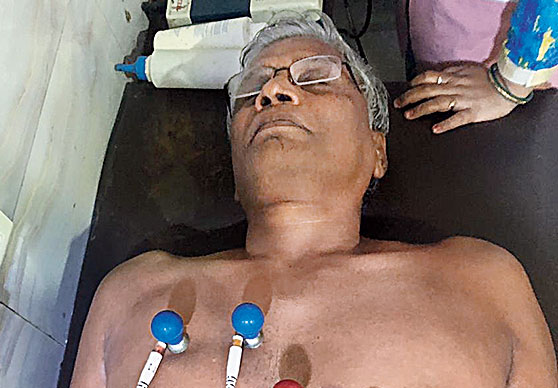 The picture of Shrimant Patil doing the rounds
---
Bangalore
|
Published 18.07.19, 08:31 PM
|
---
An unexpected absentee in the Congress camp triggered a furore in the Karnataka Assembly on Thursday, with party leaders accusing the BJP of "kidnapping" and taking him to Mumbai.
When the Assembly convened at 11am, two Congress MLAs were absent — Shrimant Patil and B. Nagendra.
Soon, a photograph of Shrimant allegedly undergoing an ECG and a letter written purportedly by him, seeking leave of absence on health grounds, began circulating on social media.
When the Assembly resumed after lunch, Congress leader D.K. Shivakumar took up the issue. Waving large prints of the photograph and enlarged copies of an air ticket, he accused the BJP of "kidnapping" Shrimant. The ticket copies indicated that BJP lawmaker Laxman Savadi had travelled with Shrimant to Mumbai via Chennai.
"I am saying this here because the Speaker is the custodian of the House. My party MLA has been kidnapped. I have evidence," he said.
Speaker Ramesh Kumar asked M.B. Patil, who holds the home portfolio, to check.
The Speaker also read out the letter, a copy of which had been delivered to him. Purportedly written by Shrimant, it sought leave of absence on the grounds that he was admitted in a Mumbai hospital with chest pain.
"I doubt the authenticity of Shrimant Patil's letter. You please contact Shrimant's family," he urged M.B. Patil. "It is not even on a letter pad. He has not even put a date on the letter. Where are we heading?" the Speaker fumed.
The Congress also lodged a complaint with Bangalore commissioner Alok Kumar stating that Shrimant had been abducted to Mumbai.
State unit chief Dinesh Gundu Rao told the Assembly that Shrimant was last seen on Wednesday. "This is a serious issue of safety and security of our members. He was healthy yesterday. Now they are circulating pictures of him undergoing an ECG," Rao said.
This led to a heated exchange, with the Opposition claiming innocence.
Party sources said the other absentee, Bellary MLA B. Nagendra, was in Karnataka and had informed that he had "health issues."