Under pressure on wheat, India brings up Covid vaccines
V. Muraleedharan stresses the need for all countries to appreciate the importance of 'equity, affordability and accessibility' when it comes to foodgrains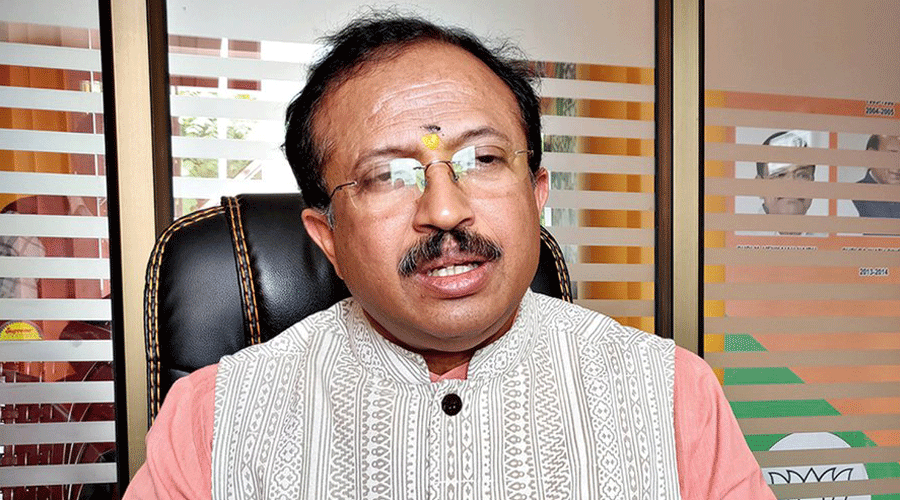 V. Muraleedharan.
File photo
---
New Delhi
|
Published 20.05.22, 03:27 AM
|
---
Under pressure to reconsider the wheat export ban, India on Wednesday sought to turn the tables on the West by urging it to not hoard the foodgrain the way Covid vaccines were cornered by the developed world and maintained that there were food security exceptions to the restrictions announced on May 13.
Addressing the ministerial meeting on "Global Food Security Call to Action" at the United Nations in New York, minister of state for external affairs V. Muraleedharan said: "These measures (wheat export ban) allow for export on the basis of approvals to those countries who are required to meet their food security demands. This will be done on the request of the concerned governments. Such a policy will ensure that we will truly respond to those who are most in need."
At the same time, he stressed the need for all countries to adequately appreciate the importance of "equity, affordability and accessibility" when it comes to foodgrains. "We have already seen to our great cost how these principles were disregarded in the case of Covid-19 vaccines. Open markets must not become an argument to perpetuate inequity and promote discrimination."
This was an oblique reference to rich countries buying up available Covid-19 vaccines. Such was the level of vaccine inequity that WHO director-general Tedros Adhanom Ghebreyesus had remarked in January 2021 that "the world was on the brink of a catastrophic moral failure".
As for the reasons for India announcing the wheat export ban last Saturday after promising to help the world deal with the shortfall in supplies owing to the Russia-Ukraine conflict, Muraleedharan said: "My government has recognised the sudden spike in global prices of wheat which put our food security and those of our neighbours and other vulnerable countries at risk. We are committed to ensuring that such adverse impact on food security is effectively mitigated and the vulnerable cushioned against sudden changes in the global market.
"In order to manage our own overall food security and support the needs of neighbouring and other vulnerable developing countries, we have announced some measures regarding wheat exports."
On Monday, briefing the media in New York on global food security, US ambassador to the United Nations Linda Thomas-Greenfield had said: "We're encouraging countries not to restrict exports because we think any restrictions on exports will exacerbate the food shortages." She was responding to a question on whether the US has a reaction to India's decision to limit exports of wheat.
India is also one of the countries invited to the meeting on "Food Security and Conflict" at the UNSC on Thursday. Thomas-Greenfield had on Monday also articulated the hope that at this meeting, "as they hear the concerns being raised by other countries, that they would reconsider that position". India has since announced some relaxations in the export ban.