Tweet from Jammu officer's handle blames one religion for spreading terrorism
Cop denies link with 26-day-old tweet but does not remove it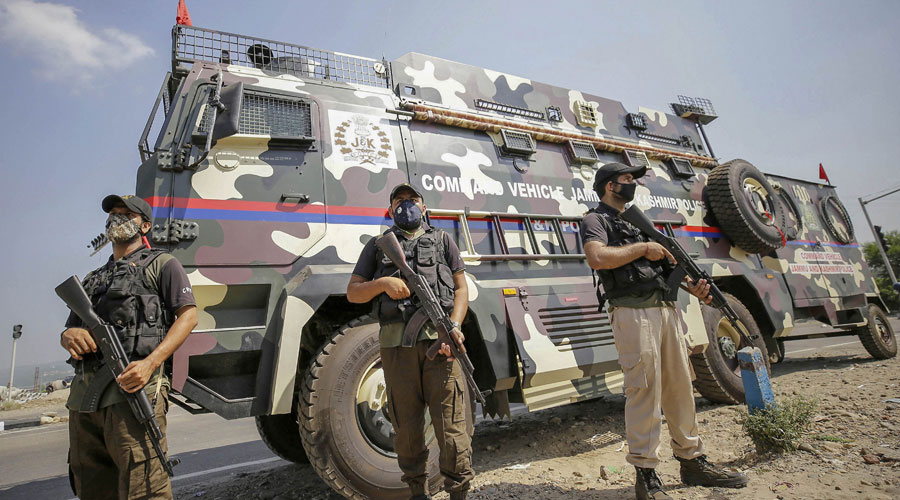 ---
Srinagar
|
Published 25.09.20, 03:20 AM
|
---
A post from the Twitter handle of a senior police officer in Jammu appears to accuse followers of one religion of spreading terrorism across the world and names Myanmar and Sri Lanka as countries that have learnt this lesson well.
Swarn Singh Kotwal, senior superintendent of police (security), Jammu, on Thursday posted he had "no relation whatsoever" to the controversial tweet, but had not removed the 26-day-old post by late evening.
The IPS officer said he had complained to the police cyber cells in Jammu and Srinagar against "trolls" who were abusing him but said nothing about hackers.
The controversial August 29 tweet said: "Time n again all political parties after every terrorist act of violence paddles (sic) aatankwad Ka koi dharm Nahi hota (terrorism has no religion)...but this I think is the biggest fraud being played on all of us. From Delhi Bengaluru to Sweden the religion is very much visible. Srilanka n Burma knew it in days."
Myanmar authorities are accused of genocide against Rohingya Muslims while in Sri Lanka, Muslims have faced attacks in recent years, especially since the April 2019 Easter Sunday bombings.
Ironically, the worst and longest terrorist threat in Sri Lanka's history came from the Tamil Tigers, a secular outfit whose leaders and cadres were mostly Hindus.
Kotwal's tweet had initially gone unnoticed, perhaps because he has few followers, but it has been widely read in the past few days. Police sources said there was anger in the force, where the ranks are largely Muslim.
While the tweet did not name any religion, Kotwal later expressed agreement when some of those replying to him explicitly criticised Muslims in this context.
Kotwal, whose Twitter profile describes him as a Hindu nationalist, appears to be a fan of Prime Minister Narendra Modi.
"Many PMs served the country in d past n many will in future, but d way u r serving like a true Sewak, this Bharat is indebted of (sic) Ur integrity, Dynamism, Vision n Energy. Very happy birthday Mr PM. May God bless on this n keep u Hale n hearty in future yrs. Long live my PM," he tweeted on September 17.
Kotwal's August 29 tweet underlines a recent trend of people in uniform being increasingly associated with sectarian views.
Former interim CBI chief and one-time Modi government favourite M. Nageswara Rao had days before his retirement in July alleged a "Project Abrahamisation of Hindu Civilisation" and accused past governments of whitewashing "bloody Islamic invasions/rule".
Gupteshwar Pandey, who retired as Bihar police chief this week, had been aggressively vocal about the Sushant Singh Rajput case, which the BJP has been accused of using to divert attention from its failures. Pandey had publicly hurled allegations, without citing evidence, against actress Rhea Chakraborty and questioned her "aukaat" to comment on chief minister Nitish Kumar.
When The Telegraph called Kotwal, the call dropped before the officer could answer the first question. He did not respond to further calls.
In response to this correspondent's WhatsApp query whether he was advocating an anti-Muslim pogrom by referring to Myanmar and Sri Lanka, he said: "Never supported, will not support."
He gave no further explanations, nor answered the remaining queries.
On Thursday afternoon, Kotwal posted a tweet that said: "Three days back some 8 t 9 tweet handerlers (sic) from valley suddenly followed me, started trolling n (and) threatening me about a tweet to which I have no relation whatsoever. I have formally lodged a complaint in this regard with SP Cyber cell Srinagar n SP Cyber cell jmu for n / a."
Superintendent of police Tahir Ashraf, the Kashmir cyber police chief, neither denied nor acknowledged that Kotwal had lodged a complaint.
"People don't complain with the SP, they can complain at police stations…. His writing a tweet (that he has lodged a complaint with Ashraf's office) does not make any sense," Ashraf said.
"Why should he file a complaint here… he is (posted) in Jammu. If he has any grievance he can forward a complaint to cyber police Jammu."
Asked whether this meant he had no knowledge of the complaint, Ashraf asked this newspaper to check with his police station. The cyber police station did not answer calls.
On social media, Kotwal has been accused of fanning communal disharmony.
"Now I realise where this bigotry is coming from! SSP saab is very keen what kapil mishra has to say! After seeing this I rest my case!," a tweet said.
Kotwal replied: "I don't subscribe to any idealogy (sic) or party. These r my personal views. You r my fellow countrymen. Let's b proud of our nation. Hindustan Zindabad."
Mishra, a BJP leader, has been accused of making communally provocative speeches in the run-up to the Delhi February riots that killed 53 people. Kotwal has re-tweeted several of Mishra's tweets, suggesting he is a fan.
Kotwal's Twitter timeline is crammed with tweets attacking Muslims.
When one tweeter said that "people of only one religion take to rioting, burning public property, loot, arson and plunder each time they feel their religion is insulted, no matter which country they live in...", Kotwal's reply was: "Because they are taught so."
"Excellent sum up Ma'am. The sooner we all realize n accept it the better it is !!# Delhi Bengaluru n Sweden," Kotwal said in reply to another tweet that read: "They seek asylum in 'secular' liberal western democracies crying victimhood, saying they want to escape from their oppressive sharia states. Once they get citizenship, they use the liberal laws of the same western democracies to turn them into oppressive sharia states! #BoloKaun."