Trump's writing indicates he's ruthless, straightforward, blunt
A graphologist, who has analysed signatures of US President and his wife, believes they're both very compatible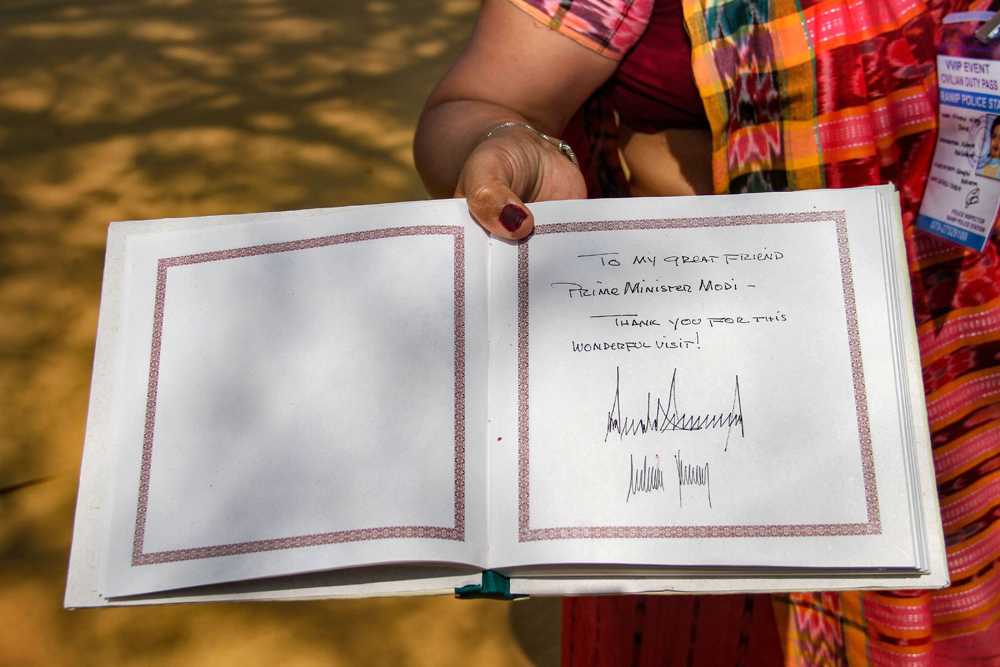 The Sabarmati Ashram visitor's book signed by US President Donald Trump and First Lady Melania during their visit on Monday
(MEA/PTI photo)
---
New Delhi
|
Published 25.02.20, 04:12 PM
|
---
US President Donald Trump and his statuesque wife Melania have one thing in common and that was on show at the Sabarmati Ashram: they both have jagged, almost indecipherable signatures, that are a delight for handwriting experts or graphologists, as they known.
How you cross your "t"s and dot your "i"s can reveal over 300 different personality traits. So, what does Trump's handwriting, especially his signature, reveal about him?
"President Trump's signature is very angular. It has sharp mountains and less curves. This means he is shrewd, analytical, ruthless, straightforward and blunt. Those with more curves in their signature are more kind," says Vinit Bansode, a graphologist who is founder of The Graphology Research Institute in Mumbai.
Bansode, who has 18 years of experience and has analysed over 70,000 handwriting samples, says that an angular signature also reflects a person's transactional nature. "They are generally not very relationship oriented."
First Lady Melania Trump's signature is equally angular. "They are both very compatible." However, he adds that she probably has a higher IQ than him since her signature alphabets are taller.
Bansode says Trump's signature is very big which means he is courageous and can be dominating. Also, while signing he puts a lot of pressure which means he is probably stubborn and strong-willed.
Another characteristic of his signature is that it is very connected. Signed in one go without lifting the pen. "This makes him more of a doer and less of a planner. He goes with his gut and doesn't think too much," says Bansode.
President Trump's message in the visitor books of Sabarmati Ashram and Taj Mahal also reveal that he likes to write in all caps with a few small letters thrown in. "Those who write in all caps often hide their feelings and don't reveal their true selves," says Bansode.
Another feature of his handwriting are the very long T bars which imply that he is very persistent and determined. "He is not a quitter," says Bansode.