Trolls target, peers stand up for Deepika
The 'Boycott Chhapaak' calls began soon after Deepika left JNU campus but was challenged by those standing with JNU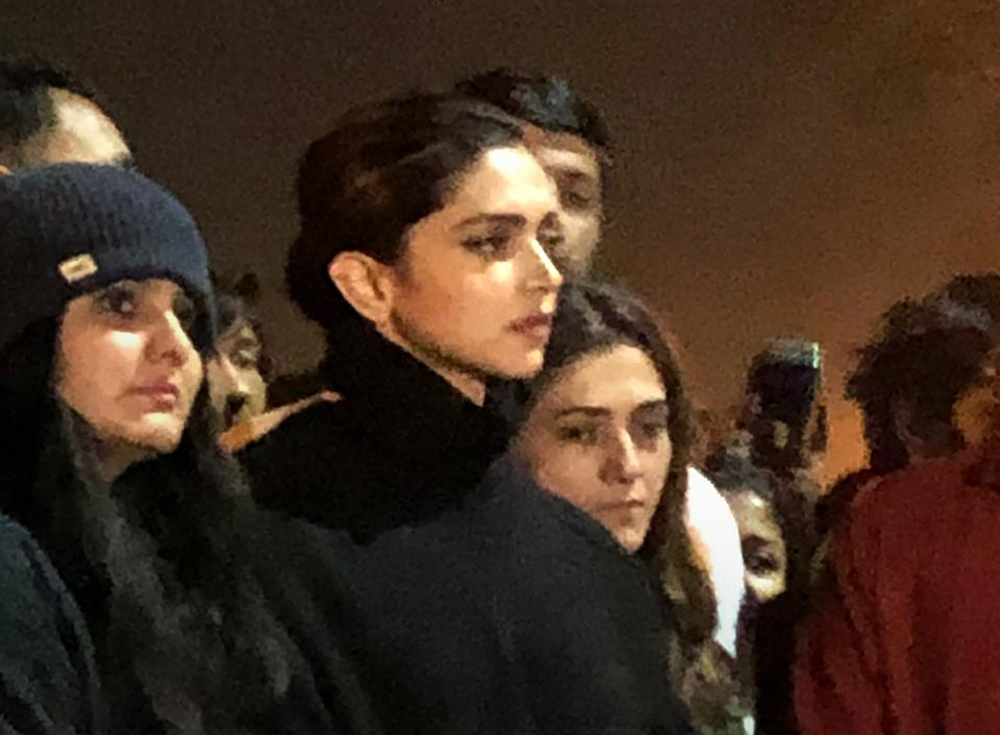 Actor Deepika Padukone on the JNU campus late on Tuesday.
(PTI photo)
---
New Delhi
|
Published 08.01.20, 10:28 PM
|
---
Her ten minutes of silent presence alongside JNU students' union president Aishe Ghosh on Tuesday night on the campus has put Deepika Padukone under the scanner like nothing else before.
Practically every aspect of her life was dug up and thrown at her over the past 24 hours that saw her not only facing calls to boycott her upcoming film Chhapaak but also staring at possible litigation.
The "Boycott Chhapaak" calls began soon after Deepika left the campus but was robustly challenged by those standing with JNU who took the "Hum Dekhenge Chhapaak" resolve, merging the Faiz Ahmed Faiz poem that had recently enraged Right-wingers with the name of her film.
By Wednesday evening, BJP MP Subramanian Swamy had announced that a legal notice was being drafted to be sent to Deepika and the producers "if they have changed name of accused from Muslim in real life to a Hindu name", asserting that it would be defamation in that case.
The film is based on a real-life acid attack victim, Laxmi, and her battle against the odds. A PTI report said the names of all the characters involved in the true story had been changed, including that of Laxmi who is called Malti in the film. And, the assailant Nadeem is "Babboo" (nickname for Bashir Khan).
The film-boycott call provided some laughs to those supporting Deepika as it became evident that many of those trolling her with screenshots of their cancelled tickets were for the same seats, indicating a command performance.
While the trolls insisted that Deepika's support for JNU was a promotional bid to draw mileage ahead of her film, scheduled for release on Friday, filmmaker Anurag Kashyap — who has put photographs of her at JNU as his background and profile picture on Twitter — insisted that she was taking a huge risk by doing so at this juncture.
"She's also the producer of the film…. For an actor, it can be a publicity stunt if an actor is going somewhere for just mileage. This, anybody in the trade business will tell you, is hara-kiri because she's also the producer of the film. She's not just the actor in the film who's got her salary. She has a lot more at stake here. This is anything but a publicity stunt.… I think it makes an even bigger statement when she does it on the eve of her film release because she's risking it,'' he told NDTV.
By evening, the trolls' plans to pit her film against Ajay Devgn's film Tanhaji — also releasing on Friday — had somewhat been dashed as he too came out with a statement that violence was harming the country.
Admitting that he was conflicted by the news on JNU, he told PTI: "Whoever is doing it, is wrong. Violence is not a solution to anything, it's just harming our country."
Apart from finding support from filmmaker Anubhav Sinha — who along with Anurag has been at the forefront of the voices from Bollywood against the Citizenship (Amendment) Act and the violence at JNU — Deepika also got backing from actress Sonakshi Sinha.
"No matter which political party you support, do you support violence? Don't visuals of bleeding students and teachers shake you up? We can't sit on the fence any longer. Kudos to @deepikapadukone for showing up, & all those who spoke for speaking up. This is not the time to stay quiet," Sonakshi tweeted.
Filmmaker Vivek Agnihotri, who is part of the ruling eco-system, dug out an old interview of hers to show it was only natural for her to be "supporting the anti-India gang at JNU".
Because Deepika had in that interview said she would like to see former Congress president Rahul Gandhi as Prime Minister one day.
Ranjani Mazumdar, professor of cinema studies at JNU's School of Arts & Aesthetics, said the trolling of Deepika did not come as a surprise. "She would have known that this would happen, yet she came and did so without hijacking that meeting. She came towards the fag end without making any spectacle, stayed while (former JNUSU president) Kanhaiya (Kumar) chanted his Azaadi, and left as quietly as she came.
"Stars can play a huge role in opinion building, and Deepika is an A-list star. She has ensured there is mainstreaming of JNU in public domain. And, she has also left for the future generation a digital trace of what stars can do. Hollywood has done this always by refusing to accept the Oscars during the Vietnam War, taking positions on issues. Jane Fonda was known as Jane Hanoi, then there is Susan Sarandon. This becomes part of popular memory."
It is brave too, Mazumdar said. "Celebrities are powerful and privileged at one level but also vulnerable; especially in the age of new media, fake news, etc. She came knowing full well that she would be attacked with this one act of hers."
Going by the new voices joining in, Deepika's visit appeared to have made a dent. Devgn was not alone. Ranvir Shorey — who was among those from Bollywood invited by the BJP for an explainer on the Citizenship (Amendment) Act last Sunday — spoke up on Wednesday in support of her visit.
Shorey added that the National Register of Citizens, another controversial measure, was problematic when coupled with the new citizenship law.