Trinamul, BJP trade charges
Tripura on edge, politics of polarisation at play once again
With assembly polls in 2023, newbie Trinamul locks horns with ruling BJP over attack on shrine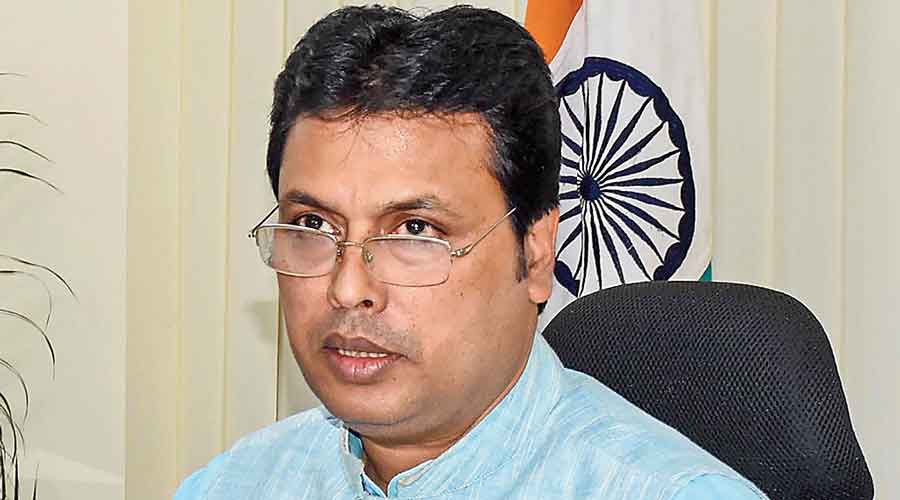 Tripura CM Biplab Kumar Deb
File Picture
---
Calcutta
|
Published 09.11.21, 06:45 PM
|
---
Tripura, an erstwhile Communist bastion, which had seen decades of bloodbath due to an upsurge of tribal separatism for decades, is on the boil again. This time, a reported attack on the North Tripura Mosque and assault on minorities, described as a reaction to violence against Hindus in neighbouring Bangladesh, has become the flashpoint of dispute in the the former princely state with a demonstrated history of armed conflict fought on ethno-religious identities.
Discussions on the October 23 attack have been been dominating social media trends, assuming political overtones ahead of the high-octane assembly elections due in 2023. The Trinamul Congress, looking to make political forays in the tribal state, has accused the ruling BJP government of failing to control communal flare-ups in the state. Said TMC convener Subal Bhowmik, "The BJP has failed to maintain law and order. There were attacks on people. The government wants to muzzle the voice of people. It's very much in their nature." 
His allegation was, however, refuted by the BJP with party spokesperson Nabendu Bhattacharjee, alleging that "outsider" TMC was trying to disturb the peace of Tripura. "TMC has no right to speak on this. What did they do in West Bengal where Hindus were targeted after the assembly poll results were out? The BJP does not need TMC's advice on how to maintain law and order in the state," he said. 
Bhattacharya went on to allege that radical elements with links to Bangladesh were trying to rake up communal tension in the state, even alleging that the those linked to narcotics trade in Bangladesh were working in tandem to tarnish the image of the state because of the BJP government's crackdown on the drug mafia. 
Bangla violence spillover 
The attack on a Durga Puja pandal in neighbouring Bangladesh's Comilla district which borders Tripura became the cause of anger among right-wing groups in the eastern state. Spiralling attacks on Hindus in nearly 100 Durga Puja pandals, media reports on alleged murders of Ramakrishna Mission and ISKCON devotees became the rallying points of such outifts in Tripura that saw a series of protest rallies and meetings to condemn the attacks in the neighbouring country.
Vishwa Hindu Parishad (VHP) and the Hindu Jagran Manch (HJM) took out rallies at Udaipur in Gomati district on October 21 and clashed with police as the latter denied them permission to enter localities with a mixed population.
Social media trends
Over the past fortnight, an alleged attack on a mosque in the Panisagar area was highlighted in social media with a number of photographs, which police termed as "fake". State information and cultural affairs minister Sushanta Chowdhury told TheTelegraphOnline that "fake online propaganda" was being unleashed on social medai to defame the Tripura government.
"Nowadays, you have social media where anything can be uploaded at will. People with vested interests can socially influence people and give anything and everything a communal colour. I don't deny the reports of minor scuffles btween demonstrators and police,  but I certainly deny serious reports like the attack on the mosque and minorities," Chowdhury said.

Soon after the minister promised action on people who, according to him, indulged in rumour-mongering, Tripura police have booked 102 people under the stringent Unlawful Activities (Prevention) Act for protesting, or even merely mentioning, the recent communal violence in the state's northern districts on different social media platforms.

On November 6, cases were filed against 68 Twitter account holders, 32 people on Facebook, and two on YouTube. The cases, first filed by the West Agartala police station, have now been transferred to the state's crime branch.
Two New Delhi-based lawyers – Ansar Indori and Mukesh –were booked under UAPA for participating in an independent fact-finding enquiry into the communal violence in which properties owned by Muslims and mosques were specifically attacked allegedly by far-right Hindutva groups. Assistant inspector-general (Law and Order) Subrata Chakraborty said, "The UAPA has been invoked considering the sensitive nature of the issue. We have taken serious note of the social media posts and cases."
Fear of the past
Tripura is not new to insurgency based on communal and ethnic lines. Decades of insurgency has left a substantial toll on peoples' lives.
The evolution of insurgency in Tripura can be traced to the formation of the Tripura Upajati Juba Samiti (TUJS) in 1971, followed by the Tripura National Volunteers (TNV) in 1981. The National Liberation Front of Tripura (NLFT) was formed on March 2, 1989 and its armed wing, the National Holy Army and All Tripura Tiger Force (ATTF), in July 1990.

Between 1990 and 1995, the insurgency remained low-key. It grew in extent and magnitude between 1996 and 2004. Later, it started melting. According to political observers, the present communal tension and the possibility of a flare-up before the assembly polls in the BJP-ruled state could become a topic of communal polarisation in the state. "Going by the trends noticed earlier, there is a high possibility of communal flare-up with politics of identity gaining ground. The situation should not be allowed to turn volatile," said academician and political observer Rupam Bhattacharya.
Religious organisations trade charges
Organisations such as Tablighi Jamaat, Jamat-e-Islami Hind and Popular Front of India (PFI) have upped the ante. "We fear communal polarisation," said president of the Jamat-e-Islami Hind for Assam, Tripura and Mizoram, Nurul Islam Mazarbhuiya. Prominent minority organisations of the state, Tripura State Jamiat Ulama (Hind) and Tripura State Imams' Committee, alleged that a "microscopic group of miscreants" was trying to create communal unrest. Representatives of these organisations even submitted a memorandum to Chief Minister Biplab Deb's office (CMO) last month. 
An RSS functionary, who spoke on condition of anonymity, feared that the proliferation of organisations such as Jamiat Ulama (Hind), PFI and Tablighi Jamaat, could disturb communal harmony in the state. "Tripura has a significant 25 per cent Muslim population in some areas like Sipahijala, Sonamura and Bishalgarh. Radical groups like Jamiat Ulama (Hind), PFI and Tablighi Jamaat are trying to fish in troubled waters," he said.